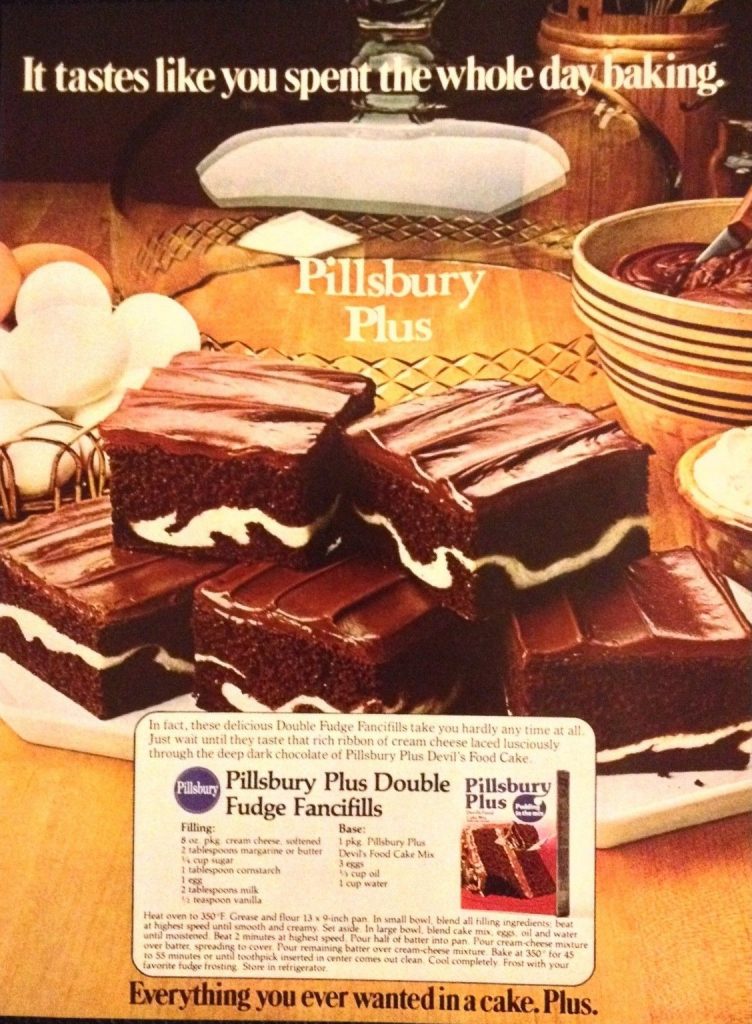 It tastes like you spent the whole day baking.
In fact, these delicious Double Fudge Fancifills take you hardly any time at all. Just wait until they taste that rich ribbon of cream cheese laced lusciously through the deep dark chocolate of Pillsbury Plus Devil's Food Cake.
Double Fudge Fancifulls
Filling:
8 oz. package cream cheese, softened
2 tablespoons margarine or butter
1/4 cup sugar
1 tablespoon cornstarch
1 egg
2 tablespoons milk
1/2 teaspoon vanilla
Base:
1 package Pillsbury Plus Devil's Food Cake Mix
3 eggs
1/3 cup oil
1 cup water
Frosting: (this was included in more recent recipe versions)
6 tablespoons of unsalted butter, softened
1 tablespoon of sour cream
2 1/4 cups confectioners' sugar
1/2 cup natural style cocoa powder
1 tiny pinch of salt
3/4 teaspoon vanilla extract
3 to 6 tablespoons of heavy cream plus more as needed.
Heat oven to 350 degrees F. Grase and flour 13 x 9-inch pan. In small bowl, blend all filling ingredients, beat at highest speed until smooth and creamy. Set aside. In large bowl, blwnd cake mix, eggs, oil and water until moistened. Beat 2 minutes at highest speed. Pour half the batter into pan. Pour cream cheese mixture over batter, spreading to cover. Pour remaining batter over cream cheese mixture. Bake at 350 degrees F for 45-55 minutes or until toothpick inserted in center comes out clean. Cool completely. Frost with your favorite fudge frosting (or use recipe above). Store in refrigerator.