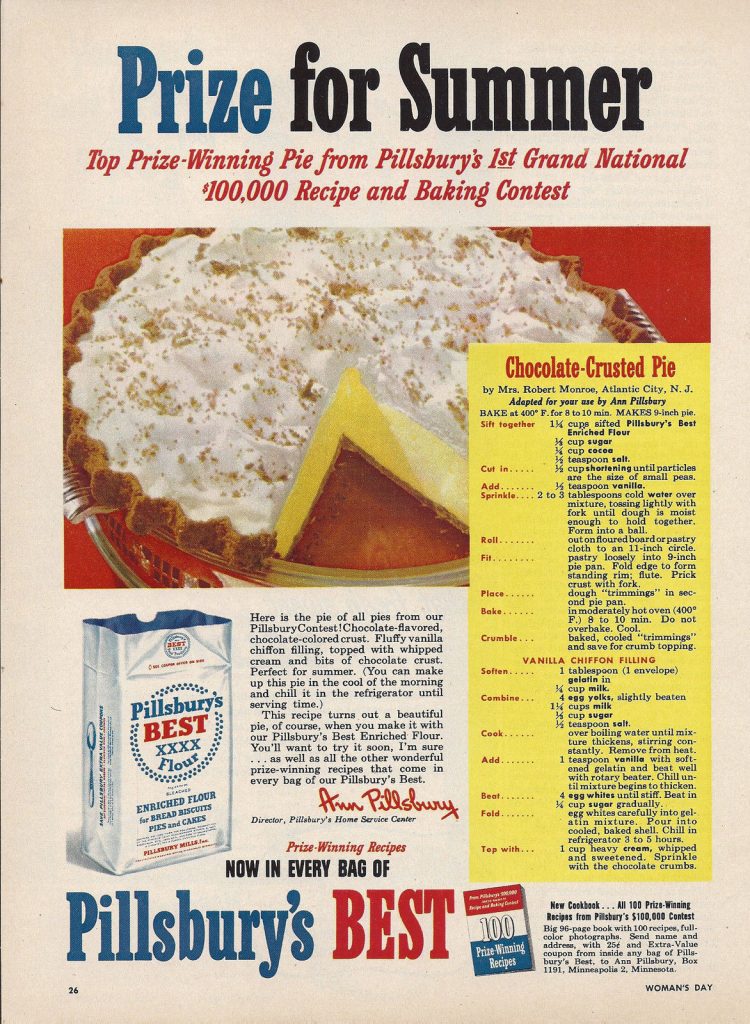 Top prize-winning pie from Pillsbury's 1st Grand National $100, 000 Recipe and Baking Contest.
Here is the pie of all pies from our Pillsbury Contest! Chocolate flavored, chocolate-colored crust. Fluffy vanilla chiffon filling, topped with whipped cream and bits of chocolate crust.
Perfect for summer. (You can make up this pie in the cool of the morning and chill it in the refrigerator until serving time.)
This recipe turns out a beautiful pie, of course, when you make it with our Pillsbury's Best Enriched Flour.
You'll want to try it soon, I'm sure…as well as all the other wonderful prize-winning recipes that come in every bag of our Pillsbury's Best.
Chocolate Crust Pie
Bake at 400 degrees F. for 8-10 minutes. Makes 9-inch pie.
Sift together
1 1/4 cups sifted Pillsbury's Best Enriched Flour
1/3 cup sugar
1/4 cup cocoa
1/2 teaspoon salt
Cut in
1/2 cup shortening until particles are the size of small peas.
Add
1/2 teaspoon vanilla
Sprinkle
2-3 tablespoons cold water over mixture, tossing lightly with fork until dough is moist enough to hold together.
Form into ball.
Roll
out on floured board or pastry cloth to an 11-inch circle.
Fit
pastry loosely into 9-inch pie pan. Fold edge to form standing rim; flute. Prick crust with fork.
Place
dough trimmings in second pie pan.
Bake
in moderately hot oven (400 degrees F.) 8-10 minutes. DO not overbake. Cool.
Crumble
baked, cooled trimmingd and save for crumb topping.
Vanilla Chiffon Filling
Soften
1 tablespoon (1 envelope) gelatin in 1/4 cup milk.
Combine
4 egg yolks, slightly beaten
1 1/4 cups milk
1/3 cup sugar
1/2 teaspoon salt
Cook
over boiling water until mixture thickens, stirring constantly. Remove from heat.
Add
1 teaspoon vanilla with softened gelatin and beat well with rotary beater. Chill until mixture begins to thicken.
Beat
4 egg whites until stuff. Beat in 1/4 cup sugar gradually.
Fold
egg whites carefully into gelatin mixture. Pour into cooled baked shell. Chill in refrigerator for 3-5 hours.
Top with
1 cup heavy cream, whipped and sweetened. SPrinkle with the chocolate crumbs.