Vintage Rice Ice Cream Recipe with Nabisco Sugar Wafers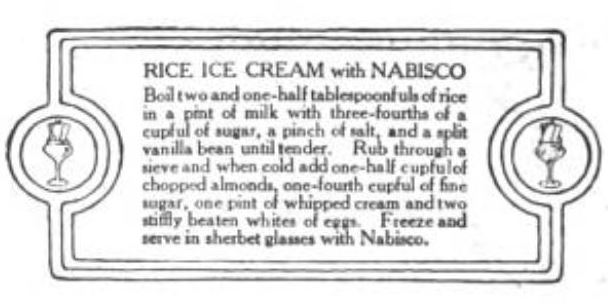 When desserts are served, Nabisco Sugar Wafers should accompany them as a matter of course, for these exquisite confections add the final touch of deliciousness to ice creams, frozen puddings or water ices.
The recipe for Rice Ice Cream given above is original. It was created especially for use with Nabisco, so the hostess who serves Rice Ice Cream and Nabisco at her next "at home" will furnish a delightful surprise to guests.
Rice Ice Cream with Nabisco
Boil two and one-half tablespoonfuls of rice in a pint of milk with three-fourths of a cupful of sugar, a pinch of salt, and a split vanilla bean until tender. Rub through a sieve and when cold add one-half cupful of chopped almonds, one-fourth cupful of fine sugar, one pint of whipped cream and two stiffly beaten eggs. Freeze and serve in sherbet glasses with Nabisco.