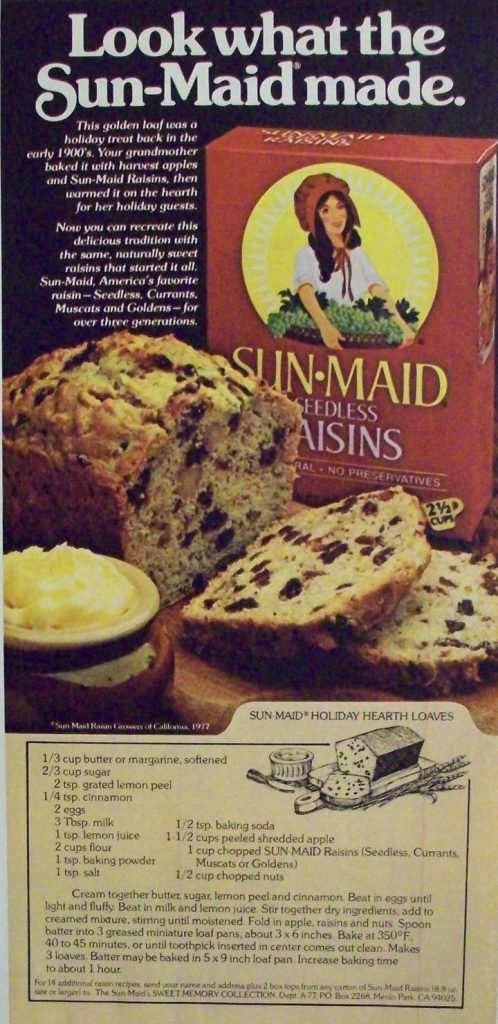 This golden loaf was a holiday treat back in the early 1900s. Your grandmother baked it with harvest apples and Sun-Maid raisins, then warmed it on the hearth for her holiday guests.
Now you can recreate this delicious tradition with the same, naturally sweet raisins that started it all. Sun-Maid, America's favorite raisin-Seedless, Currants, Muscats and Goldens-for over three generations.
Sun-Maid Holiday Hearth Loaves
1/3 cup butter or margarine, softened
2/3 cup sugar
2 teaspoons grated lemon peel
1/4 teaspoon cinnamon
2 eggs
3 tablespoons milk
1 teaspoon lemon juice
2 cups flour
1 teaspoon baking powder
1 teaspoon salt
1/2 teaspoon baking soda
1 1/2 cups peeled shredded apple
1 cup chopped Sun-Maid Raisins (Seedless, Currants, Muscats or Goldens)
1/2 cup chopped nuts
Cream together butter, sugar, lemon peel and cinnamon. Beat in eggs until light and fluffy. Beat in milk and lemon juice. Stir together dry ingredients, add to creamed mixture, stirring until moistened. Fold in apple, raisins, and nuts. Spoon batter into 3 greased miniature load pans, about 3×6-inches. Bake at 350 degrees F. 40-45 minutes or until toothpick inserted in center comes out clean. Makes 3 loaves. Batter may be baked in 5×9-inch loaf pan. Increase baking time to about 1 hour.
If you love Sun-Maid Holiday Fruitcake, you'll love Sun-Maid Holiday Hearth Loaf