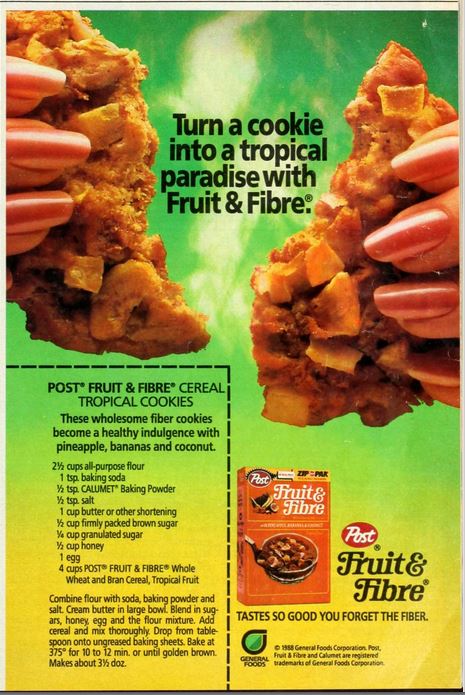 Note that Post Fruit & Fibre was discontinued, but you can use any wheat flake, bran flake or wheat and bran flake cereal that has dried fruit or add your own dried fruit.
Fruit & Fiber Cereal Tropical Cookies
These wholesome fiber cookies become a healthy indulgence with pineapple, bananas and coconut.
2 1/2 cups all-purpose flour
1 teaspoon baking soda
1/2 teaspoon baking powder
1/2 teaspoon salt
1 cup butter or other shortening
1/2 cup firmly packed sugar
1/4 cup granulated sugar
1/2 cup honey
1 egg
4 cups cereal (whole wheat and bran cereal, with dried tropical fruit)
Combine flour with soda, baking powder and salt. Cream butter in large bowl. Blend in sugars, honey, egg and the flour mixture. Add cereal and mix thoroughly. Drop from tablespoon onto ungreased baking sheets. Bake at 375 degrees F. for 10-12 minutes or until golden brown. Makes about 3 1/2 dozen.