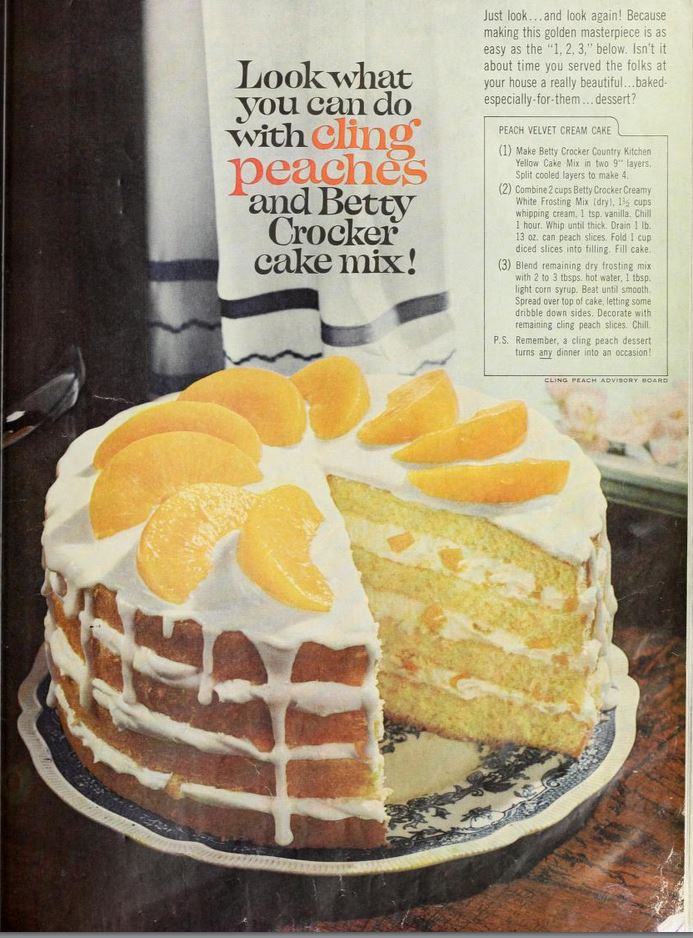 Look what you can do with cling peaches and Betty Crocker cake mix!
Just look…and look again! Because making this golden masterpiece is as easy as "1-2-3." below. Isn't it about time you served the folks at your house a really beautiful…baked especially for them…dessert?
Peach Velvet Cream Cake
1. Make Betty Crocker Country Kitchen Yellow Cake Mix in two 9-inch layers. Split cooled layers to make 4.
2. Combine 2 cups Betty Crocker Creamy White Frosting Mix (dry), 1 1/2 cups whipping cream, 1 teaspoon vanilla. Chill one hour. Whip until thick. Drain 1 lb. 13 oz. can peach slices. Fold in 1 cup diced slices into filling. Fill cake.
3. Blend remaining dry frosting mix with 2 to 3 tablespoons hot water, 1 tablespoon light corn syrup. Beat until smooth. Spread over top of cake letting some dribble down sides. Decorate with remaining cling peach slices. Chill.
P.S. Remember a cling peach dessert turns any dinner into an occasion!