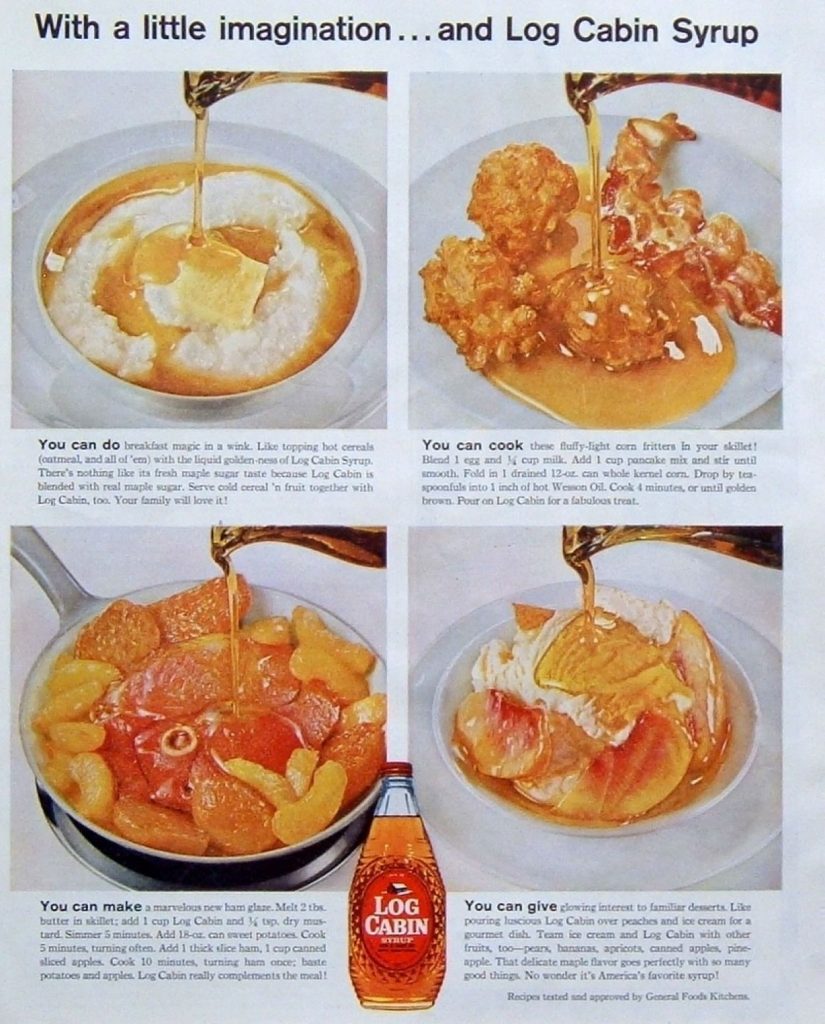 With a little imagination…and Log Cabin Syrup
4 Recipes with Log Cabin Syrup
You can do breakfast magic in a wink.
Like topping hot cereals (oatmeal and all of 'em) with the liquid golden-ness of Log Cabin Syrup.
There's nothing like its fresh maple sugar taste because Log Cabin is blended with real
maple sugar. Serve cold cereal 'n fruit together with Log Cabin, too. Your family will love it.
You can cook these fluffy- light corn fritters in your skillet!
Blend 1 egg and 1/4 cup milk. Add 1 cup pancake mix and stir ntil smooth. Fold in 1 drained 12 oz. can whole kernel corn. Drop by teaspoonfuls onto 1 inch of hot Wesson Oil. Cook 4 minutes or until golden brown. Pour on Log Cabin for a fabulous treat.
You can make a marvelous new ham glaze.
Melt 2 tablespoons butter in skillet; add 1 cup Log Cabin and 1/4 teaspoon dry mustard. Simmer 5 minutes.
Add 18-oz. can garnet potatoes (yams or sweet potatoes). Cook 5 mknutes, turning often. Add 1 thick slice ham, 1 cup canned sliced apples. Cook 10 minutes, turning ham once; baste potatoes and apples. Log Cabin really complements the meal!
You can give glowing interest to familiar desserts.
Like pouring luscious Log Cabin over peaches and ice cream for a gourmet dish. Team ice cream and Log Cabin with other fruits, too-pears, bananas, apricots, canned apples, pineapple. That delicate maple flavor goes perfectly with so many good things. No wonder it's America's favorite syrup.