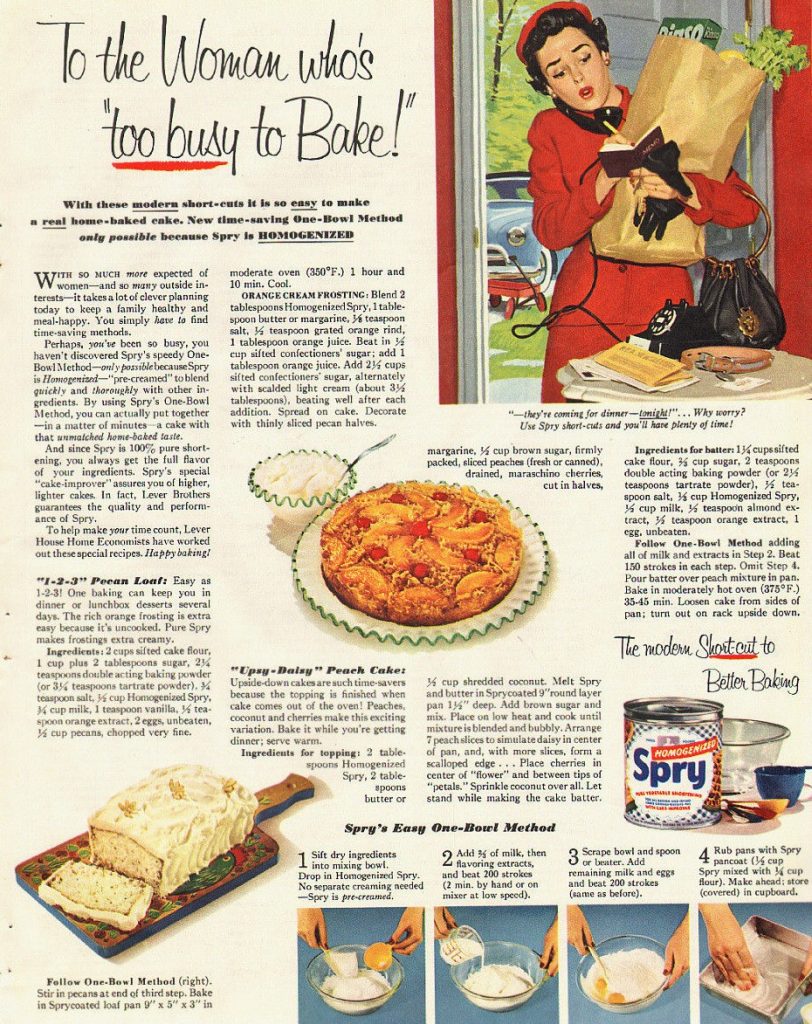 To the Woman who's too busy to Bake!
With these modern short-cuts it is so easy to make a real home-baked cake. New time-saving One-Bowl Method only possible because Spry is homogenized
With so much more expected of women-and so many outside interests-it takes a lot of clever planning today to keep a family healthy and meal-happy. You simply have to find time-saving methods.
Perhaps, you've been so busy, you haven't discovered Spry's speedy One-Bowl method-only possible because SPray is homogenized-"pre-creamed" to blend quickly and thoroughly with other ingredients. By using Spry's One-Bowl Method, you can actually put together-in a matter of minutes a cake with that unmatched home-baked taste.
And since Spry is 100% pure shortening, you always get the full flavor of your ingredients. SPry's special "cake-improver" assures you of higher,, lighter cakes. In fact, Lever Brothers guarantees the quality and performance of SPry.
To help make your time count, Lever House Home Economists have worked out these special recipes. Happy Baking!
Pecan Bread and Peach Upside Down Cake
1-2-3 Pecan Loaf
Easy as 1-2-3. One baking can keep you in dinner or lunchbox desserts several days. The rich orange frosting is extra easy because it's uncooked. Pure Spry makes frostings extra creamy.
Ingredients:
2 cups sifted cake flour, 1 cup plus 2 tablespoons sugar, 2 1/4 teaspoons double acting baking powder (or 3 1/4 teaspoons tartrate powder), 1/4 teaspoon salt, 1/2 cup Homogenized Spry, 1/4 cup milk, 1 teaspoon vanilla, 1/2 teaspoon orange extract, 2 eggs, unbeaten, 1/2 cup pecans, chopped very fine.
Follow One-Bowl Method
Stir in pecans at end of third step. Bake in Sprycoated loaf pan 9x5x3-inch in moderate oven (350 degrees F.) 1 hour and 10 minutes. Cool.
Orange Cream Frosting:
Blend 2 tablespoons Homogenized Spry, 1 tablespoon butter or margarine, 1/8 teaspoon salt, 1/2 teaspoon grated orange rind, 1 tablespoon orange juice. Beat in 1/2 cup confectioners' sugar; add 1 tablespoon orange juice. Add 2 1/2 cups sifted confectioners' sugar, alternately with scalded light cream (about 3 1/2 tablespoons), beating well after each addition. Spread on cake. Decorate with thinly sliced pecan halves.
Upsy-Daisy Peach Cake
Upside-down cakes are such time-savers because the topping is finished when cake comes out of the oven! Peaches, coconut and cherries make this exciting variation. Bake it while you're getting dinner; serve warm.
Ingredients for topping:
2 tablespoons Homogenized Spry, 2 tablespoons butter or margarine, 1/2 cup brown sugar, firmly packed, sliced peaches (fresh or canned), drained, maraschino cherries cut in halves, 1/2 cup shredded coconut. Melt Spry and butter in Sprycoated 9-inch round layer pan 1 1/2-inch deep. Add brown sugar and mix. Place on low heat and cook until mixture is blended and bubbly. Arrange 7 peach slices to simulate daisy in center of pain and with more slices, form a scalloped edge. Place cherries in center of "flower" and between tips of "petals." Sprinkle coconut over all. Let stand while making cake batter.
Ingredients for batter:
1 1/4 cups sifted cake flour, 2/3 cup sugar, 2 teaspoons double acting baking powder (or 2 1/2 teaspoons tartrate powder), 1/2 teaspoon salt, 1/3 cup Homogenized Spray, 1/2 cup milk, 1/2 teaspoon almond extract, 1/2 teaspoon orange extract, 1 egg, unbeaten.
Follow the ONe-Bowl Method adding all of milk and extracts in Step 2. Beat 150 strokes in each step. Omit Step 4. Pour batter over peach mixture in pan. Bake in moderately hot oven (375 degrees F.) 35-45 minutes. Loosen cake from sides of pan; turn out on rack upside down.
Spry's Easy One-Bowl Method
1. Sift dry ingredients into mixing bowl. Drop in Homogenized Spry. No separate creaming is needed-Spry is pre-creamed.
2. Add 2/3 of milk, then flavoring extracts, and beat 200 strokes (2 minutes by hand or on mixer at low speed).
3. Scrape bowl and spoon or beater. Add remaining milk and eggs and beat 200 strokes (same as before).
4. Rub pans with Spry pancoat (1/2 cup Spry mixed with 1/4 cup flour). Make ahead; store covered in cupboard.