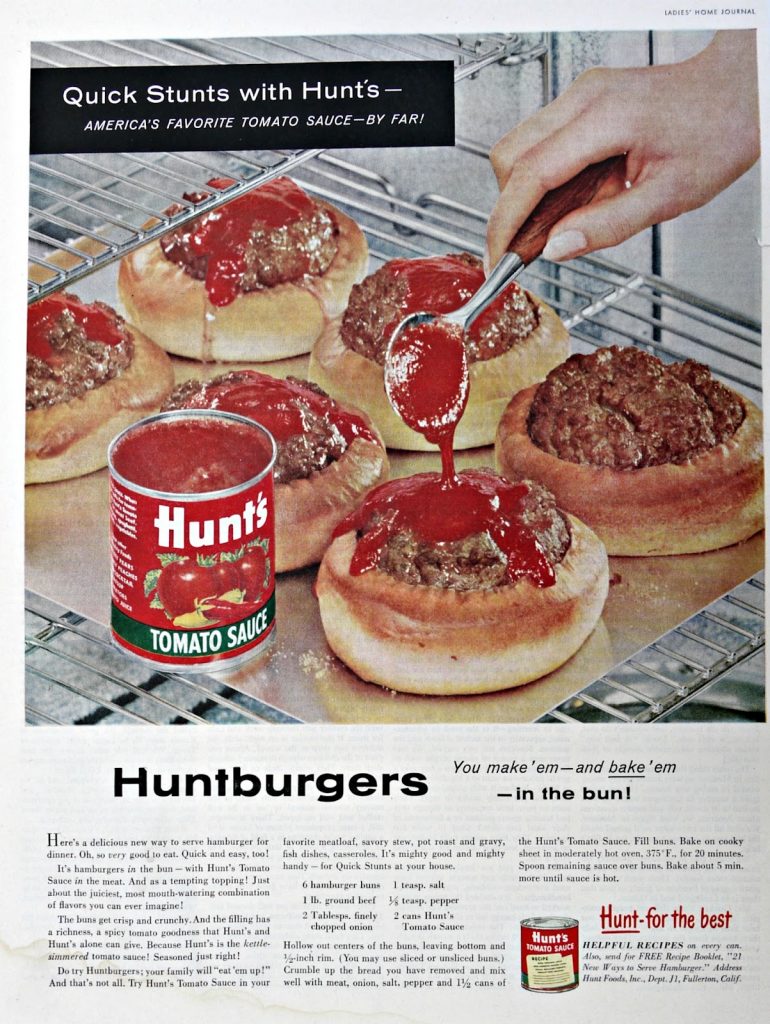 Here's a delicious way to serve hamburger for dinner. Oh so very good to eat. Quick and easy, too!
It's hamburgers in the bun-with Hunt's Tomato Sauce in the meat. And as a tempting topping! Just about the juiciest, most mouth-watering combination of flavors you can ever imagine!
The buns get crisp and crunchy. And the filling has a richness, a spicy tomato goodness that Hunt's and Hunt's alone can give. Because Hunt's is the kettle-simmered tomato sauce! Seasoned just right!
Do try Huntburgers; your family will "eat 'em up!"
And that's not all. Try Hunt's TOmato Sauce in your favorite meatloaf, savory stew, pot roast and gravy, fish dishes, casseroles. It's mighty good and mighty handy-For Quick Stunts at your house.
6 hamburger buns
1 lb. ground beef
2 Tablespoons, finely chopped onion
1 teaspoon salt
1/8 teaspoon pepper
2 cans Hunt's Tomato Sauce
Hollow out centers of the buns, leaving bottom and 1/2-inch rim. (You may use sliced or unsliced buns.)Crumble up the bread you have removed and mix well with the meat, onion, salt, pepper and 1 1/2 cans of the Hunt's Tomato Sauce. Fill buns. Bake on cookie sheet in moderately hot oven, 375 degrees F. for 20 minutes. Spoon remaining sauce over buns. Bake about 5 minutes more until sauce is hot.
For the tastiest burgers, I like to use ground chuck. In the past, I used a vintage Tupperware patty-maker (found it at the thrift store, oh so cheap!), so I could make and freeze several at once. The problem is, the meat gets compressed so the burgers don't turn out as juicy as when I don't use the hamburger patty maker. But I do still like to use it sometimes to freeze hamburger patties. I discovered that if I use a measuring cup to scoop the meat, it gives me enough to work with, and my burgers come out thick yet symmetrical. The trick is not to overhandle, press too hard or add too many ingredients to the ground beef when creating the patties. Press them just enough to form a nice shape.
There's nothing wrong with a simple ground-beef burger. You can always pile on the toppings after your burgers are cooked to give them more flavor. If you do add ingredients to the beef, such as onions or celery, mince them so the meat holds together on the grill.
If you indent the center a bit with the underside of a spoon, the top won't round out. Once your burgers are on the grill, resist flattening them with a spatula. Doing so presses out the juices and creates something fit only for a shuffleboard court.
This is my favorite hamburger recipe:
2 pieces white sandwich bread, crusts removed and cut into 1/4-inch pieces
1/3 cup milk
2-1/2 teaspoons salt
1 teaspoon black pepper
3 garlic cloves, minced
1-1/2 tablespoons Worcestershire sauce
2 tablespoons ketchup
3 pounds ground beef
3 scallions, finely sliced (optional)
8-10 hamburger buns
In a large bowl, mash the bread and milk together with a fork until it forms a chunky paste. Add the salt, pepper, garlic, Worcestershire sauce and ketchup and mix well. Add the ground beef and scallions. Gently mix everything together until just combined. Do not overmix. Divide the mixture into eight to ten equal portions and form loose balls. Gently flatten the balls into 3/4-inch patties about 4-1/2 inches around. Form a slight depression in the center of each patty with the underside of a spoon. Grease the grill with non-flammable cooking spray. Grill the burgers, covered, until nicely browned on the first side, 2-4 minutes. Flip burgers and continue cooking for a few minutes.
Are you tired of burgers topped with the usual suspects — tomatoes, lettuce, onions, relish, ketchup and mustard?
Here are some hamburger topping ideas.
Not Just for Salad: Try using ranch, Caesar, blue-cheese or thousand-island dressing to liven up your burgers.
Change the bun: Instead of the typical hamburger roll, try using rye bread, bagels, Pretzel, English muffins, croissants or tortillas.
Pizza burger: Use pizza sauce and mozzarella cheese.
Delicious crunch: Instead of lettuce, try cole slaw or cucumbers.
Stroganoff burger: Add onions, sour cream and mushrooms.
Taco burger: Add taco sauce or salsa, lettuce, cheese, black olives, tomatoes and sour cream.
Chili burger: Add chili and cheese.
BLT: Add bacon, lettuce, tomato and ranch salad dressing.
Stuffed pepper burger: Add green peppers, cooked rice, tomato sauce and cheddar cheese.
BBQ: Top the patty with barbecue sauce, onions and bacon.
Here are more Hunt's Recipes