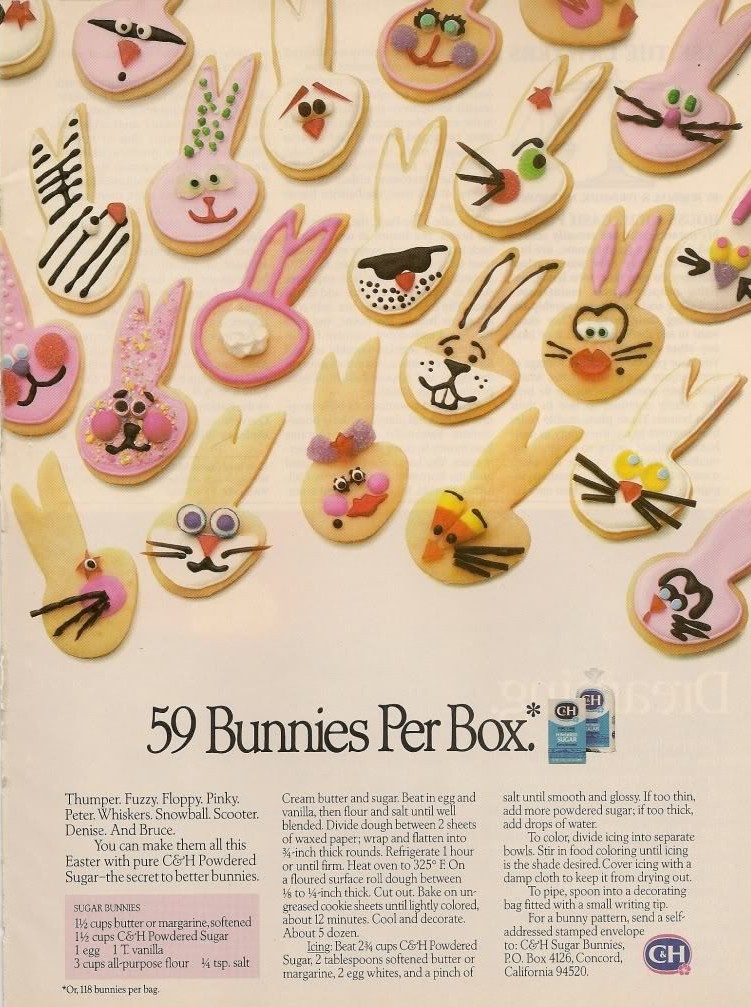 Thumper. Fuzzy. Floppy. Pinky. Peter. Whiskers. Snowball. Scooter. Denise. And Bruce.
You can make them all this Easter with pure C&H Powdered Sugar-the secret to better bunnies.
Sugar Bunnies Cookies
1 1/2 cups butter or margarine, softened
1 1/2 cups C&H Powdered Sugar
1 egg
1 tablespoon vanilla
3 cups all-purpose flour
1/4 teaspoon salt
Cream butter and sugar. Beat in egg and vanilla, then flour and salt until well blended. Divide dough between 2 sheets of waxed paper; wrap and flatten into 3/4-inch thick rounds. Refrigerate 1 hour or until firm. Heat oven to 325 degrees F. On a floured surface roll dough between 1/8 to 1/4 inch thick. Cut out. Bake on ungreased cookie sheets until lightly colored, about 12 minutes. Cool and decorate. About 5 dozen.
Icing:
Beat 2 3/4 cups C&H Powdered Sugar, 2 tablespoons softened butter or margarine, 2 egg whites and a pinch of salt until smooth and glossy. If too thin, add more powdered sugar; if too thick, add drops of water.
To color, divide icing into separate bowls. Stir in food coloring until icing is the shade desired. Cover icing with a damp cloth to keep it from drying out.
To pipe, spoon into a decorating bag with a small writing tip.