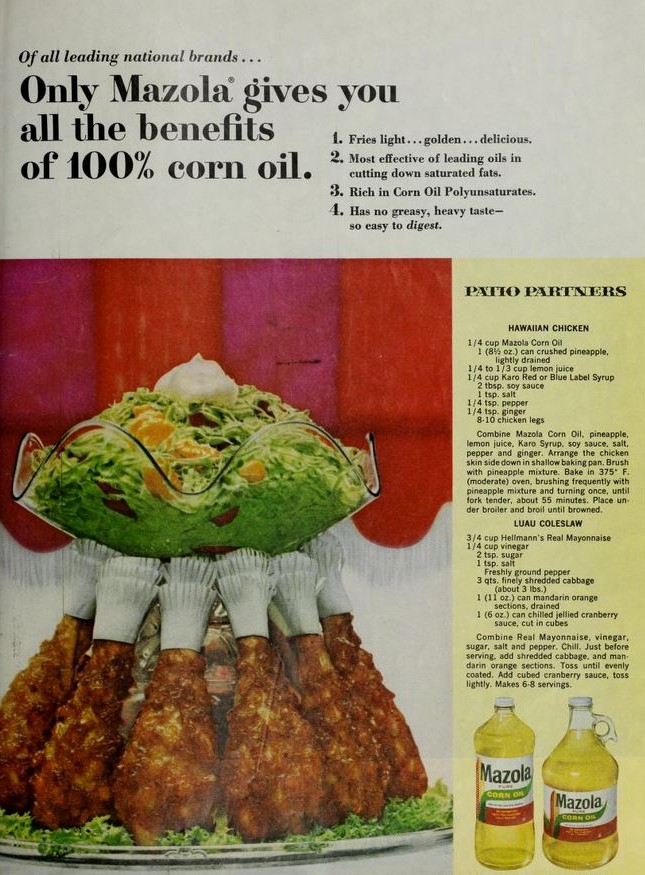 Of all leading national brands…Only Mazola gives you all the benefits of 100% corn oil.
1. Fries light…golden…delicious.
2. Most effective of leading oils in cutting down saturated fats.
3. Rich in Corn Oil Polyunsaturates.
4. Has no greasy, heavy taste so easy to digest.
Patio Partners
Hawaiian Chicken
1/4 cup Mazola Corn Oil
1 (8 1/2 oz.) can crushed pineapple, lightly drained
1/4 to 1/3 cup lemon juice
1/4 cup Karo Red or Blue Label Syrup
2 tablespoons soy sauce
1 teaspoon salt
1/4 teaspoon pepper
1/4 teaspoon ginger
8-10 chicken legs
Combine Mazola Corn Oil, pineapple, lemon juice, Karo Syrup, soy sauce, salt, pepper and ginger. Arrnage the chicken skin side down in shallow baking pan. Brush with pineapple mixture. Bake in 375 degrees F. (moderate) oven, brushing frequently with pineapple mixture and turning once, until fork tender, about 55 minutes. Place under broiler and broil until browned.
Luau Coleslaw
3/4 cup Hellmann's Real Mayonnaise
1/4 cup vinegar
2 teaspoons sugar
1 teaspoons salt
Freshly ground pepper
3 quarts finely shredded cabbage (about 3 lbs.)
1 (11 oz.) can mandarin orange sections, drained
1 (6 oz.) can chilled jellied cranberry sauce, cut in cubes
Combine Real Mayonnaise, vinegar, sugar, salt and pepper. Chill. Just before serving, add shredded cabbage and mandarin orange sections. Toss until evenly coated. Add cubed cranberry sauce, toss lightly. Makes 6-8 servings.