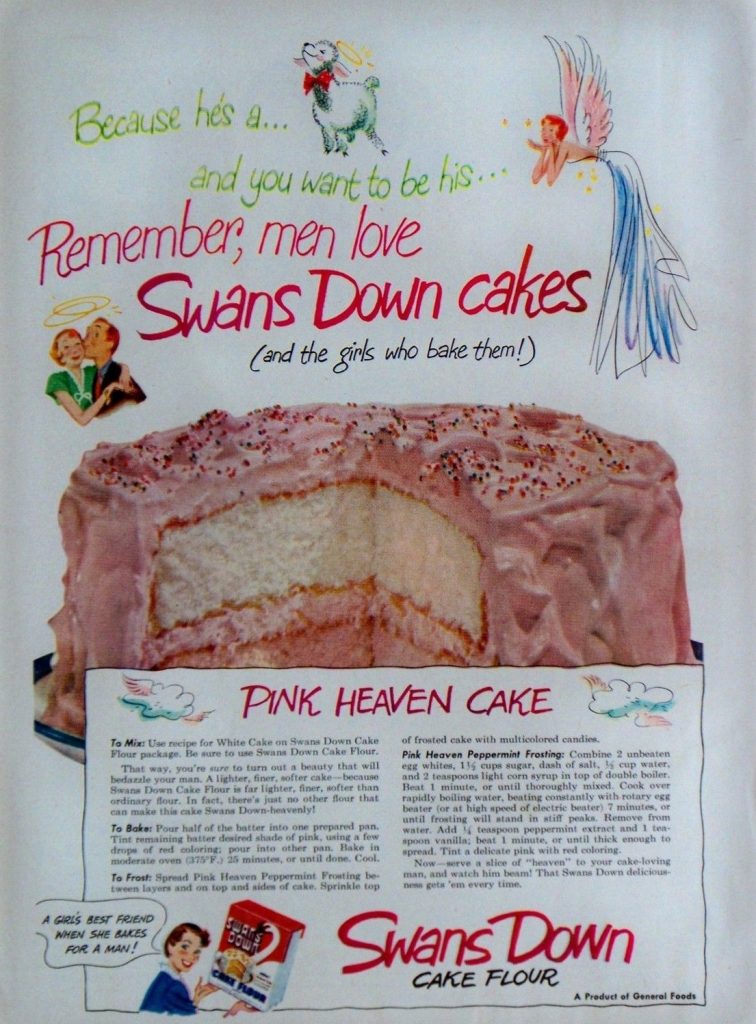 Pink Heaven Cake
To mix:
Use recipe for White Cake on Swans Down Cake Flour package. Be sure to use Swans Down Cake Flour.
That way, you're sure to turn out a beauty that will bedazzle your man. A lighter, finer, softer cake-because Swans Down Cake Flour is far lighter, finer, softer than ordinary flour. In fact, there's just no other flour that can make this cake Swans Down-heavenly.
To bake:
Pour half the batter into one prepared pan. Tint remaining batter desired shade of pink, using a few drops of red coloring; pour into other pan. Bake in moderate oven (375 degrees F.) 25 minutes or until done. Cool.
To frost:
Spread Pink Heaven Peppermint frosting between layers and on top and sides of cake. Sprinkle top of frosted cake with milticolored candies.
Pink Heaven Peppermint Frosting:
Combine 2 unbeaten egg whites, 1 1/2 cups sugar, dash of salt, 1/3 cup water and 2 teaspoons light corn syrup in top of double boiler. Beat 1 minute, or until thoroughly mixed. Cook over rapidly boiling water, beating constantly with rotary egg beater (or at high speed of electric beater) 7 minutes or until frosting will stand in stiff peaks. Remove from water. Add 14 teaspoon peppermint extract and 1 teaspoon vanilla; beat 1 minute or until thick enough to spread. Tint a delicate pink with red coloring.
Now-serve a slice of heaven to your cake-loving man and watch him beam. That Swans Down deliciousness gets 'em every time.