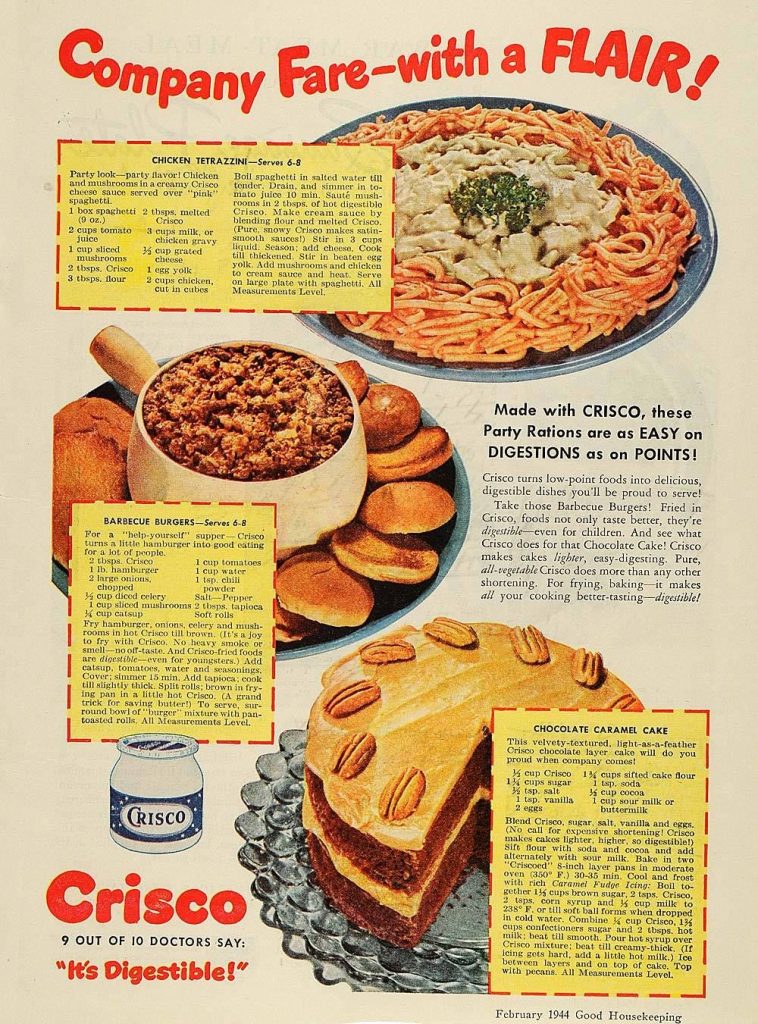 Chicken Tetrazzini
Serves 6-8
Party look-party flavor! Chicken and mushrooms in a creamy Crisco cheese sauce served over pink spaghetti
1 box spaghetti (9 oz.)
2 cup tomato juice
1 cup sliced mushrooms
2 tablespoons Crisco
3 tablespoons flour
2 tablespoons melted Crisco
3 cups milk or chicken gravy
1/2 cup grated cheese
1 egg yolk
2 cups chicken cut in cubes
Boil spaghetti in salted water till tender. Drain and simmer in tomato juice 10 minutes. Saute mushrooms in 2 tablespoons of hot digestible Crisco. Make cream sauce by blending flour and melted Crisco. (Pure snowy Crisco makes satin-smooth sauces!) Stir in 3 cups liquid. Season: add cheese. Cook till thickened. Stir in beaten egg yolk. Add mushrooms and chicken to cream sauce and heat. Serve on large plate with spaghetti. All measurements level.
Barbecue Burgers
Serves 6-8
For a help yourself supper-Crisco turns a little hamburger into good eating for a lot of people.
2 tablespoons Crisco
1 lb. hamurger
2 large onions, chopped
1/2 cup diced celery
1 cup sliced mushrooms
1/4 cup catsup
1 cup tomatoes
1 cup water
1 teaspoon chili powder
Salt, pepper
2 tablespoons tapioca
Soft rolls
Fry hamburger, onions, celery, and mushrooms in hot Crisco till brown. Add catsup, tomatoes, water and seasonings. Cover: Simmer 15 minutes. Add tapioca, cook till slightly thick. SPlit rolls; brown in frying pan in a little hot Crisco. To serve, surround bowl of burger mixture with pan toasted rolls. All measurements level.
Chocolate Caramel Cake
This velvety-textured, light as a feather Crisco chocolate layer cake will do you proud when company comes!
1/2 cup Crisco
1 1/4 cups sugar
1/2 teaspoon salt
1 teaspoon vanilla
2 eggs
1 3/4 sifted cake flour
1 teaspoon soda
1/3 cup cocoa
1 cup sour milk or buttermilk
Blend Criso, sugar, salt, vanilla and eggs. Sift flour with soda and cocoa and add alternately with sour milk. Bake in two Criscoed 8-inch layer pans in moderate oven (350 degrees F.) 30-35 minutes. Cool and frost with rich Caramel Fudge Icing: Boil together 1 1/3 cups brown sugar, 2 teaspoons Crisco, 2 teaspoons corn syrup and 1/3 cup milk to 238 degrees F. or till soft ball forms when dropped in cold water. Combine 1/4 cup Crisco, 1 2/3 cups confectioners sugar and 2 tablespoons hot milk; beat till smooth. Pour hot syrup over Crisco mixture; beat till creamy-thick. If icing gets hard, add a little hot milk. Ice between layers and on top of cake. Top with pecans. All measurements level.