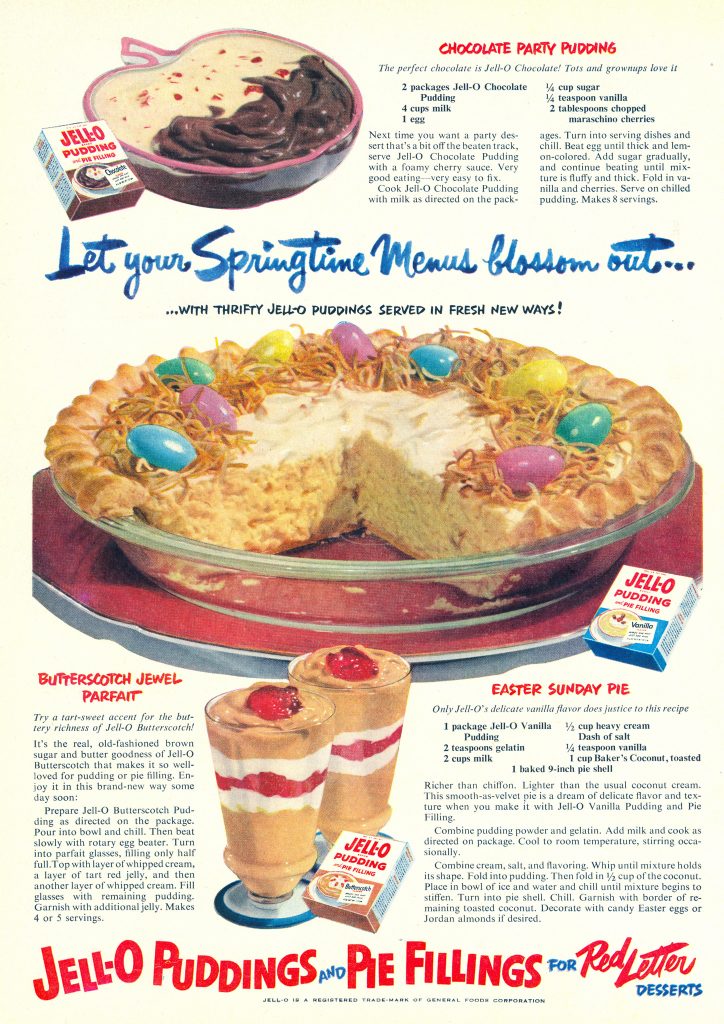 Chocolate Party Pudding
The perfect chocolate is Jell-O Chocolate! Tots and grownups love it
2 packages Jell-O Chocolate Pudding
4 cups milk
1 egg
1/4 cup sugar
1/4 teaspoon vanilla
2 tablespoons chopped maraschino cherries
Next time you want a party dessert that's a bit off the beaten track, serve Jell=O Chocolate Pudding with a foamy cherry sauce. Very good eating…very easy to fix.
Cook Jell-O Chocolate Pudding with milk as directed on the packages. Turn into serving dishes and chill. Beat egg until thick and lemon colored. Add sugar gradually and continue beating until mixture is fluffy and thick. Fold in vanilla and cherries. Serve on chilled pudding. Makes 8 servings.
Butterscotch Jewel Parfait
Try a tart-sweet accent for the buttery richness of Jell-O Butterscotch!
It's the real old-fashioned brown sugar and butter goodness of Jell-O Butterscotch that makes it so well-loved for pudding or pie filling. Enjoy is in this brand-new way some day soon:
Prepare Jell-O Butterscotch Pudding as directed on the package. Pour into bowl and chill. Then beat slowly with rotary egg beater. Turn into parfait glasses, filling only half full.
Top with layer of whipped cream, a layer of tart red jelly and then another layer of whipped cream. Fill glasses with remaining pudding. Garnish with additional jelly. Makes 4 or 5 servings.
Easter Sunday Pie
Only Jell-O's delicate vanilla flavor does justice to this recipe
1 package Jell-O Vanilla Pudding
2 teaspoons gelatin
2 cups milk
1/2 cup heavy cream
Dash of salt
1/4 teaspoon vanilla
1 cup Baker's Coconut, toasted
1 baked 9-inch pie shell
Richer than chiffon. Lighter than the usual coconut cream. This smooth as velvet pie is a dream of delicate flavor and texture when you make it with Jell-O Vanilla Pudding and Pie Filling.
Combine pudding powder and gelatin. Add milk and cook as directed on package. Cool to room temperature, stirring occasionally.
Combine cream, salt and flavoring. Whip until mixture holds its shape. Fold into pudding. Then fold in 1/2 cup of the coconut. Place in bowl of ice and water and chill until mixture begins to stiffen. Turn into pie shell. Chill. Garnish with border of remaining toasted coconut. Decorate with Easter eggs or Jordan almonds if desired.