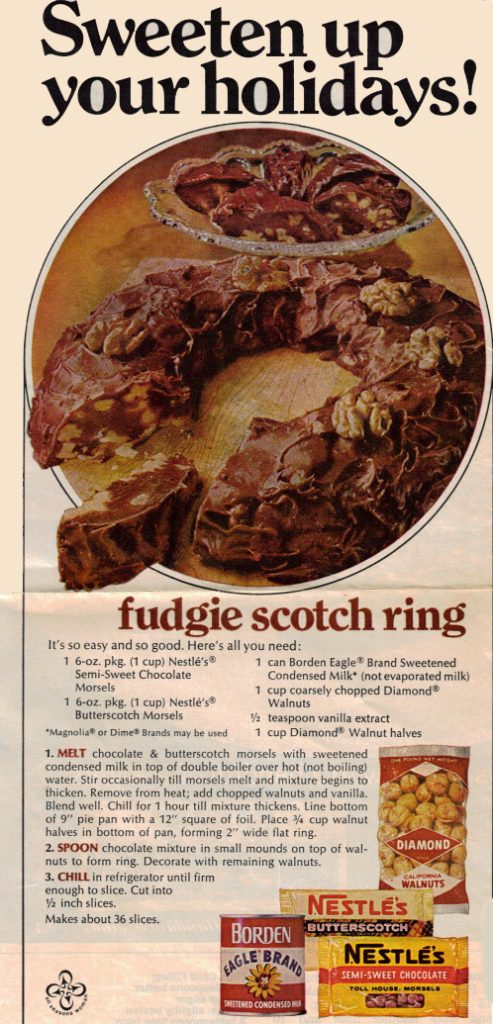 Fudgie Scotch Ring is a popular fudge recipe for holidays. But do you really need a holiday to enjoy fudge? This recipe was in various magazines in 1972. Sometimes it would feature Diamond brand walnuts and sometimes it wouldn't. This fudge recipe has been renamed through the years.  Some recipes give it a bit of a twist by adding ingredients such as Rachel Ray adding currants and calling it Fabulous Five-Minute Fudge. Or Paula Dean not really changing anything (including the name), but adding some maraschino cherries as a garnish.
I'm not a walnut fan, so that's the first to go for me.
Fudgie Scotch Ring
It's so easy and so good. Here's all you need:
1 6-oz. pkg. (1 cup) Nestle's Semi-Sweet Chocolate Morsels
1 6-oz. pkg. (1 cup) Nestle's Butterscotch Morsels
1 can Borden Eagle Brand Sweetened Condensed Milk* (not evaporated milk)
1 cup coarsely chopped Diamond Walnuts
1/2 teaspoon vanilla extract
1 cup Diamond Walnut halves
*Magnolia or Dime Brands may be used
MELT chocolate & butterscotch morsels with sweetened condensed milk in top of double boiler over hot (not boiling) water. Stir occasionally till morsels melt and mixture begins to thicken. Remove from heat; add chopped walnuts and vanilla. Blend well. Chill for 1 hour till mixture thickens. Line bottom of 9″ pie pan with a 12″ square of foil. Place 3/4 cup walnut halves in bottom of pan, forming 2″ wide flat ring.
SPOON chocolate mixture in small mounds on top of walnuts to form ring. Decorate with remaining walnuts.
CHILL in refrigerator until firm enough to slice. Cut into 1/2 inch slices.
Makes about 36 slices.