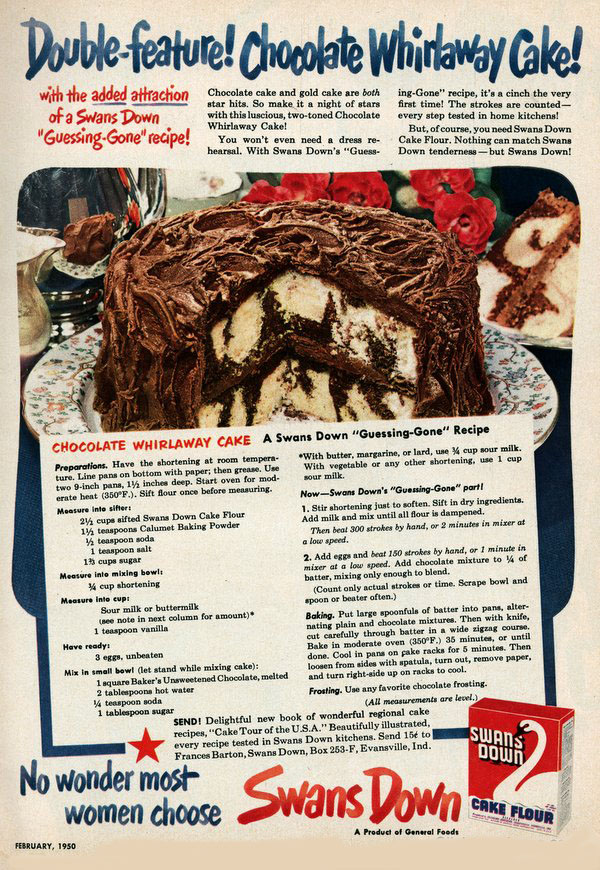 Chocolate whirlaway cake
A Swan's Down "Guessing-Gone" Recipe"
Chocolate cake and gold cake are both star hits. So make it a night of stars with this luscious, two-toned Chocolate Whirlaway Cake!
Preparation: Have the shortening at room temperature. Line pans on bottom with paper, then grease. Use two 9-inch pans, 1 1/2 inches deep. Start oven for moderate heat (350 degrees F.). Sift flour once before measuring.
Measure into sifter:
2-1/2 cups sifted cake flour
1-1/2 tsp. baking powder
1/2 t tsp. soda
1 tsp. salt
1-2/3 c. sugar
Measure into mixing bowl:
3/4 c. shortening
Measure into cup:
1 c. sour milk*
1 tsp. vanilla
Have ready:
3 unbeaten eggs
Mix in small bowl (let stand while mixing cake):
1 square unsweetened chocolate
2 tbsp. hot water
1/4 tsp. soda
1 tbsp. sugar
*With butter, margarine, or lard, use 3/4 cup sour milk. WIth vegetable or any other shortening, use 1 cup sour milk.
1. Stir shortening just to soften, then sift in flour, baking powder, soda, salt and sugar sifted together. Add milk and vanilla and mix until flour is dampened, then beat 300 strokes by hand or two minutes on mixer at low speed.
2. Add eggs and beat 150 strokes by hand or one minute on the mixer at low speed. Melt chocolate in the hot water with the fourth teaspoon of soda and tablespoon of sugar and let stand while mixing cake. Add chocolate to one-fourth of batter, mixing only enough to blend.
(Count only actual strokes or time. Scrape bowl and spoon or beater often.)
Baking:
Put large spoonsful of batter into pans lined with greased waxed paper, alternating the plain with the chocolate. With a knife cut carefully through the batter in a wide, zigzag course. Bake in moderate oven (350 degrees) 35 minutes or until done. Cool in pans on cake rack for five minutes. Then loosen from sides with spatula, turn out and remove paper and turn right side up on racks to cool.
Frosting:
Use any favorite chocolate frosting. (All measurements are level.)