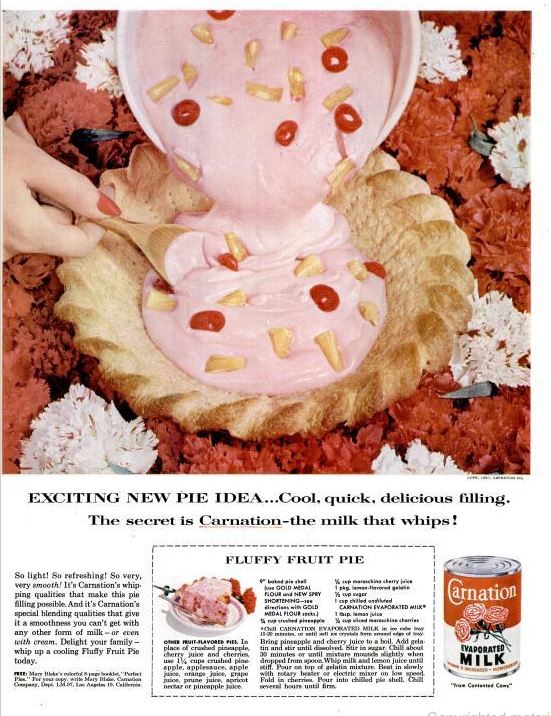 Fluffy Fruit Pie
9-inch baked pie shell
3/4 cup crushed pineapple
1/4 cup maraschino cherry juice
1 package lemon-flavored gelatin
1/2 cup sugar
1 cup chilled undiluted Carnation evaporated milk*
1 tablespoon lemon juice
1/4 cup sliced maraschino cherries
*Chill Carnation Evaporated Milk in ice cube tray 15-20 minutes, or until soft ice crystals form around edge of tray.
Bring pineapple and cherry juice to a boil. Add gelatin and stir until dissolved. Stir in sugar. Chill about 30 minutes or until mixture mounds slightly when dropped from spoon. Whip milk and lemon juice until stiff. Pour on top of gelatin mixture. Beat in slowly with rotary beater or electric mixer on low speed. Fold in cherries. Pour into chilled pie shell. Chill several hours until firm.
Other fruit-flavored pies:
In place of crushed pineapple, cherry juice and cherries, use 1 1/4 cups crushed pineapple, applesauce, apple juice, orange juice, grape juice, prune juice, apricot nectar or pineapple juice.