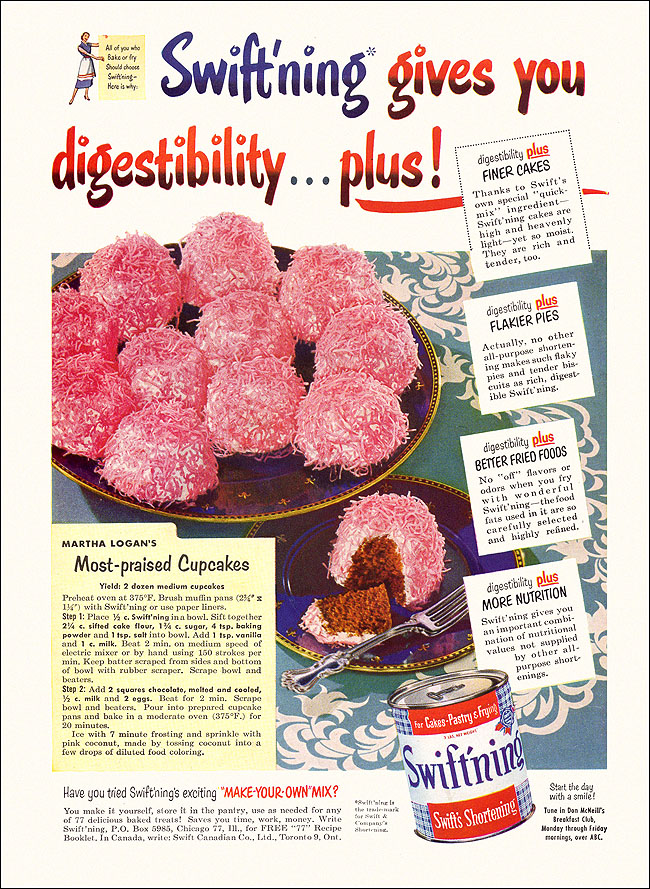 Most Praised Cupcakes
Preheat oven at 375˚F. Brush muffin pans (2 3/4″ x 1 1/4″) with Swift'ning shortening or use paper liners.
Step 1: Place 1/2 cup Swift'ning shortening in a bowl. Sift together 2 1/4 cups sifted cake flour, 1 3/4 cups sugar, 4 tsp. baking powder and 1 tsp of salt into bowl. Add 1 tsp. vanilla and 1 cup milk. Beat 2 min. on medium speed of electric mixer or by hand using 150 strokes per min. Keep batter scraped from sides and bottom of bowl with rubber scraper. Scrape bowl and beaters.
Step 2: Add 2 squares chocolate, melted and cooled, 1/2 cup milk and 2 eggs. Beat for 2 min. Scrape bowl and beaters. Pour into prepared cupcake pans and bake in a moderate oven (375˚F) for 20 min.
Ice with 7-minute frosting and sprinkle with pink coconut, made by tossing coconut with a few drops of dilluted food coloring.
Yield: 2 dozen medium cupcakes.
Swift'ning Make-Your-Own-Mix
Yield: about 13 cups
2 cups Swift'ning
9 cups sifted all-purpose flour
1 Tablespoon salt (or 1 1/2 to Tablespoons of salt may be used)
1/4 cup or 4 Tablespoons double-acting baking powder (like Calumet, K-C, and Clabber Girl)
Combined sifted flour, salt and baking powder. Stir well. Sift into a large bowl, large pan or onto heavy paper. Add Swift'ning (all-purpose shortening). Use fingers or pastry blender to distribute Swift'ning throughout dry ingredients until the mixture resembles coarse cornmeal. The Make-Your-Own Mix is now ready to use or store in a closed canister on your pantry shelf.
7 Variations of 7 minute frosting:
1. Seven Minute Frosting
Better Homes and Gardens New Cookbook, 1957
2 unbeaten egg whites
1 1/2 cups sugar
2 teaspoons light corn syrup
or 1/4 teaspoon cream of tartar
1/3 cup cold water
(can substitute half of the liquid for Maraschino cherry juice)
dash of salt (must use)
1 teaspoon of vanilla
Add all ingredients except vanilla to the top half of a double boiler, beat for one minute off the heat while the bottom pot
of the double boiler heats up on the stove.
2. 7 Minute Frosting:
3/4 cup sugar
1 tsp vanilla extract
1/4 cup boiling water
1/4 tsp cream of tartar
3 unbeaten egg whites
Mix sugar, cream of tartar, vanilla and egg whites. Add boiling water. Beat on high til mixture forms peaks (like meringue) approximately 5-7 minutes.
3. 7 Minute Frosting:
4 Egg Whites
1 cup Sugar
1 cup Water
1/2 teaspoon Cream of Tartar
1 teaspoon Vanilla Extract
Pinch of Salt
Place water in a small sauce pan. Add Sugar but, do not stir. Place saucepan over medium-high heat, bring to 238º. While sugar is cooking, separate the egg whites from the yolks. Save yolks for use later. Place the egg whites in a large mixing bowl. Add the Cream of Tartar. Add the pinch of Salt. Use a blender, on high speed and beat egg whites until they form soft peaks. When sugar syrup reaches 238º, slowly add, in a small stream, to the egg whites. Continue to beat the egg whites on high speed while adding all the sugar syrup over about a 5 minute period of time. Careful, the sugar syrup is very hot. Add the Vanilla Extract and beat another minute or so to incorporate the vanilla. Continue to beat only as long as needed to form firm peaks. Work quickly to spread over cake as the egg whites may continue to firm up and set.
4. 7 Minute Frosting (Swiss Meringue)
1 1/2 cups (10 1/2 ounces) sugar
1/3 cup (2 5/8 ounces) cold water
2 egg whites
2 teaspoons light corn syrup or 1/4 teaspoon cream of tartar
pinch of salt
1 teaspoon vanilla
In the top of a double boiler, combine the sugar, water, egg whites, corn syrup or cream of tartar, and the pinch of salt. Beat with an electric mixer set at low speed for 30 seconds, then set the pan over boiling water (the pan shouldn't touch the water). Beating at high speed, cook the frosting for about 7 minutes, or until it's stiff and glossy. Remove it from the heat, add the vanilla, and beat an additional 2 minutes. Yield: Enough frosting to cover a 10-inch tube or 2 or 3-layer cake.
5. Seven-Minute Frosting
Joy of Cooking
5 tablespoons water
1/4 teaspoon cream of tartar
1 1/3 cups sugar
2 large eggs whites at room temperature
1 tablespoon light corn syrup
1 teaspoon vanilla
1/2 to 1 cup chopped nuts or shredded sweetened dried coconut (optional)
Whisk first five ingredients together in a large, stainless-steel bowl. Set the bowl in a wide, deep skillet filled with about 1 inch of simmering water. Make sure the water level is at least as high as the depth of the egg whites in the bowl. Beat the whites on low speed until the mixture reaches 140 degrees F on an instant-read thermometer. Do not stop beating while the bowl is in the skillet, or the egg whites will be overcooked. If you cannot hold the thermometer stem in the egg whites while continuing to beat, remove the bowl from the skillet just to read the thermometer, then return the bowl to the skillet, or yell "[Insert your husband/wife/sig-other's name here]!! Halp! Can you check the temperature of this for me!!!" It might or might not work.
Beat on high speed for exactly five minutes. Remove the bowl from the skillet and add vanilla, beating on high speed for two to three more minutes to cool.
6. 7 Minute Frosting (Chicago Tribune)
Place 2 egg whites, 1 1/2 cups sugar, 1 1/2 teaspoons light corn syrup or 1/4 teaspoon cream of tartar, 1/3 cup cold water and a few grains salt in top of double boiler, over boiling water, and beat with rotary or electric mixer until mixture forms peaks. Remove from heat, add 1 teaspoon vanilla, and beat until frosting has spreading consistency.
In a short head note, Church describes it as "a popular frosting with several variations." Those she cites include:
Chocolate: Fold in 3 ounces unsweetened chocolate, melted and cooled, before spreading.
Marshmallow: Add 1 cup quartered marshmallows when removing frosting from the heat, beat by hand until spreadable.
"Sea foam" or brown sugar frosting: Use packed measure of brown sugar instead of white. Omit the corn syrup or cream of tartar.
7. 7 Minute Frosting:
2 egg whites
1 1/2 c. sugar
1 1/2 tsp. light corn syrup
1/3 c. cold water
1/2 tsp. salt
1 tsp. vanilla
Combine all ingredients, except vanilla, in top of double boiler. Blend until smooth. Cook over boiling water, beating continuously for 7 minutes or until mixture holds a peak. Remove from heat. Add vanilla. Beat for 2 minutes or until thick enough to spread. Especially good with pineapple or coconut.