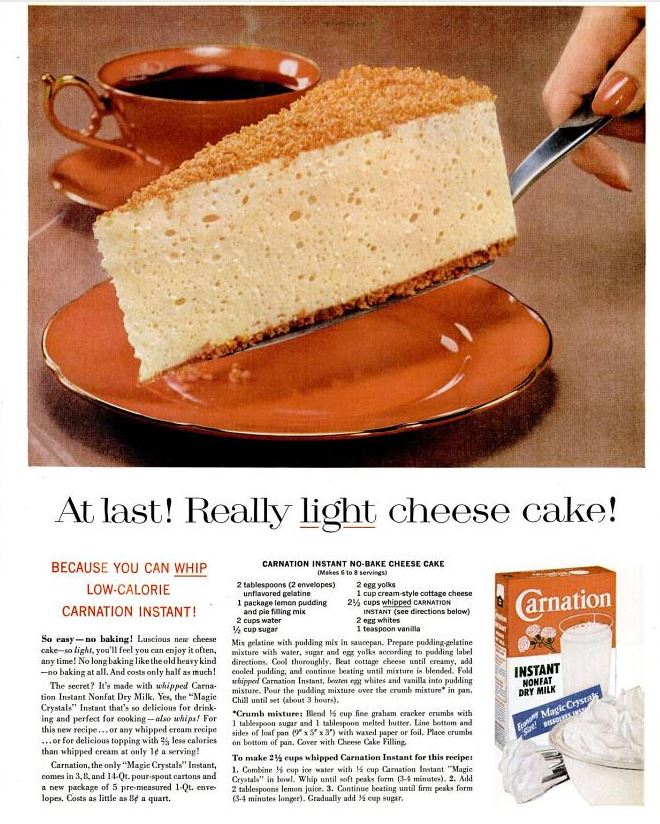 Carnation Instant
No Bake Cheese Cake
2 tablespoons (2 envelopes) unflavored gelatine
1 package lemon pudding and pie filling mix
2 cups water
1/2 cup sugar
2 eggs yolks
1 cup cream-style cottage cheese
2 1/2 cups whipped Carnation Instant (see directions below)
2 egg whites
1 teaspoon vanilla
Mix gelatine with pudding mix in saucepan. Prepare pudding-gelatine mixture with water, sugar and egg yolks according to pudding label directions. Cool thoroughly. Beat cottage cheese until creamy, add cooled pudding, and continue beating until mixture is blended. Fold whipped Carnation Instant, beaten egg whites and vanilla into pudding mixture. Pour the pudding mixture over the crumb mixture* in pan. Chill until set (about 3 hours).
*Crumb mixture:
Blend 1/2 cup fine graham cracker crumbs with 1 tablespoon sugar and 1 tablespoon melted butter. Line bottom and sides of loaf pan. (9x5x3) with waxed paper or foil. Place crumbs on bottom of pan. Cover with Cheese Cake Filling.
To make 2 1/2 cups whipped Carnation Instant for this recipe:
1. Combine 1/2 cup ice water with 1/2 cup Carnation Instant "Magi Crystals" in bowl. Whip until soft peaks form (3-4 minutes).
2. Add 2 tablespoons lemon juice.
3. Continue beating until firm peaks form (3-4 minutes longer). Gradually add 1/2 cup sugar.