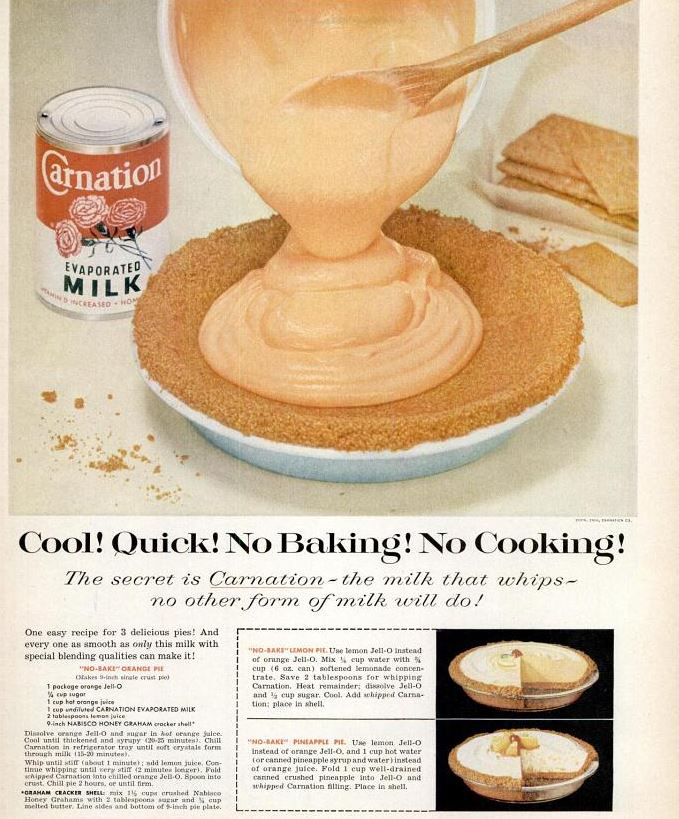 Cool! Quick! No Baking! No Cooking!
No Bake Orange Pie
(Makes 9-inch single crust pie)
1 package orange Jell-O
1/4 cup sugar
1 cup hot orange juice
a cup undiluted Carnation Evaporated Milk
2 tablespoons lemon juice
9-inch Nabisco Honey Graham cracker shell*
Dissolve orange Jell-O and sugar in hot orange juice. Cool until thickened and syrupy (20-25 minutes). Chill Carnation in refrigerator tray until soft crystals form through milk (15-20 minutes).
Whip until stiff (about 1 minute); add lemon juice. Continue whipping until very stiff (2 minutes longer). FOld whipped Carnation into chilled orange Jell-O. Spoon into crust. Chill pie 2 hours, or until firm.
*Graham Cracker Shell: Mix 1 1/2 cups crushed Nabisco Honey Grahams with 2 tablespoons sugar and 1/4 cup melted butter. Line sides and bottom of 9-inch pie plate.
No Bake Lemon Pie
Use lemon Jell-O instead of orange Jell-O. Mix 1/4 cup water and 3/4 cup (6 oz. can) softened lemonade concentrate. Save 2 tablespoons for whipping Carnation. Heat remainder; dissolve Jell-O and 1/2 cup sugar. Cool. Add whipped Carnation; place in shell.
No Bake Pineapple Pie
Use leon Jell-O instead of orange Jell=O and 1 cup hot water (or canned pineapple syrup and water) instead of orange juice. Fold 1 cup well-drained canned crushed pineapple into Jell-O and whipped Carnation filling. Place in shell.