Lemon Nut Bread Recipe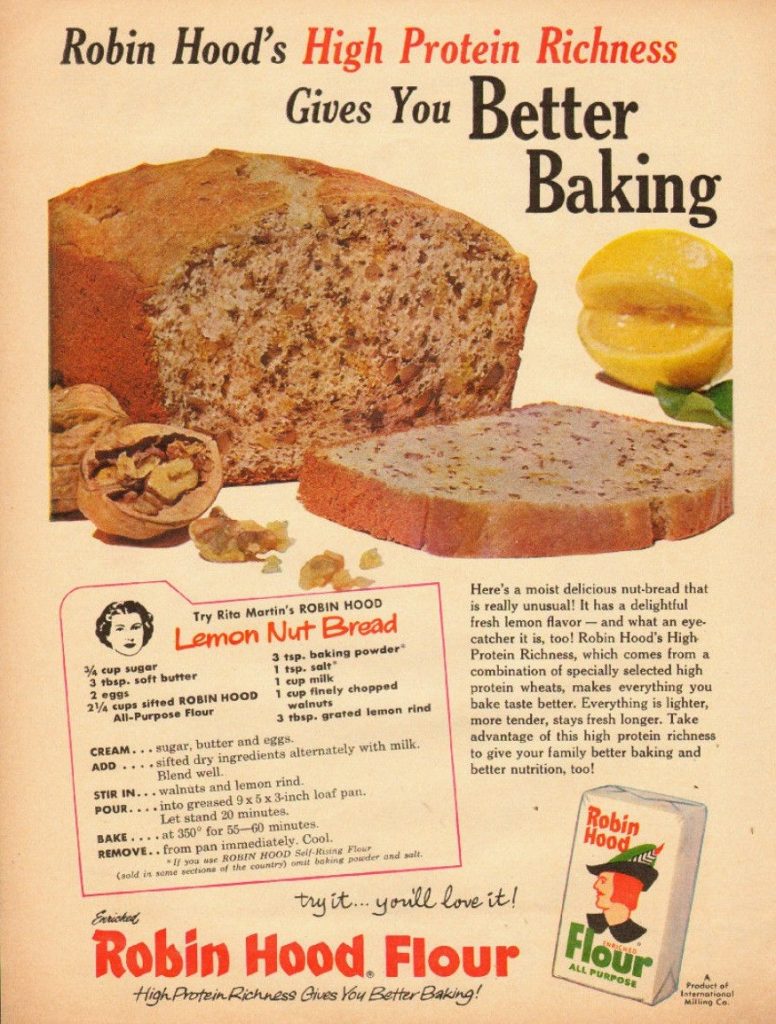 Here's a moist delicious nut-bread that is really unusual! It has a delightful fresh lemon flavor-and what an eye-catcher it is, too!
Robin Hood's High Protein Richness, which comes from a combination of specially selected high protein wheats, makes everything you bake taste better. Everything is lighter, more tender, stays fresh longer. Take advantage of this high protein richness to give your family better baking and better nutrition, too!
Try Rita Martin's Robin Hood
Lemon Nut Bread
3/4 cup sugar
3 tablespoons soft butter
2 eggs
2 1/4 cups sifted Robin Hood All-Purpose Flour
3 teaspoons baking powder*
1 teaspoon salt*
1 cup milk
1 cup finelt chopped walnuts
3 tablespoons grated lemon rind
Cream…sugar, butter and eggs.
Add…sifted dry ingredients alternately with milk. Blend well.
Stir in…walnuts and lemon rind.
Pour…into greased 9 x 5 x 3-inch loaf pan. Let stand 20 minutes.
Bake…at 350 degrees F. for 55-60 minutes.
Remove.. from pan immediately. Cool.
*If you use Robin Hood self-rising flour omit baking powder and salt.
Here are more Robin Hood Bread Recipes