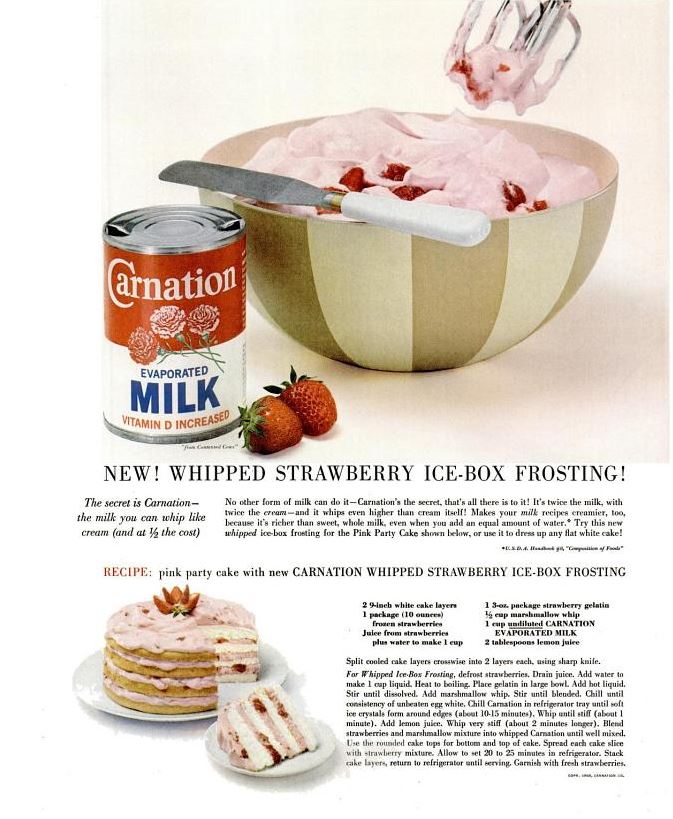 Whipped Strawberry Ice-Box Frosting
2 9-inch white cake layers
1 package (10 ounces) frozen strawberries
Juice from strawberries plus water to make 1 cup
1 3-oz. package strawberry gelatin
1/2 cup marshmallow whip
1 cup undiluted Carnation Evaporated Milk
2 tablespoons lemon juice
Split cooled cake layers crosswise into 2 layers each, using sharp knife.
For Whipped Ice-Box Frosting:
Defrost strawberries. Drain juice. Add water to make 1 ccup liquid. Heat to boiling. Place gelatin in large bowl. Add hot liquid. Stir until dissolved. Add marshmallow whip. Stir until blended. Chill until consistency of unbeaten egg white. Chill Carnation in refrigerator tray until soft ice crystals form around edges (about 10-15 minutes). Whip until stiff (about 1 minute). Add lemon juice. Whip very stiff (about 2 minutes longer). Blend strawberries and marshmallow mixture into whipped Carnation until well mixed. Use the tounded cake tops for bottom and top of cake. Spread each cake slice with strawberry mixture. Allow to set 20-25 minutes in refrigerator. Stack cake layers, return to refrigerator until serving. Garnish with fresh strawberries.