Peanut Whirls Recipe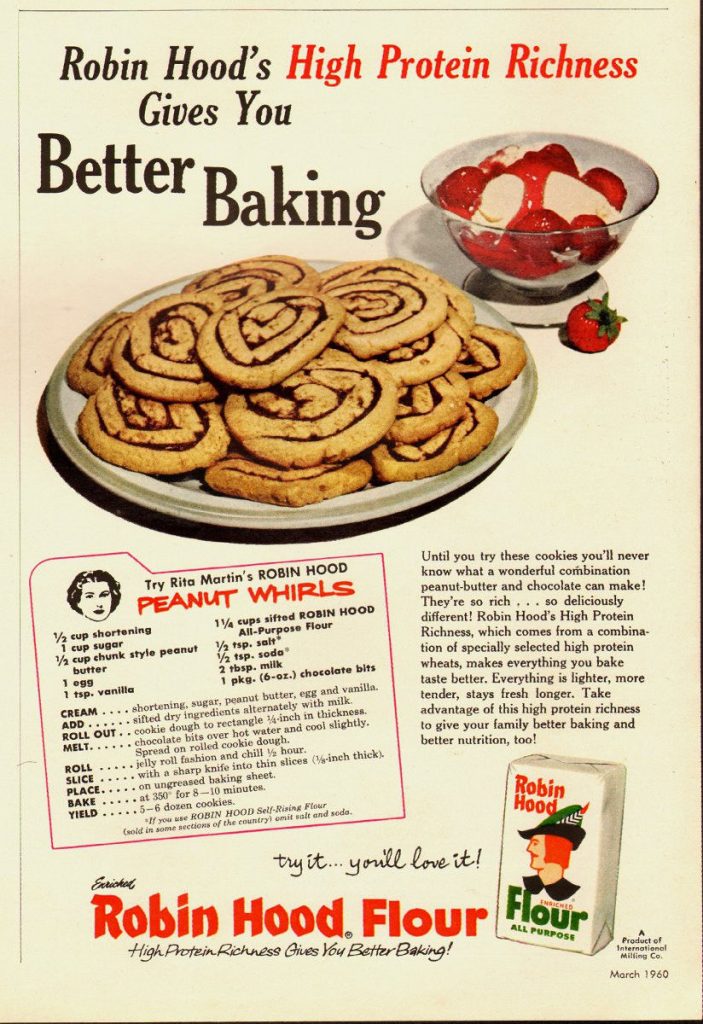 Until you try these cookies, you'll never know what a wonderful combination peanut-butter and chocolate can make!
They're so rich…so deliciously different! Robin Hood's High Protein Richness, which comes from a combination of specially selected high protein wheats, makes everything you bake taste better. Everything is lighter, more tender, stays fresh longer. Take advantage of this high protein richness to give your family better baking and better nutrition, too!
Try Rita Martin's Robin Hood
Peanut Whirls
1/2 cup shortening
1 cup sugar
1/2 cup chunk style peanut butter
1 egg
1 teaspoon vanilla
1 1/4 cups sifted Robin Hood All-Purpose Flour
1/2 teaspoon salt*
1/2 teaspoon soda*
2 tablespoons milk
1 package (6 oz.) chocolate bits
Cream…shortening, sugar, peanut butter, egg and vanilla.
Add…sifted dry ingredients alternately with milk
Roll out…cookie dough to rectangle 1/4-inch in thickness.
Melt…chocolate bits over hot water and cool slightly.
Roll…jelly roll fashion and chill 1/2 hour.
Slice…with a sharp knife into thin slices. (1/8-inch thick)
Place…on ungreased baking sheet.
Bake…at 350 degrees F. for 8-10 minutes.
Yield…5-6 dozen cookies.
*If you use Robin Hood Self-Rising Flour omit salt and soda.
Learn more about Robin Hood Flour. Enjoy your old fashioned peanut whirls!