Valentine's Day Pie and Cake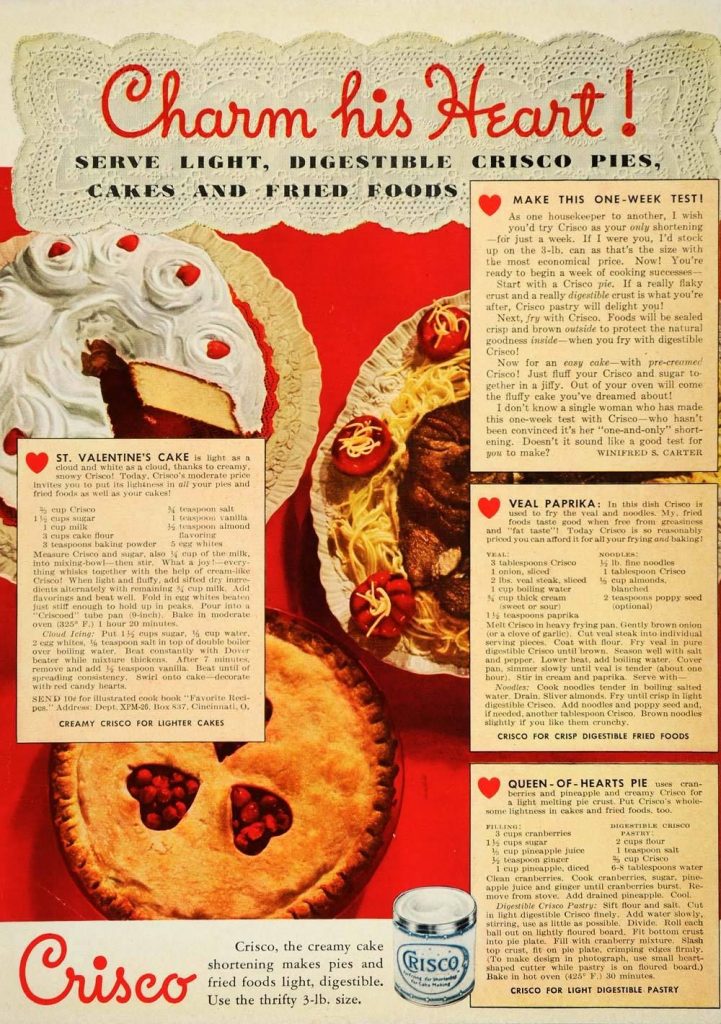 Charm His Heart!
Serve light, digestible Crisco Pies, Cakes and Fried Foods
Make This One-Week Test!
As one housekeeper to another, I wish you'd try Crisco as your only shortening-for just one week. If I were you, I'd stick up on the 3-lb. can as that's the size with the most economical price. Now! You're ready to begin a week of cooking successes-
Start with a Crisco Pie. If a really flaky crust nd a really digestible crust is what you're after, Criso pastry will delight you!
Next fry with Crisco. Foods will be sealed crisp and brown outside to protect the natural goodness inside-when you fry with digestible Crisco!
Now for an easy cake-with pre-creamed Crisco! Just fluff your Crisco and sugar together in a jiffy. Out of your oven will come the fluffy cake you've dreamed about!
I don't know a single woman who has made this one-week test with Crisco-who hasn't been convinced it's her "one-and-only" shortening. Doesn't it sound like a good test for you to make? Winifred S. Carter
St. Valentine's Cake
is light as a cloud and white as a cloud thanks to creamy, snowy Crisco! Today, Crisco's moderate price invited you to put its lightness in all your pies and friend foods as well as your cakes!
2/3 cups Crisco
1 1/2 cups sugar
1 cup milk
3 cups cake flour
3 teaspoons baking powder
3/4 teaspoon salt
1 teaspoon vanilla
1/2 teaspoon almond flavoring
5 egg whites
Measure Crisco and sugar, also 1/4 cup of the milk, into mixing bowl-then stir. What a joy!-everything whicks together with the help of cream-like Crisco! When light and fluffy, add sifted dry ingredients alternately with remaining 3/4 cup milk. Add flavorings and beat well. Fold in egg whites beaten just stiff enough to hold up in peaks. Pour into a "Criscoed" tube pan (9-inch). Bake in moderate oven (325 degrees F.) 1 hour 20 minutes.
Cloud icing:
Put 1 1/2 cups sugar, 1/3 cup water, 2 egg whites, 1/8 teaspoon salt in top of double boiler over boiling water. Beat constantly with Dover beater while mixture thickens. After 7 minutes, remove and add 1/2 twaspoon vanilla. Beat until of spreading consistency. Swirl onto cake-decorate with red candy hearts.
Veal Paprika
In this dish, Crisco is used to fry the veal and noodles. My fried foods taste good when free from greasiness and "fat taste"! TOday Crisco is so reasonably priced you can afford it for all your frying and baking!
Veal:
3 tablespoons Crisco
1 onion, sliced
2 lb.s veal steak, sliced
1 cup boiling water
3/4 cup thick cream (sweet or sour)
1 1/2 teaspoons paprika
Noodles:
1/2 lb. fine noodles
1 tablespoon Crisco
1/3 cup almonds, blanched
2 teaspoons poppy seeds (optional)
Melt Crisco in heavy frying pan. Gently brown onion (or clove of garlic). Cut veal steak into individual serving pieces. Coat with flour. Fry veal in pure digestible Crisco until brown. Season well with salt and pepper. Lower hear, add boiling water. Cover pan, simmer slowly until veal is tender (about 1 hour). Stir in cream and paprika. Serve with-
Noodles: Cook noodles tender in boiling salted water. Drain. Sliver almonds. Fry until crisp in light digestible Crisco. Add noodles and poppy seed and if needed, another tablespoon Crisco. Brown noodles slightly if you like them crunchy.
Queen-Of-Hearts Pie
uses cranberries and pineapple and creamy Crisco for a light melting pie crust. Put Crisco wholesome lightness in cakes and fried foods, too.
Filling:
3 cups cranberries
1 1/2 cups sugar
1/3 cupn pineapple juice
1/2 teaspoon ginger
1 cup pineapple, diced
Digestible Crisco Pastry:
2 cups flour
1 teaspoon salt
2/3 cup Crisco
6-8 tablespoons water
Clean cranberries. Cook cranberries, sugar, pineapple juice and ginger until cranberries burst. Remove from stove. Add drained pineapple. Cool.
Digestible Crisco Pastry: Sift flour and salt. Cut into light digestible Crisco finely. Add water slowly, stirring, use as little as possible. Divide. Roll each ball out on lightly floured board. Fit bottom crust into pie plate. Fill with cranberry mixture. Slash top crust, fit on pie plate, crimping edges firmly. (To make design in photograph, use small heart-shaped cutter while pastry is on floured board.) Bake in hot oven (425 degrees F.) 30 minutes.
Here are more Crisco recipes.