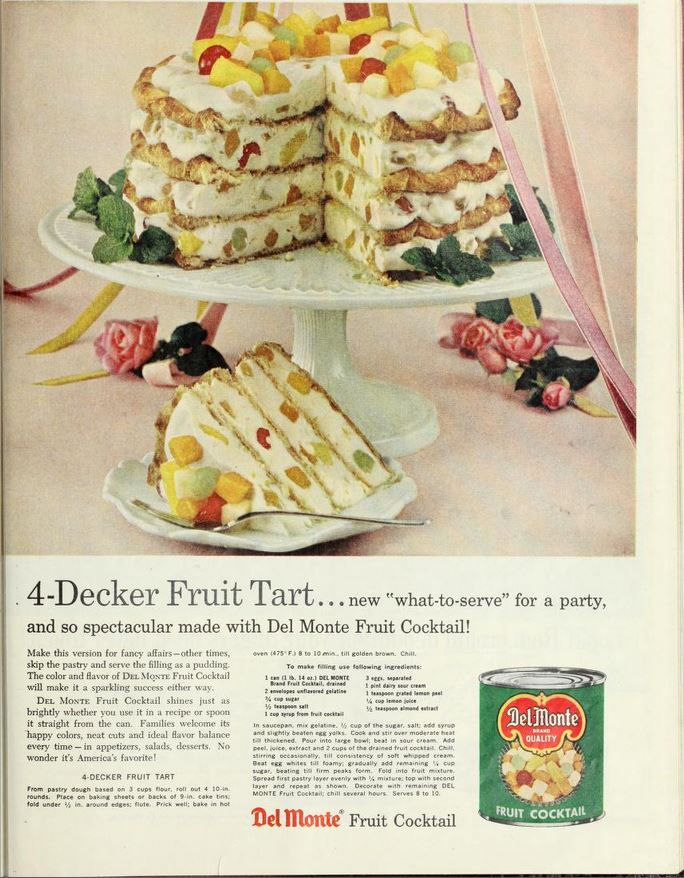 4 Decker Fruit Tart
…new "what-to-serve" for a party, and so spectacular made with Del Monte Fruit Cocktail!
Make this version for fancy affairs-other times skip the pastry and serve the filling as a pudding.
The color and flavor of Del Monte Fruit Cocktail will make it a sparkling success either way.
Del Monte Fruit Cocktail shines just as brightly whether you use it in a recipe or spoon it straight from the can. Families welcome its happy colors, neat cuts and ideal flavor balance every time-in appetizers, salads, desserts. No wonder it's America's favorite!
4 Decker Fruit Tart
From pastry dough based on 3 cups flour, roll out 4 10-inch rounds. Place on baking sheets or backs of 9-inch cake tins; fold under 1/2″ around edges; flute. Prick well; bake un hot oven (475 degrees F.) 8-10 minutes, till golden brown.
To make filling use following ingredients:
1 can (1 lb. 14 oz.) Del Monte Brand Fruit Cocktail, drained
2 envelopes unflvaored gelatin
3/4 cup sugar
1/2 teaspoon salt
1 cup syrup from fruit cocktail
3 eggs, seprated
1 pint dairy sour cream
1 teaspoon grated lemon peel
1/4 cup lemon juice
1/2 teaspoon almond extract
In saucepan, mix gelatine, 1/2 cup of the sugar, salt; add syrup and slightly beaten egg yolks. Cook and stir over moderate heat till thickened. Pour into large bowl; beat in sour cream. Add peel, juice, extract and 2 cups of the drained fruit cocktail. Chill/ Stirring occasionally, till consistency of soft whipped cream. Beat egg whites till foamy; gradually add remaining 1/4 cup sugar, beating till form peaks form. Fold into fruit mixture. Spread first pastry layer evenly with 1/4 mixture; top with second layer and repeat as shown. Decorate with trmaining Del Monte Fruit Cocktail; chill several hours. Serves 8-10.
Here's a Fruit Cocktail Coffee Cake Recipe