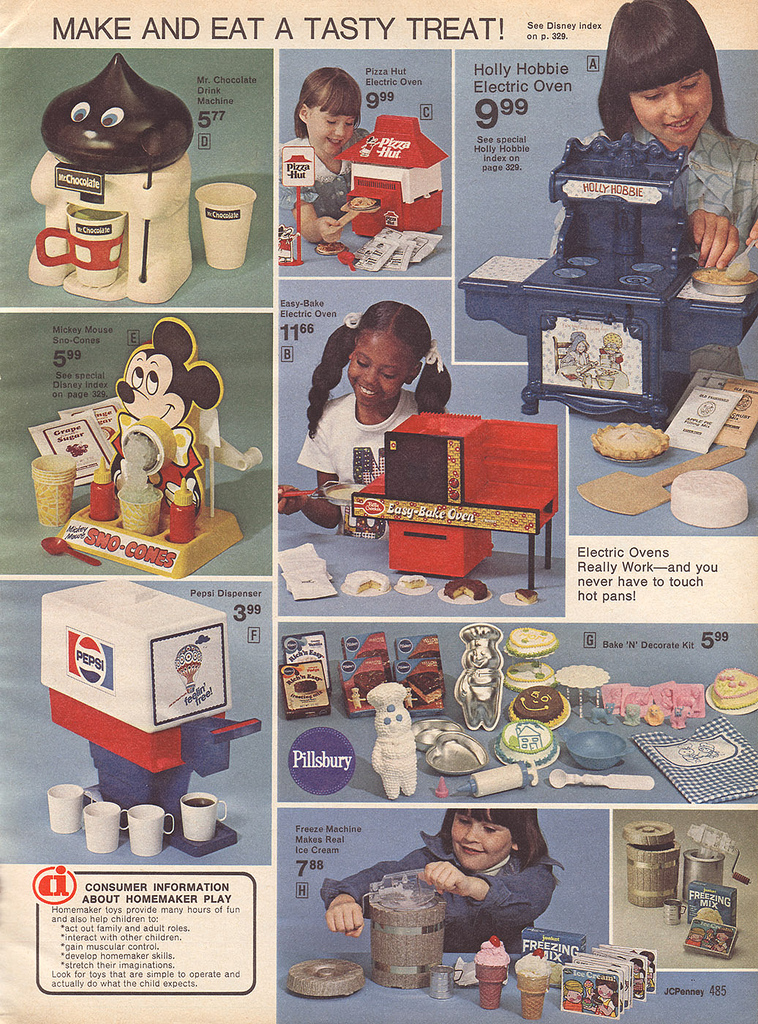 Coleco Mr. Chocolate Drink Machine:
You can make your own delicious chocolate drink with this loveable dispenser. Just pour in the milk and mix in the chocolate,
Touch the valve and it pours.
Coleco Pizza Hut:
Everything you need to make mouth watering pizza. Includes everything to make 12 pizzas.  Makes real pizzas just like the Pizza Hut restaurant. Umm, umm Good! Provides hours of creative cooking fun. It's more fun to make your own! Safe, also, never too hot to touch. Heated by standard 100W bulb.
Coleco Hollie Hobby Electric Oven:
Coleco Mickey Mouse Sno-Cone Maker:
Make flavored sno-cones right at home with this real ice crusher designed specifically for child use. Simply drop an ice cube down the sturdy chute and turn the easy-to-crank handle. Crushed ice appears in seconds!
Scoop it out, flavor it with syrup and your sno-cone is ready to enjoy.! Designed for child safety, the Mickey Mouse Sno-Cone Maker features stainless steel interior grinder and broad base for maximum stablity. Full color Mickey Mouse character for added appeal. Full color packing, too.
Includes:
2 packages syrup mix (orange and grape)
2 squeeze bottles
6 sno-cone cups
1 ice spoon
Can order refill sets.
Chilton Pepsi Dispenser:
Pepsi Dispenser. Holds a full 16 oz. bottle. A perfect replica of the big one at the soda fountain…really serves their favorite carbonated beverage. Container holds up to big 16 oz. bottle, one filling last a long time. Bottle inserts easily, just pull handle to dispense into real-look plastic Pepsi glasses. Realistic easy-clean dispenser of hi-impact sparkling white plastic. Provides great fun for youngsters as they man the fountain.
Pillsbury Bake N Decorate Kit:
"Bake and Decorate" children's baking set manufactured for the Pillsbury Company of Minneapolis, Minnesota circa 1975. The set contains one box of Pillsbury Devil's Food Cake Mix; two cake decorators; round and Poppin' Fresh-shaped baking pans; a mixing bowl; a combination measuring spoon/spatula; a tier set (3 rods and a plate); four animal sugar molds; an apron; a storage box with a handle; and a cookbook.
My Mirro Freeze Machine:
Make real ice cream without ice.
Kenner Toys Betty Crocker Easy Bake Oven: