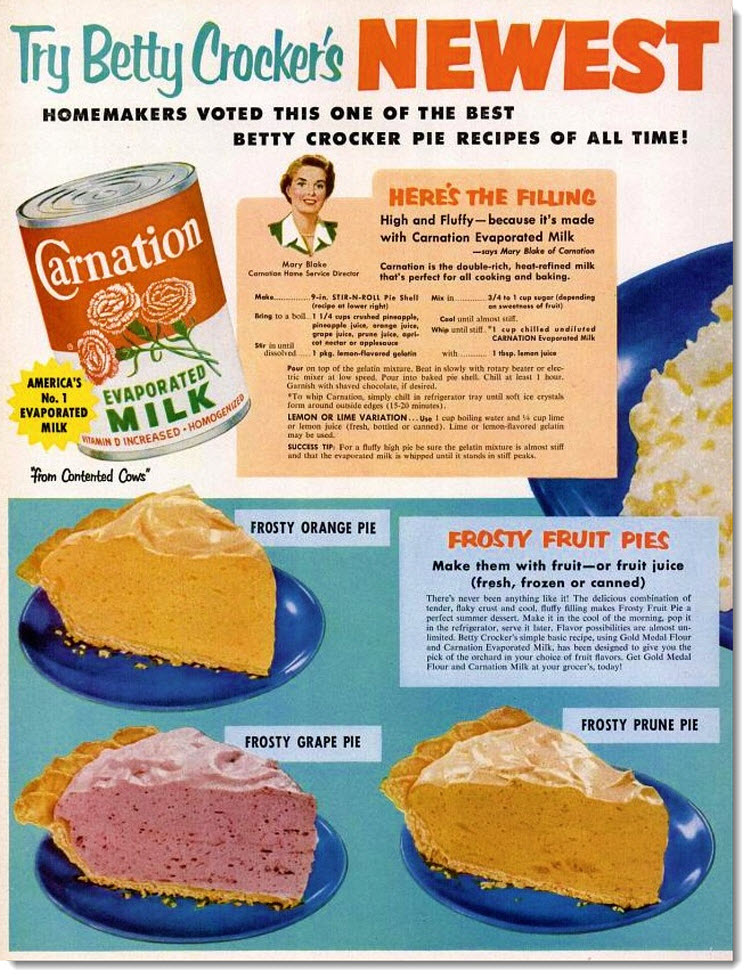 Do you like Jell-O pies?
Here's the filling for Frosty Fruit Pies.
High and Fluffy-because it's made with Carnation Evaporated Milk-Says Mary Blake of Carnation
Carnation is the double-rich, heat refined milk that's perfect for all cooking and baking.
Make: 9-in. Stir-N-Roll Pie Shell
Bring to a boil 1 1/4 cups crushed pineapple, pineapple juice, orange juice, grape juice, prune juice, apricot nectar or applesauce.
Stir: in until dissolved 1 package lemon flavored gelatin. Can use Jell-O.
Mix: in 3/4 to 1 cup sugar (depending on sweetness of fruit)
Cool until almost stiff.
Whip until stiff. *1 cup chilled undiluted Carnation Evaporated Milk
with 1 tablespoon lemon juice
Pour on top of the gelatin mixture. Beat in slowly with rotary beater or electric mixer at low speed. Pour into baked pie shell. Chill at least 1 hour. Garnish with shaved chocolate, if desired.
*To whip carnation, simply chill in refrigerator tray until soft ice crystals form around outside edges (15-20 minutes)
Lemon or lime variation:  Use 1 cup boiling water and 1/4 cup lime or lemon juice (fresh, bottled or canned). Lime or lemon flavored gelatin may be used.
Success tip: For a fluffy high pie, be sure the gelatin mixture is almost stiff and that the evaporated milk is whipped into; it until it stands in stiff peaks.
Here are more Carnation Recipes
Gelatin is a tasty ingredient to add to desserts. It's cheap and comes in a wide variety of flavors and colors that make it festive for any occasion.
Here's a few more recipes that use Jell-O.
Gelatin Milkshake
1 cup milk
1 package (4-serving size) gelatin, any flavor
1 pint softened vanilla ice cream
Pour 1 cup milk into blender, and add gelatin. Cover and blend 30 seconds. Add softened ice cream and blend 1 minute longer. Can add fruit if desired.
Strawberry Pretzel Gelatin
2 cups crushed pretzels
3/4 cup melted butter
1-1/4 cups sugar
8 ounces cream cheese
1 9-ounce tub whipped topping
2 3-ounce packages strawberry gelatin
1 cup boiling water
1 16-ounce package frozen sweetened strawberries
Crust: Combine pretzels, butter and 1/4 cup sugar. Press into 9-by-13-inch baking dish and bake in preheated 350 F oven for 10 minutes. Cool to room temperature.
White Layer: Cream together cream cheese and 1 cup sugar. Fold in whipped topping. Spread over pretzel crust.
Red Layer: Dissolve gelatin in boiling water. Stir in frozen strawberries. Chill until partially set, about 1 hour, and spread over white layer. Chill until set and serve.
Strawberry Chocolate Pie
1 package (4-serving size) strawberry gelatin
1-1/4 cups boiling water
1 pint vanilla ice cream, softened
1 package chocolate crumb crust
3 tablespoons margarine
2 squares Baker's Semi-Sweet Chocolate
whipped topping, thawed (optional)
fresh strawberries (optional)
Dissolve gelatin in boiling water. Spoon in ice cream. Stir until melted and smooth. Chill until slightly thickened, about 10 minutes. Pour into crust. Chill until firm, about 2 hours. Melt margarine with chocolate; cool. Spread over pie. With knife, lightly score pie into serving-size pieces. Chill until chocolate mixture hardens. Serve with whipped topping and berries.
Creamy Gelatin
4 cups boiling water
1 3-ounce package cherry gelatin
1/2 gallon vanilla ice cream, sliced into fourths
1 3-ounce package lemon gelatin
1 3-ounce package lime gelatin
1 3-ounce package orange gelatin
Add 1 cup boiling water to package of cherry gelatin and stir. Add 1/4 of the vanilla ice cream and use a whisk to whip with the gelatin. Pour into a clear 9-by-13-inch pan for 15 minutes or until set. Then add 1 cup of boiling water to package of lemon gelatin. Add 1/4 of the vanilla ice cream and use a whisk to whip with the gelatin. Pour on top of the cherry layer for 15 minutes or until set. Repeat for last two layers.
Creamsicle Fluff
1 small box orange gelatin
1 cup boiling water
1 small box instant vanilla pudding
1 (8-ounce) container whipped topping
1 can mandarin oranges, drained well
Dissolve gelatin in 1 cup boiling water. Add 3 ice cubes to a measuring cup and fill with cold water to make 1 cup. Add to gelatin and hot water. Stir well until dissolved. Let set for 5 minutes to cool. With electric mixer, stir the dry instant pudding into gelatin. Mix well. Let stand for 15 minutes. Fold in thawed whipped topping and then the oranges. Refrigerate.