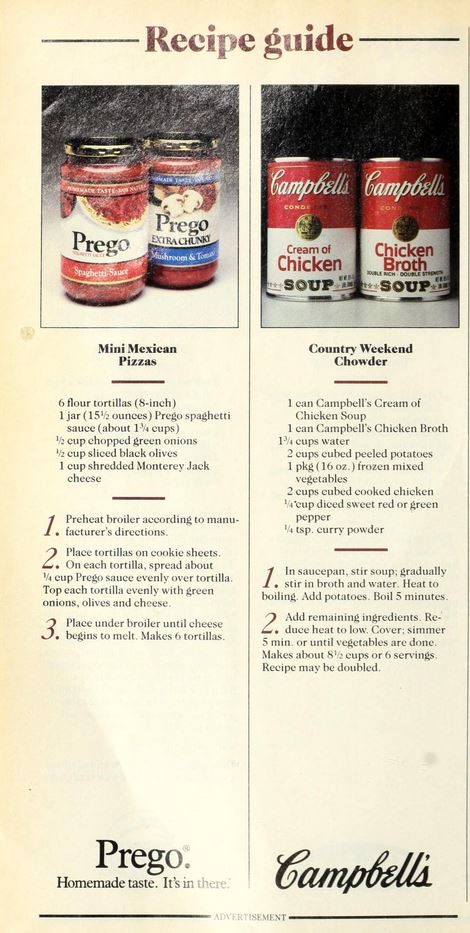 2 Recipes from Popular Brands: Prego and Campbell's
Mini Mexican Pizzas
6 flour tortillas (8-inch)
1 jar (15 1/2 ounces) Prego spaghetti sauce (about 1 3/4 cups)
1/2 cup chopped green onions
1/2 cup sliced black olives
1 cup shredded Monterey Jack cheese
Preheat broiler according to manufacturer's directions. Place tortillas on cookies sheets. On each tortilla, apread about 1/4 cup Prego sauce evenly over tortilla. Top each tortilla evenly with green onions and cheese. Place under broiler until cheese begins to melt. Makes 6 tortillas.
Country Weekend Chowder
1 can Campbell's Cream of Chicken Soup
1 can Campbell's Chicken Broth
1 3/4 cups water
2 cups cubed peeled potatoes
1 package (16 oz.) frozen mixed vegetables
2 cups cubed cooked chicken
1/4 cup diced sweet red or green pepper
1/4 teaspoon curry powder
In saucepan, stur soup; gradually stir in broth and water. Heat to boiling. Add potatoes. Boil 5 minutes. Add remaining ingredients. Reduce heat to low. Cover; simmer 5 minutes or until vegetables are done. Makes about 8 1/2 cups or 6 servings. Recipe may be doubled.