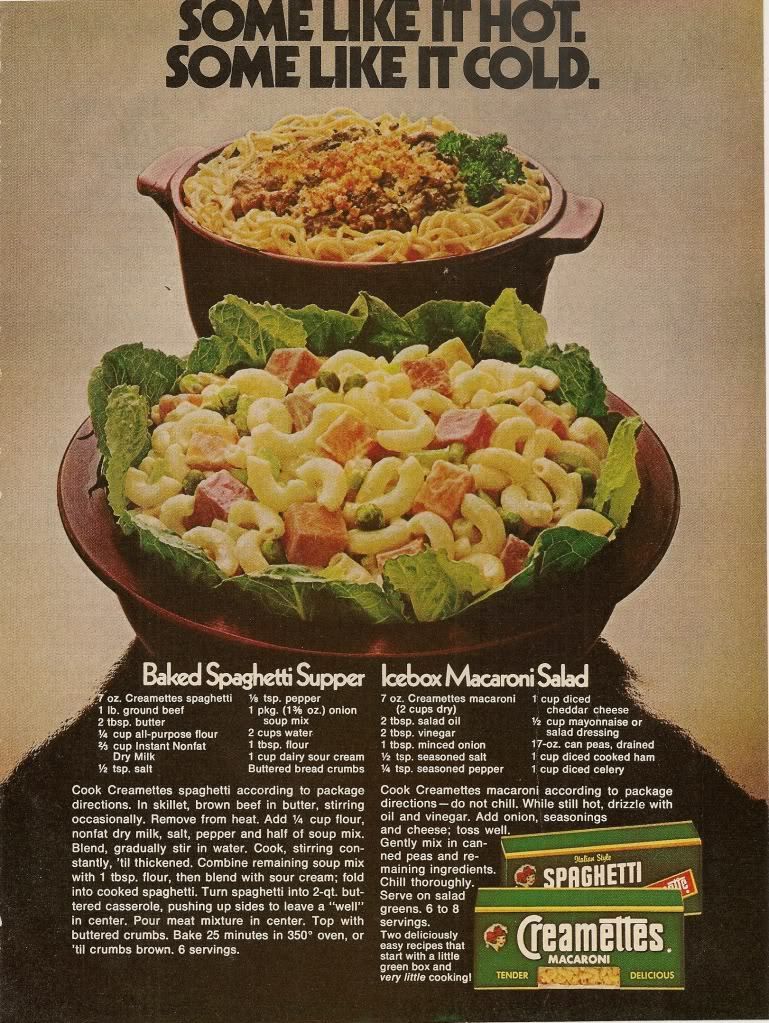 Baked Spaghetti Supper
7 oz. Creamettes spaghetti
1 lb. ground beef
2 tablespoons butter
1/4 cup all-purpose flour
2/3 cup instant nonfat dry milk
1/2 teaspoon salt
1/8 teaspoon pepper
1 package (1 3/8 oz.) onion soup mix
2 cups water
1 tablespoon flour
1 cup dairy sour cream
Buttered bread crumbs
Cook Creamettes spaghetti according to package directions. In skillet, brown beef in butter, stirring occasionally. Remove from heat. Add 1/4 cup flour, nonfat dry milk, salt, pepper and half of soup mix. Blend, gradually stir in water. Cook, stirring constantly, till thickened. Combine remaining soup mix with 1 tablespoon flour, then blend with sour cream; fold into cooked spaghetti. Turn spaghetti into 2-quart buttered casserole, pushing up sides to leave a "well" in center. Pour meat mixture in center. Top with buttered crumbs. Bake 25 minutes in 350 degrees F. oven, or til crumbs brown. 6 servings.
Icebox Macaroni Salad
7 oz. Creametees macaroni (2 cups dry)
2 tablespoons salad oil
2 tablespoons vinegar
1 tablespoon minced onion
1/2 teaspoon seaoned salt
1/4 teaspoon seasoned pepper
1 cup diced chddar cheese
1/2 cup mayonnaise or salad dressing
17-oz. can peas, drained
2 cup diced cooked ham
1 cup diced celery
Cook Creamettes macaroni according to package directions-do not chill. While still hot, drizzle with oil and vinegar. Add onion, seasonings and cheese; toss well. Gently mix in canned peas and remaining ingredients. Chill thoroughly. Serve on salad greens. 6-8 servings.