Apfelkuppenkuchen
A new way to say "delicious apple cake"
Apple-topped-cake is what that wonderful word really means, and delicious is how it really tastes.
Imagine a delicate, moist, sweet swirl cake, topped and filled with spicy apples and glistening with an apple glaze. It's easy to bake with some of your favorite products. And perfect to serve at any time when something "delicious" is called for. Bake one soon!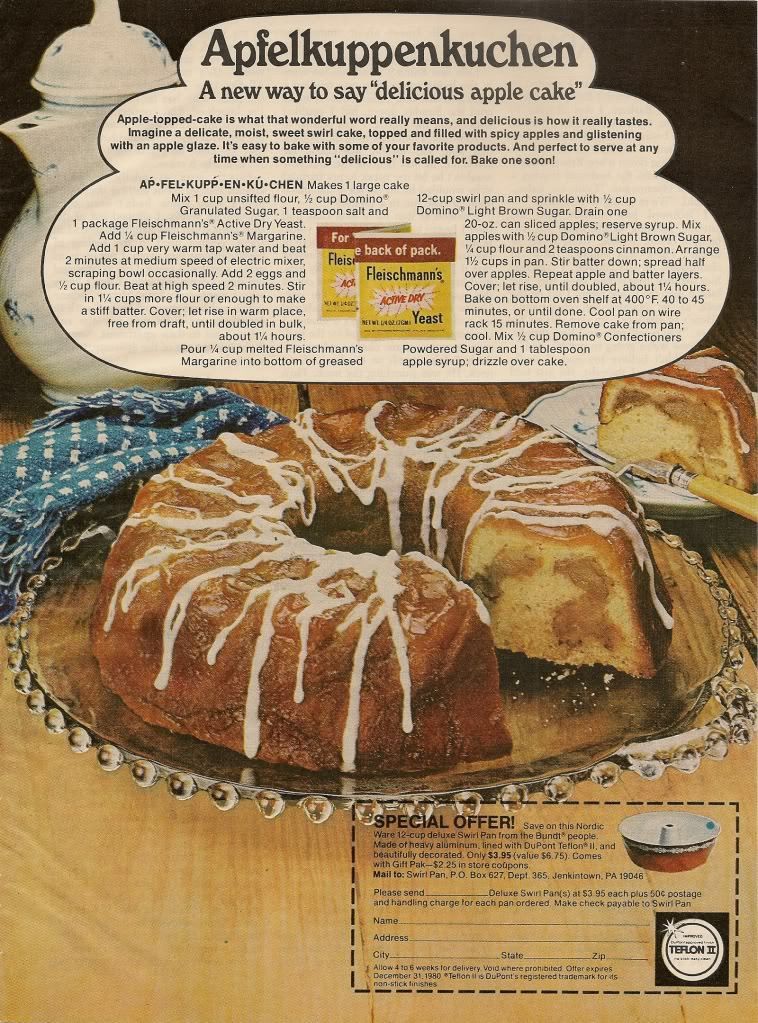 Apple Kuchen
Makes 1 large cake
Mix 1 cup unsifted flour, 1/2 cup Domino Granulated Sugar, 1 teaspoon salt and 1 package Fleischmann's Active Dry yeast.
Add 1/4 cup Fleischmann's Margarine. Add 1 cup very warm tap water and beat 2 minutes at medium speed of electric mixer, scraping bowl occasionally. Add 2 eggs and 1/2 cup flour. Beat at high speed 2 minutes. Stir in 1 1/4 cups more flour or enough to make a stiff batter. Cover; let rise in warm place, free from draft, until doubled in bulk, about 1 1/4 hours.
Pour 1/4 cup melted Fleischmann's Margarine into bottom of greased 12-cup swirl pan and sprinkle with 1/2 cup Domino Light Brown Sugar. Drain one 20-oz. can sliced apples; reserve syrup. Mix apples with 1/2 cup Domino Light Brown Sugar, 1/4 cup flour and 2 teaspoons cinnamon. Arrange 1 1/2 cups in pan. Stir batter down, spread over apples. Repeat apple and batter layers. Cover; let rise until doubled, about 1 1/4 hours.
Bake on bottom oven shelf at 400 degrees F. 40-45 minutes or until done. Cool pan on wire rack 15 minutes. Remove cake from pan; cool. Mix 1/2 cup Domino Confectioners Powdered Sugar and 1 tablespoon apple syrup, drizzle over cake.