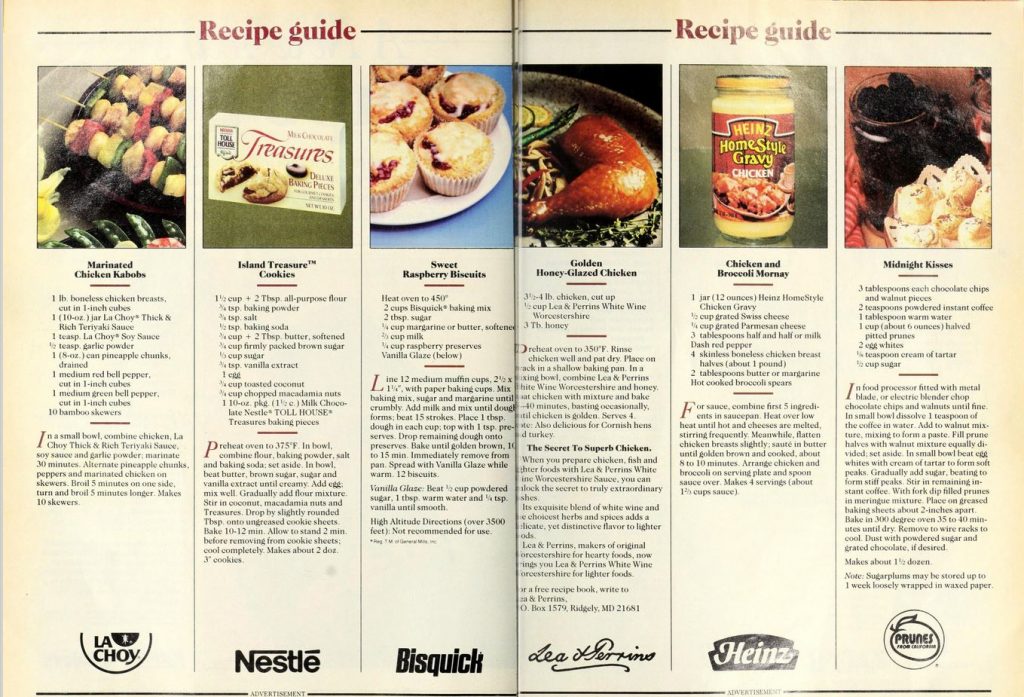 6 Recipes from Popular Brands: La Choy, Nestle, Bisquick, Lea & Perrins, Heinz and Prunes
Marinated Chicken Kabobs
1 lb. boneless chicken breasts cut into 1-inch cubes
1 (10 oz.) jar La Choy Thick and Rich Teriyaki Sauce
1 teaspoon La Choy Soy Sauce
1/2 teaspoon garlic powder
1 (8 oz.) can pineapple chunks, drained
1 medium red bell pepper, cut in 1-inch cubes
1 medium green bell pepper cut in 1-inch cubes
10 bamboo skewers
In a small bowl, combine chicken, Teriyaki sauce, soy sauce and garlic powder, marinate for 30 minutes. Alternate pinepple chunk, peppers and marinated chicken on skewers. Broil 5 minutes on one side, turn and broil 5 minutes longer. Makes 10 skewers.
Island Treasure Cookies
1 1/2 cup + 2 tablespoons all-purpose flour
3/4 teaspoon baking powder
3/4 teaspoon salt
1/2 teaspoon baking soda
3/4 cups + 2 tablespoons butter, softened
3/4 cup firmly packed brown sugar
1/3 cup sugar
3/4 teaspoon vanilla extract
1 egg
3/4 cup toasted coconut
3/4 cup chopped macadamia nuts
1 10-oz. package (1 1/2 cups) Milk Chocolate Nestle Toll House Treasures Baking Pieces
Preheat oven to 375. In bowl combine flour, baking powder, salt and baking soda; set aside. In bowl beat butter, brown sugar, sugar and vanilla extract until creamy. Add egg; mix well. Gradually add flour mixture. Stir in coconut, macadamia nuts and Treasures. Drop by slightly rounded tablespoonfuls onto ungreased cookie sheet. Bake 10-12 minutes. Allow to stand 2 minutes before removing from cookie sheets; cool completely. Makes about 2 dozen 3-inch cookies.
The updated Nestle recipe is as followed:
1 2/3 cups all-purpose flour
3/4 teaspoon baking powder
1/2 teaspoon baking soda
1/2 teaspoon salt
3/4 cup (1 1/2 sticks) butter or margarine, softened
3/4 cup packed brown sugar
1/3 cup granulated sugar
1 teaspoon vanilla extract
1 large egg
1 3/4 cups (11.5-oz. pkg.) NESTLÉ® TOLL HOUSE® Milk Chocolate Morsels
1 cup flaked coconut toasted, if desired
1 cup chopped walnuts
PREHEAT oven to 375° F. COMBINE flour, baking powder, baking soda and salt in small bowl. Beat butter, brown sugar, granulated sugar and vanilla extract in large mixer bowl until creamy. Beat in egg. Gradually beat in flour mixture. Stir in morsels, coconut and nuts. Drop by rounded tablespoon onto ungreased baking sheets. BAKE for 8 to 11 minutes or until edges are lightly browned. Cool on baking sheets for 2 minutes; remove to wire racks to cool completely. NOTE: NESTLÉ® TOLL HOUSE® Semi-Sweet Chocolate Morsels, Semi-Sweet Chocolate Mini Morsels, Premier White Morsels or Butterscotch Flavored Morsels may be substituted for the Milk Chocolate Morsels.
Sweet Raspberry Biscuits
Heat oven to 450 degrees F.
2 cups Bisquick baking mix
2 tablespoons sugar
1/4 cup margarine or butter, softened
2/3 cup milk
3/4 cup raspberry preserves
Vanilla Glaze (below)
Line 12 medium muffin cups 2 1/2x 1 1/4-inch with paper baking cups. Mix baking mix, sugar and margarine until crumbly. Add milk and mix until dough forms; beat 15 strokes. Place 1 tablespoon dough in each cup, top with 1 teaspoon preserves. Drop remaining dough onto preserves. Bake until golden brown. 10-15 minutes. Immediately remove from pan. Spread with Vanilla Glaze while warm. 12 biscuits.
Vanilla Glaze: Beat 1/2 cup powdered sugar, 1 tablespoon warm water and 1/4 teaspoon vanilla until smooth.
High altitude directions: Over 3500 feet Not recommended for use.
Golden Honey-Glazed Chicken
3 1/2-4 lb. chicken, cut up
1/2 cup Lea and Perrins White Whine Worcestershire
3 tablespoons honey
Preheat oven to 350 degrees F. Rinse chicken well and pat dry. Place on rack in a shallow baking pan. In a mixing bowl, combine Lea and Perrins White Wine Worcestershire and honey. Pat chicken with mixture and bake-40 minutes, basting occasionally, until chicken is golden. Serves 4. Note: Also delicious for Cornish hens and turkey.
Chicken and Broccoli Mornay
1 jar (12 ounces) Heinz Homestyle Chicken Gravy
1/2 cup grated Swiss cheese
`/4 cup grated Parmesan cheese
3 tablespoons half and half or milk
Dash red pepper
4 skinless boneless chicken breast halves (about 1 pound)
2 tablespoons butter or margarine
Hot cooked broccoli spears
For sauce, combine first 5 ingredients in saucepan. Heat over low heat until hot and cheeses are melte, stirring frequently. Meanwhile flatten chicken breasts slightly, saute in butter until golden brown and cooked, about 8-10 minutes. Arrange chicken and broccoli on serving plate and spoon sauce over. Makes 4 servings (about 1 2/3 cups sauce)
Midnight Kisses
3 tablespoons each chocolate chips and walnut pieces
2 teaspoons powdered instant coffee
1 tablespoon warm water
1 cup (about 6 ounces) halved pitted prunes
2 egg whites
1/4 teaspoon cream of tartar
1/2 cup sugar
In food processor fitted with metal blade or electric blender chop chocolate chips and walnuts until fine. In small bowl, dissolve 1 teaspoon of the coffee in water. Add to walnut mixture, mixing to form a paste. Fill prune halves with walnut mixture equally divided; set aside. In small bowl beat egg whites with cream of tartar to form soft peaks. Stir in remaining instant coffee. With fork dip filled prunes in meringue mixture. Place on greased baking sheets about 2-inches apart. Bake in 300 degree oven 35-40 minutes until dry. Remove to wire racks to cool. Dust with powdered sugar and grated chocolate if desired. Makes about 1 1/2 dozen. Note: Sugarplums may be stored up to 1 week loosely wrapped in waxed paper.