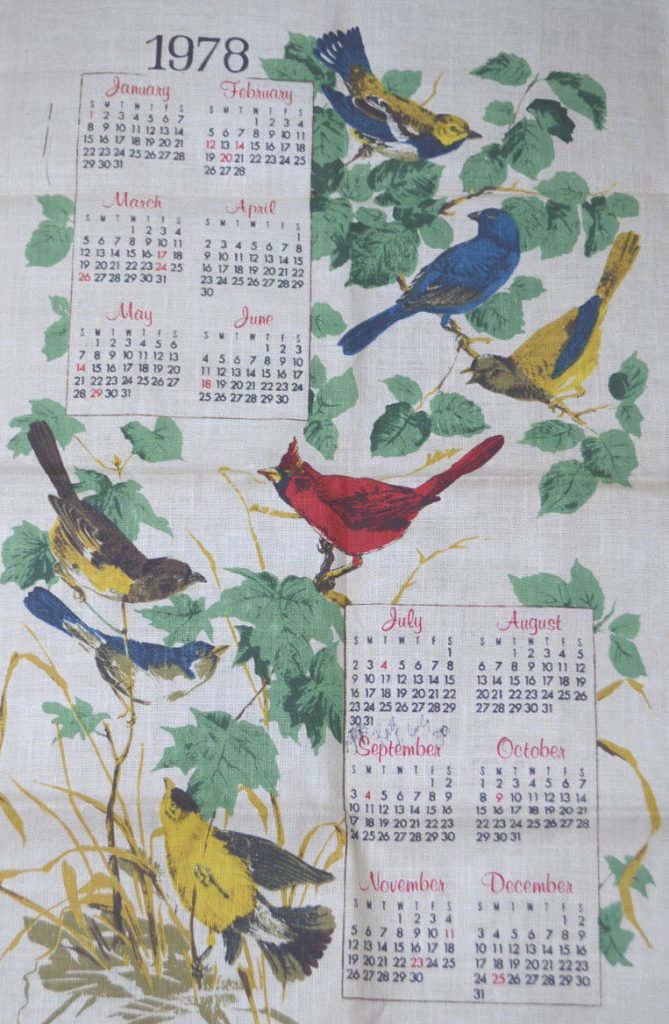 Being practical was as important decades ago as it is today. Years ago calendar towels made great gifts. They were made of linen and were fairly inexpensive. They could be hung by a dowel as a wall calendar and then recycled into a dish towel at the end of the year. They were popular from the late 1950's through the 1980's. Dish towel calendars (also known as tea towel calendars and calendar towels) were printed with a variety of era-inspired designs.
Vintage calendar towels are in demand. They offer nostalgia overload and are kitschy accent pieces for home decor. They are usually found in great condition because women tended to store them away rather than throw them out at the end of the year. If they were used, it was typically to dry dishes.
You can reuse them as actual calendars, too. Visit: http://whencanireusethiscalendar.com and find out which past calendar years are the same as the current year.
If you come across any towels at the thrift store, garage sales or estate sales, or online, you'll see they're still pretty cheap, so pick a few up. They've become collectible, and many people look for special ones with their year of birth, anniversary or for gifts to commemorate a special event.
Early calendar towels, from the 50's and early 60's are harder to find and will cost more than newer calendar towels.
If interested in buying new calendar towels, they are stylish enough to be found in many retail stores. For example:  http://www.anthropologie.com/anthro/product/home-linens/25878034.jsp#/, Amazon,  Miles Kimball, http://www.olddeerfieldcountrystore.com/store/Linen_Calendar_Towels.html, etc.
There are a variety of wonderful crafts you can make, too.
Here's a few ideas:
Photo via Etsy
Or make your own calendar  towel:
http://www.prettyhandygirl.com/tea-towel-calendar/