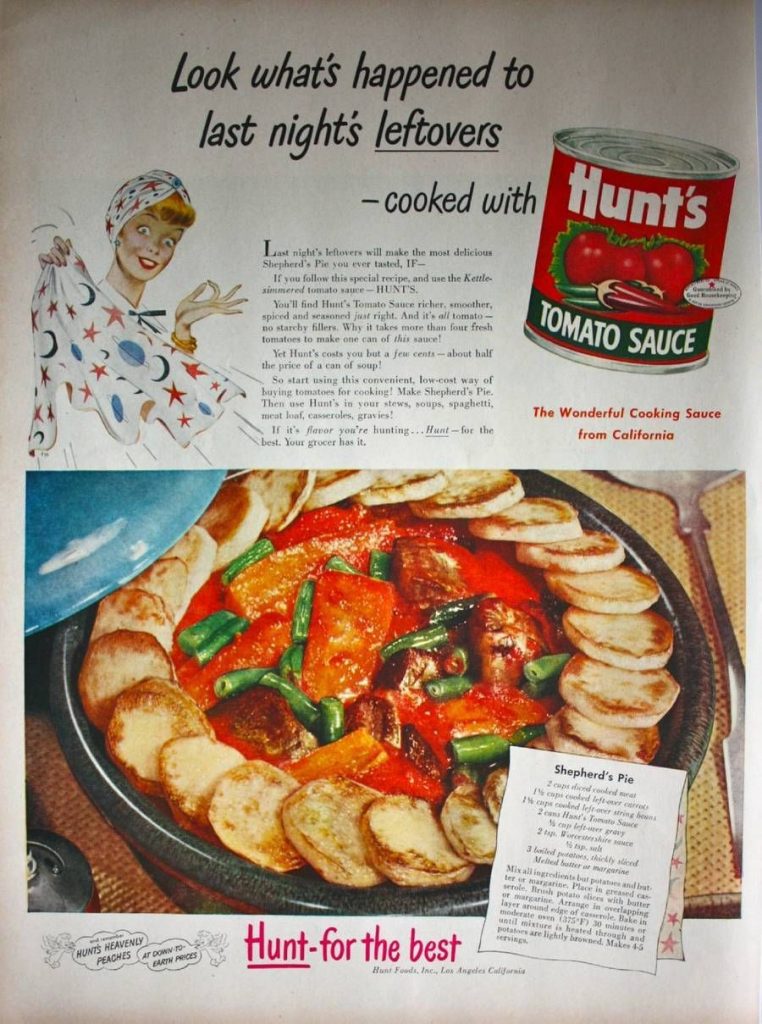 Look what's happened to last night's leftovers-cooked with Hunt's Tomato Sauce.
Last night's leftovers will make the most delicious Shepherd's Pie you ever tasted, IF-
If you follow this special recipe and use Kettle-simmered tomato sauce Hunt's.
You'll find Hunt's Tomato Sauce richer, smoother, spiced and seasoned just right. And it's all tomato-no starch fillers. Why it takes more than four fresh tomatoes to make one can of this sauce!
Yet Hunt's costs you but a few cents-about half the price of a can of soup!
So start using this convenient, low-cost way of buying tomatoes for cooking! Make Shepherd's Pie.
Then use Hunt's in your stews, soups, spaghetti, meat loaf, casseroles, gravies!
If it's flavor you're hunting…Hunt- for the best. Your grocer has it.
Shepherd's Pie from Leftovers
Shepherd's Pie
2 cups diced cooked meat
1 1/2 cups cooked leftover carrots
1 1/2 cups cooked leftover string beans
2 cans Hunt's Tomato Sauce
1/2 cup leftover gravy
2 teaspoons Worcestershire Sauce
1/2 teaspoon salt
3 boiled potatoes, thickly sliced
Melted butter or margarine
Mix all ingredients but potatoes and butter or margarine. Place in greased casserole. Brush potato slices with butter or margarine. Arrange in overlapping layer around edge of casserole. Bake in moderate oven (375 degrees F.) 30 minutes or until mixture is heated through and potatoes are lightly browned. Makes 4-5 servings.