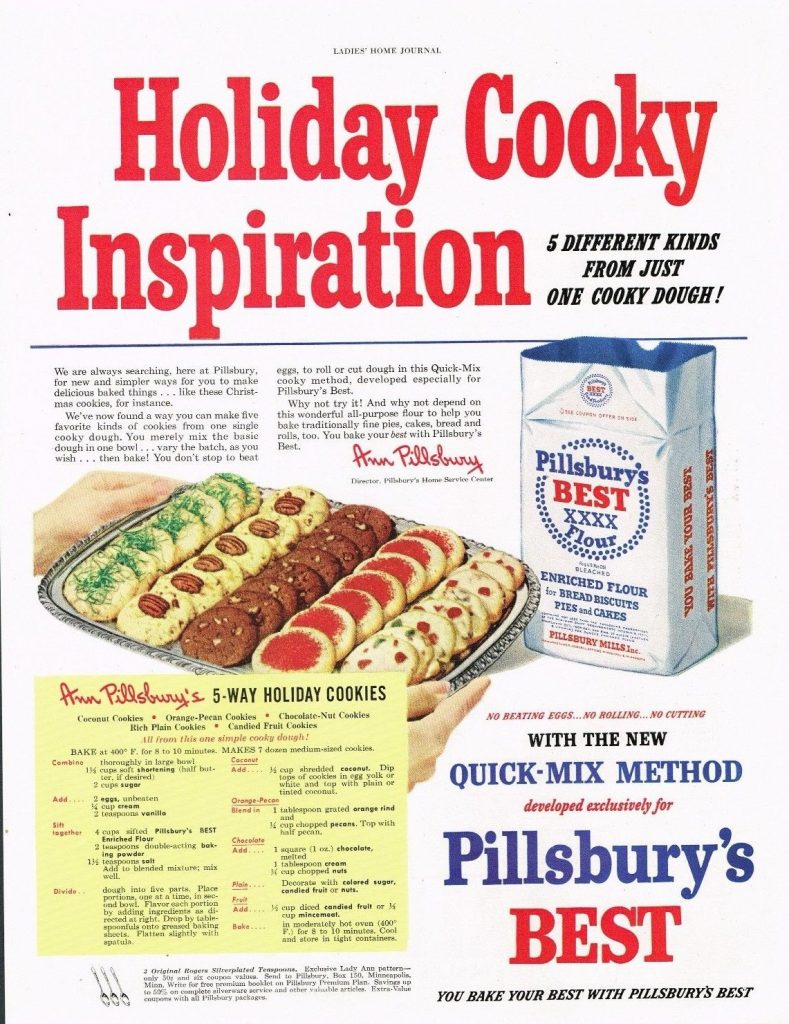 5 way Holiday Cookies
Coconut Cookies, Orange Pecan Cookies, Chocolate Nut Cookies, Rich Plain Cookies, Candied Fruit Cookies
All from this one simple cookie dough!
Bake at 400 degrees F. for 8-10 minutes. Makes 7 dozen medium-sized cookies.
Combine thoroughly in large bowl 1 1/3 cups soft shortening (half butter if desired) 2 cups sugar
Add 2 eggs, unbeaten
1/4 cup cream
2 teaspoons vanilla
Sift Together 4 cups sifted Pillsbury's Best Enriched Flour
2 teaspoons souble-acting baking powder
1 1/2 teaspoons salt
Add to blended mixture; mix well.
Divide dough into five parts. Place portions one at a time, in second bowl. Flavor each portion by adding ingredients as directed. Drop by tablespoonfuls onto greased baking sheets. Flatten slightly with spatula.
Coconut:
Add 1/2 cup shredded coconut Dip tops of cookies in egg yolk or white and wop with plain or tinted coconut.
Orange Pecan:
Blend in 1 tablespoon grated orange rind and 1/4 cup chopped pecans. Top wth half pecan.
Chocolate:
Add 1 square (1 oz.) chocolate, melted
1 tablespoon cream
1/4 cup chopped nuts
Plain:
Decorate with colored sugar, candied fruit or nuts
Fruit:
Add 1/2 cup diced candied fruit or 1/3 cup mincemeat
Bake in moderately hot oven (400 degrees F.) for 8-10 minutes. Cool and store in tight containers.