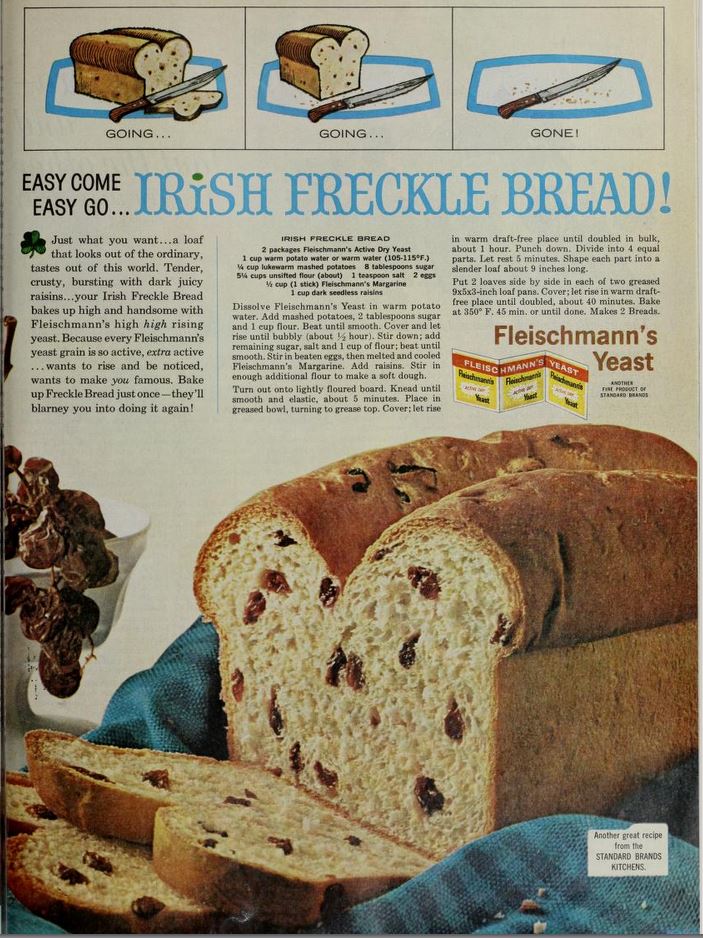 Easy Come Easy Go…Irish Freckle Bread
Just what you want…a loaf that looks out of the ordinary, tastes out of this world. Tender, crusty, bursting with dark, juicy raisins…your Irish Freckle Bread bakes up high and handsome with Fleischmann's high high rising yeast. Because every Fleischmann's yeast grain is so active, extra active…wants to rise and be noticed, wants to make you famous. Bake up Freckle Bread just once-they'll blarney you into doing it again!
Irish Freckle Bread
2 packages Fleischmann's Active Dry Yeast
1 cup warm potato water or warm water (105-155 degrees F.)
1/4 cup lukewarm mashed potatoes
8 tablespoons sugar
5 1/4 cups unsifted flour (about)
1 teaspoon salt
2 eggs
1/2 cup Fleischmann's Margarine
1 cup dark seedless raisins
Dissolve Fleischmann's Yeast in warm potato water. Add mashed potatoes, 2 tablespoons sugar and 1 cup flour. Beat until smooth. Sover and let rise until bubbly (about 1/2 hour). Stir down; add remaining sugar, salt and 1 cup flour; beat until smooth. Stir in beaten eggs, then melted and cooled Fleischmann's Margarine. Add raisins. Stir in enough additional flour to make a soft dough.
Turn out onto lightly floured board. Knead until smooth and elastic, about 5 minutes. Place in greased bowl, turning to grease top.
Cover; let rise in warm draft-free place until doubled in bulk, about 1 hour. Punch down. Divide into 4 equal parts. Let rest 5 minutes. Shape each part into a slender loaf about 9 inches long.
Put 2 loaves side by side in each of two greased 9x5x3-inch loaf pans. Cover; let rise in warm draft-free place until doubled, about 40 minutes. Bake at 350 degrees F. 45 minutes or until done. Makes 2 breads.
With any leftover potatoes:
Make potato patties from leftover mashed potatoes. Simply add an egg to 2 cups mashed potatoes, form into patties and fry in a pan with a little oil. You can add meat, seasoned breadcrumbs, cheese or onion for extra flavor.