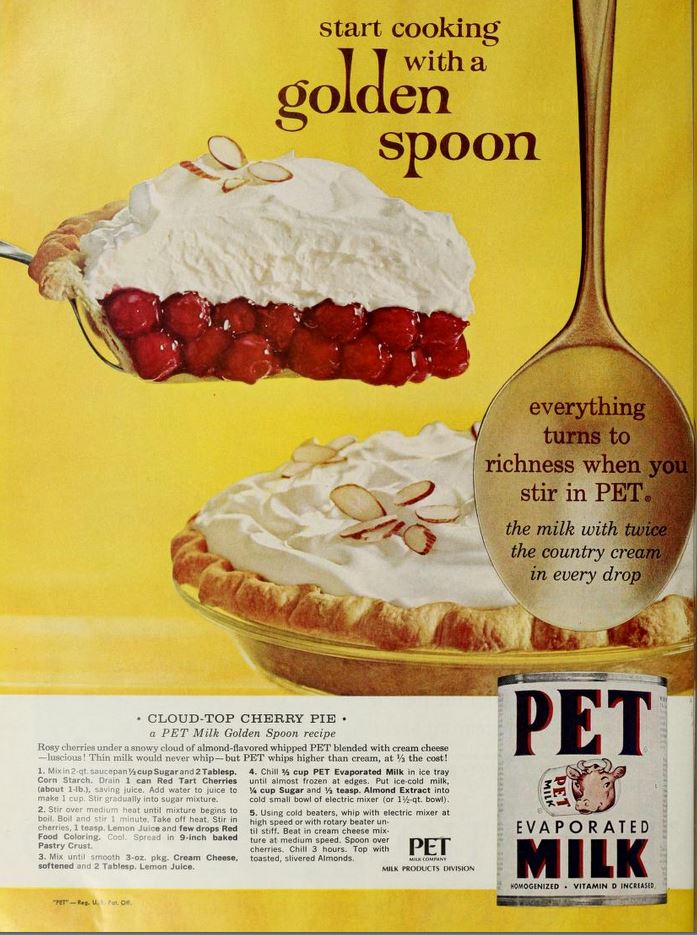 Cloud Top Cherry Pie
Rosy cherries under a snowy cloud of almond-flavored whipped Pet blended with cream cheese-luscious! Thin milk would never whip-but Pet whips higher than cream, at 1/2 the cost!
1. Mix in 2-quart saucepan 1/2 cup sugar and 2 tablespoons Corn Starch. Drain 1 can Red
Tart Cherries (about 1 pound), saving juice. Add water to juice to make 1 cup. Stir gradually into sugar mixture.
2. Stir over medium heat until mixture begins to boil. Boil and stir 1 minute. Take off heat. Stir in cherrries, 1 teaspoon Lemon Juice and few drops Red Food Coloring. Cool. Spread in 9-inch baked Pastry Crust.
3. Mix until smooth 3-oz. package Cream Cheese, softened and 2 tablespoons Lemon Juice.
4. Chill 2/3 cup Pet Evaporated Milk in ice tray until almost frozen at edges.
Put ice-cold milk, 1/4 cup Sugar and 1/2 teaspoon Almond Extract into cold small bowl of electric mixer (or 1 1/2 quart bowl).
5. Using cold beaters, whip with electric mixer at high speed or with rotary beater until stuff. Beat in cream cheese mixture at medium speed. Spoon over cherries. Chill 3 hours. Top with toasted, slivered almonds.