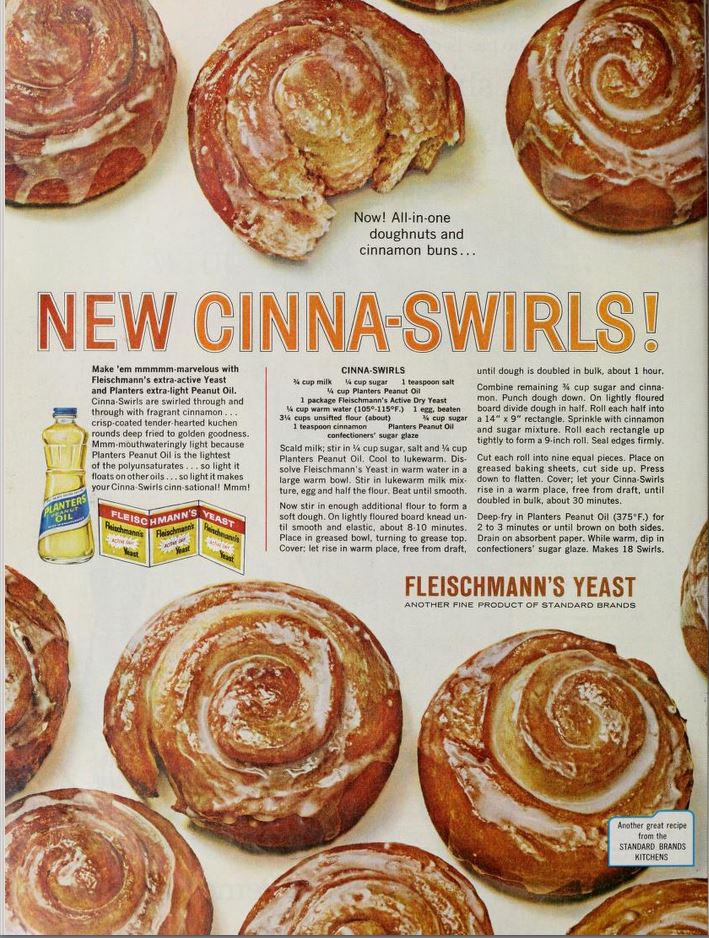 Now! All-in-one doughnuts and cinnamon buns…
New Cinna-Swirls!
Cinna-Swirls
3/4 cup milk
1/4 cup sugar
1 teaspoon salt
1/4 cup Planters Peanut Oil
1 package Fleischmann's Active Dry Yeast
1/4 cup warm water (105-115 degrees F.)
1 egg, beaten
3 1/4 cups unsifted flour (about)
3/4 cup sugar
1 teaspoon cinnamon
Planters Peanut oil
Confectioners' sugar glaze
Scald milk; stir in 1/4 cup sugar, salt and 1/4 cup Planters Peanut Oil. Cool to lukewarm. Dissolve Fleischmann's Yeast in warm water in a large bowl. Stir in lukewarm milk mixture, egg and half the flour. Beat until smooth.
Now stir in enough additional flour to form a soft dough. On lightly floured board, knead until smooth and elastic, about 8-10 minutes.
Place in greased bowk, turning to grease top.
Cover; let rise in warm place, free from draft, until dough is soubled in bulk, about 1 hour.
Combine remaining 3/4 cup sugar and cinnamon. Punch dough down. On lightly floured board, divide dough in half. Roll each half into a 14×9-inch rectangle. Sprinkle with cinnamon and sugar mixture. Roll each rectangle up tightly to form a 9-inch roll. Seal edges firmly.
Cut each roll into nine equal pieces. Place on greased baking sheets, cut side up. Press down to flatten. Cover; let your Cinna-Swirls rise in a warm place, free from draft, until doubled in bulk about 30 minutes.
Deep-fry in PLanters Peanut Oil (375 degrees F.) for 2-3 minutes or until brown on both sides. Drain on absorbent paper. While warm, dip in confectioners' sugar glaze. Makes 18 swirls.
See Peanut Butter and Jelly Buns, too.