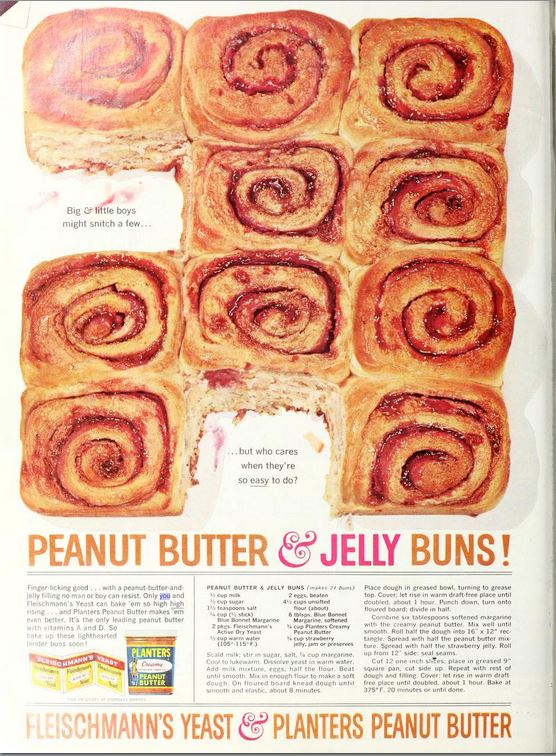 Big and little boys might snitch a few…but who cares when they're so easy to do?
Peanut Butter and Jelly Buns
1/2 cup milk
1/2 cup sugar
1 1/2 teaspoons salt
1/4 cup Blue Bonnet Margarine (1/2 stick)
2 packages Fleischmann's Active Yeast
1/2 cup warm water (105-115 degrees F.)
2 eggs, beaten
4 1/2 cups unsifted flour (about)
6 tablespoons Blue Bonnet Margarine, softened
1/4 cup Planters Creamy Peanut Butter
1/4 cup strawberry jelly, jam or preserves
Scaled milk, stir in sugar, salt, 1/4 cup margarine. Cool to lukewarm. Dissolve yeast in warm water. Add milk mixture, eggs, half the flour. Beat until smooth. Mix in enough flour to make a soft dough. On floured board, knead dough until smooth and elastic, about 8 minutes.
Place dough in greased bowl, turning to grease top. Cover; let rise in warm draft-free place until doubled, about 1 hour. Punch down, turn onto floured board; divide in half.
Combine six tablespoons softened margarine with the creamy peanut butter. Mix well until smooth. Roll half the dough into 16×12-inch rectangle. Spread with half the peanut butter mixture. Spread with half the strawberry jelly. Roll up from 12-inch side; seal seams.
Cut 12 one-inch slices; place in greased 9-inch square pan, cut side up. Repeat with rest of dough and filling. Cover; let rise in warm draft free place until doubled, about 1 hour. Bake at 375 degrees F, 20 minutes or until done.