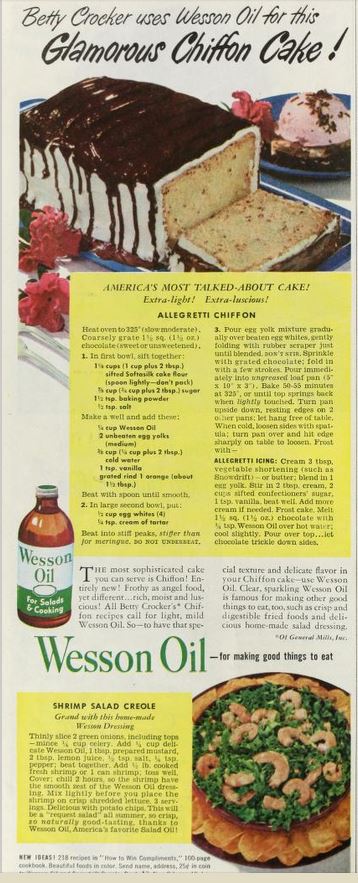 Easier to read recipe:
Allegretti Chiffon Cake
CAKE:
1 1/2 squares of chocolate (sweet or unsweetened)
1 cup + 2 tbsp. sifted cake flour
3/4 cup + 2 tbsp. sugar
1 1/2 teaspoons baking powder
1/4 cup vegetable oil
2 unbeaten egg yolks
3/8 cup cold water
1 teaspoon vanilla
Grated rind of 1 orange
1/2 cup egg whites
1/4 teaspoon cream of tartar
ICING:
3 tablespoons butter
1 egg yolk
2 tablespoons cream
2 cups confectioners sugar
1 teaspoon vanilla
1 1/2 squares chocolate
1/4 teaspoon oil
In bowl sift together cake flour, sugar, baking powder and salt. Make a well and add vegetable oil, unbeaten egg yolks, cold water, vanilla and orange rind. Beat with spoon until smooth.
In another bowl put egg whites and cream of tartar. Beat until stiff peaks (stiffer than meringue). DO NOT UNDERBEAT. Pour egg yolk gradually over beaten egg white, gently folding with rubber scraper just until blended. DON'T STIR. Sprinkle with grated chocolate; fold in with a few strokes. Pour immediately into ungreased loaf pan, and bake at 325 degrees 50 to 55 minutes. Turn pan upside down, resting edges on 2 other pans. Let hang free of table. When cold, loosen sides with spatula, turn pan over and hit sharply on table to loosen.
ICING:
Cream 3 tablespoons vegetable shortening or butter. Blend in 1 egg yolk. Stir in 2 tablespoons cream, 2 cups confectioners sugar, 1 teaspoon vanilla. Beat well. Frost cake. Melt 1 1/2 squares chocolate and 1/4 teaspoon oil over hot water. Cool slightly. Pour over top. Let chocolate trickle down sides.
Recipe as written for the New York Times: Note the subtle differences between all three recipes.