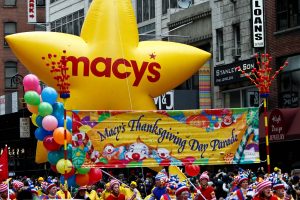 Watching the Macy's Thanksgiving Day parade on TV was always a Thanksgiving tradition for my family. I was always so excited to point out every little balloon, band, costume, and float to the adults in my family. And since I was dressed up for holiday, it seemed the perfect time to practice my parade wave.
Elbow, elbow, wrist, wrist, touch your pearls, and blow a kiss.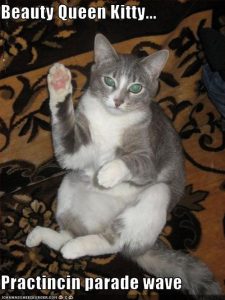 As a kid, I always wanted to see the parade in person, but never did. It's on my bucket list.
The first Macy's Thanksgiving Day Parade was in 1924. And there have been quite a few parade accidents and mishaps through the years due to the weather and street obstacles.
Here's a few you might remember:
Bullwinkle (1982)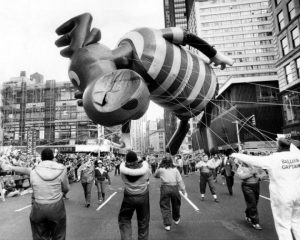 photo by tv.yahoo.com
Sprang a nose leak near the very end of the parade.
Kermit the Frog (1985)
Kermit was the first balloon to tear open from getting caught on something. He deflated quickly from his stomach, but thankfully there weren't any injuries.
Superman and Raggedy Ann (1986)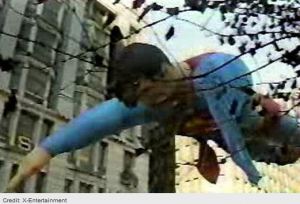 Superman got stuck in a tree and his right arm tore off and he deflated fast. No injuries to the crowd. Raggedy Ann went down after crashing into a lamppost that fell into the street, too.
Kermit (1991)
Photo by walby
The Kermit balloon suffered another mishap in 1991, when it scraped against high branches on Central Park West, tearing a hole in the balloon. "We thought he had turned into a tree frog," said Marc Schwab, the balloon captain. "Personally, I think he saw Miss Piggy on a sidestreet. But he was a real trouper. He was down, so to speak, but he wasn't out." [7] The New York Times reported that the balloon, "borne by its crew and wildly cheered on by the crowd, galumphed on toward Herald Square."  Parade producer Jean McFaddin talked about the incident in 1995, saying, "If a balloon gets disfigured so that it would be disruptive to children, we pull it out of the parade." Asked what would be disruptive enough, McFaddin answered, "If Kermit had his face torn off." Kermit was left in the parade in '91, although the mostly-deflated, 1,000-pound balloon had to be carried down Broadway by his handlers. "He looked like he was swimming," McFaddin said. Source: thefullwiki
Rex the Dinosaur and Sonic the Hedgehog (1993)
High winds caused the Rex the Dinosaur balloon to hit a street light and caused his head to pop. Sonic the Hedgehog balloon lost control and crashed into a lamppost on Columbus Circle and injured an off-duty police officer.
Barney (1994)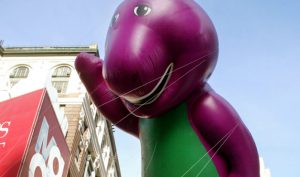 Barney was torn on a lamppost, too. He quickly deflated. No one was injured.
Dudley The Dragon (1995)
High winds caused it to crash into a lamp post and sent shards of glass into the crowd just minutes after the start of the parade. The balloon was deflated and never returned to the parade again.
Cat in the Hat (1997)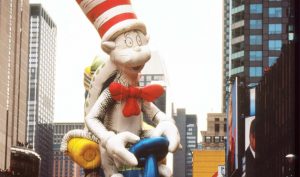 The Cat in the Hat crashed into a lamppost due to high winds. Debris fell on bystanders and caused injuries. One bystander's skull was fractured leaving her in a coma for a month. She sued and settled.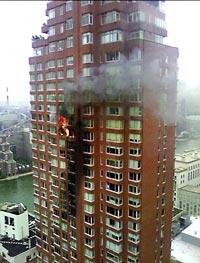 photo by qz
Oddly, years later her apartment burned from a plane crashing into it. New York Yankees pitcher Cory Lidle's and his flight instructor, Tyler Stanger were killed in the crash. Following this incident, size rules were implemented for future parades. The Peter Rabbit balloon also lost control that year. And as luck would have it, Barney was stabbed down by police. No one was injured. The Pink Panther was also brought down by the NYPD.
Rocky and Bullwinkle (2000)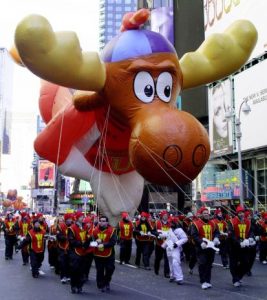 photo by cbsnews.com
Rocky wasn't seen on Bullwinkle, Rocky deflated during the inflation.
M&M's (2005)
The M&M's crashed on a lamppost in Time Square because of wind and caused debris to fall on two sisters causing minor injuries. As a result, new safety rules were introduced. And yep Barney again had troubles. The Barney Balloon was nearly blown away, and his foot got ripped by a street light.
SpongeBob (2006)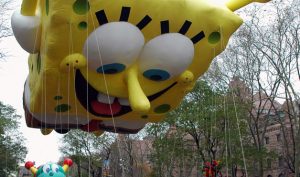 High winds pushed the SpongeBob SquarePants balloon into a lamppost, but it was freed.
Keith Haring-inspired balloon (2008)
This balloon hit the NBC Broadcast Booth. Al Roker, Meredith Viera and Matt Lauer were cut off the air until the balloon was cleared away.
SpongeBob (2010)
Again, High winds pushed the SpongeBob SquarePants balloon into a lamppost.
Kool Aid Man (2011)
The Kool Aid Man tipped over when he became deflated, but there weren't any injuries.
Buzz Lightyear (2012)
photo by iambored
Buzz Lightyear had an accident that tore a big hole in his helmet. SpongeBob Squarepants and Pikachu weren't inflated enough and had troubles, too.
Spiderman, Buzz Lightyear and Sonic the Hedgehog (2013)
photo by nydaily
Balloons were floating lower than usual because of the weather. Spiderman's arm was torn by a Central Park tree branch and Sonic was flailing in the wind. Even worse, Buzz Lightyear sent a handler to the hospital when one of the golf carts ran over her foot.'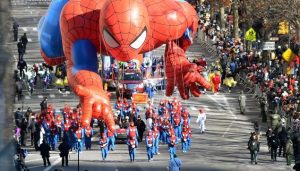 photo by nydaily
I wonder what's in store for this year.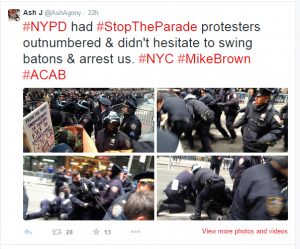 Seven protesters were arrested in Midtown Manhattan on Thursday morning as they tried to disrupt the Macy's Thanksgiving Day Parade, smashing windows and knocking over barricades, police said.
The demonstrators, disgusted by a Missouri grand jury's decision not to indict police Officer Darren Wilson for the fatal shooting of unarmed teen Michael Brown in Ferguson, were slapped in cuffs at 9:20 a.m. at W. 37th St. and Broadway, according to an NYPD spokesman.
The six men and one woman attempted to make it into the parade route one block away at 6th Ave., and a few briefly succeeded before cops pulled them from the throngs of people, police said.
Everything you ever wanted to know about the Macy's Thanksgiving Parade Balloons.
What Macy's Thanksgiving Day Balloon is your favorite? I was always a fan of Snoopy. I love the Mr. Potato Head one, too.