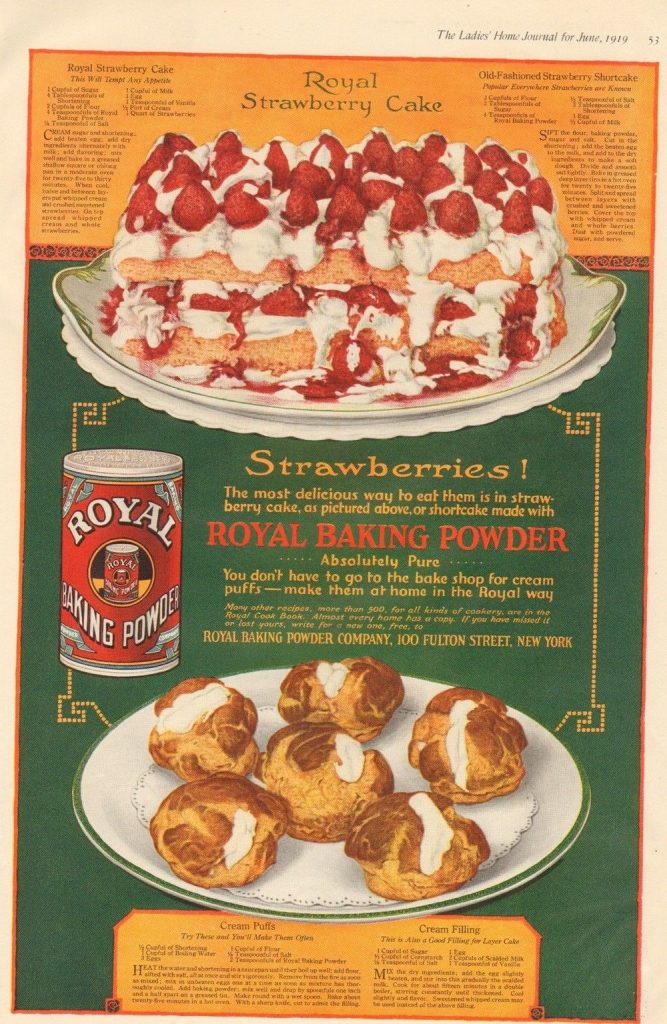 Royal Strawberry Cake
1 Cupful Sugar
4 tablespoonful of Shortening
2 Cupfuls of Flour
4 teaspoonfuls of Royal Baking Powder
1/8 teaspoonful of Salt
1 cupful of Milk
1 Egg
1 teaspoonful of Vanilla
1/2 pint of cream
1 quart of Strawberries
Cream sugar and shortening; add beaten egg; add dry ingredients alternately with milk; add flavoring; mix well and bake in a greased shallow square or oblong pan in a moderate oven for twenty five to thirty minutes. When cool, halve and between layers put whipped cream and crushed sweetened strawberries. On top spread whipped cream and whole strawberries.
Strawberry Shortcake
2 cupfuls Flour
2 tablespoonfuls of Sugar
4 teaspoonfuls of Royal Baking Powder
1/2 teaspoonful of Salt
3 tablespoonfuls of Shortening
1 Egg
1/2 cupful of Milk
Sift the flour, baking powder, sugar and salt. Cut in the shortening; add the beaten egg to the milk and add to the dry ingredients to make a soft dough. Divide and smooth out lightly. Bake in greased deep layer tins in hot oven for 20-25 minutes. Split and spread between layers with crushed and sweetened berries. Cover the top with whipped cream and whole berries. Dust with powdered sugar and serve.
Cream Puffs
1 cup boiling water
1/2 cup shortening
1 cup flour
1/8 teaspoon salt
3 eggs
2 teaspoons Royal Baking Powder
Heat water and shortening in saucepan until it boils up well; add all at once flour sifted with salt and stir vigorously. Remove from fire as soon as mixed, cool, and mix in unbeaten eggs, one at a time; add baking powder; mix and drop by spoonfuls 1-1/2 inches apart on greased tin; shape into circular form with wet spoon. Bake about 25 minutes in hot oven. Cut with sharp knife near base to admit filling.
CREAM FILLING
1 cup sugar
1/3 cup corn starch
1/8 teaspoon salt
1 egg
2 cups scalded milk
1 teaspoon vanilla extract
Mix dry ingredients; add slightly beaten egg and stir into this gradually the scalded milk. Cook about 15 minutes in double boiler, stirring constantly until thickened. Cool slightly and flavor.
Sweetened whipped cream may be used instead of this filling.