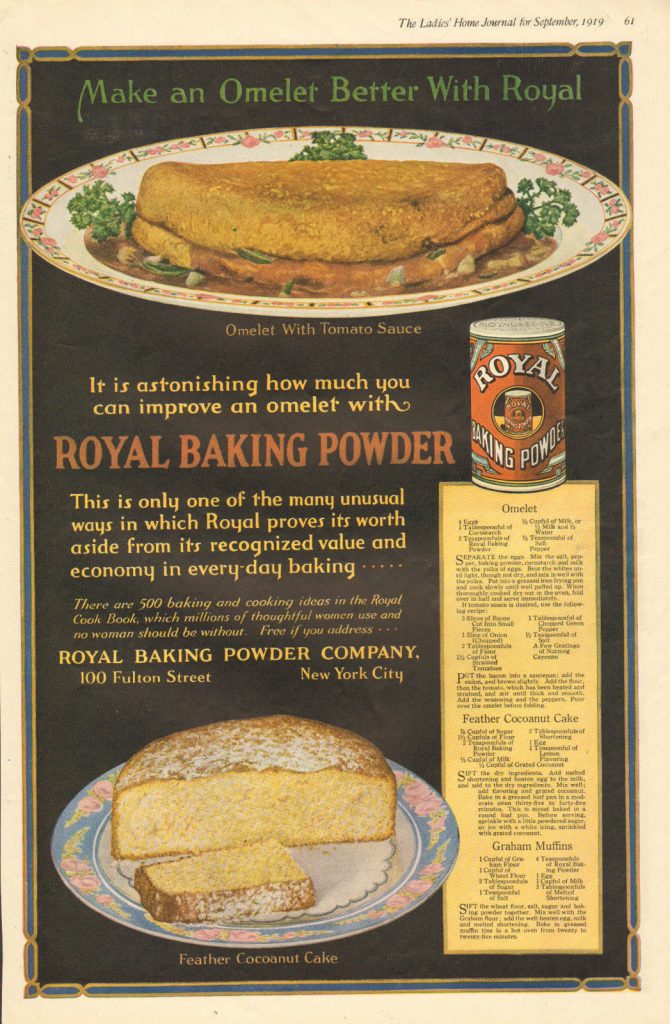 Make an Omelet Better
Omelet
4 eggs
1 tablespoonful of Cornstarch
2 teaspoonfuls of Royal Baking POwder
1/2 cupful Milk or 1/2 Milk and 1/2 Water
1/2 teaspoonful of Salt
Pepper
Separate the eggs. Mix the salt, pepper, baking powder, cornstarch and milk with the yolks of the eggs. Beat the whites until light, though not dry and mix in well with the yolks. Put into a greased iron frying pan and cook slowly until well puffed up. When thoroughly cooked dry out out in the oven, fold over in half and serve immediately. If tomoato sauce is desired, use the following recipe:
3 slices of Bacon cut into small pieces
1 Slice of onion, chopped
2 Tablespoonfuls of FLour
1 1/2 Cupfuls Strained Tomatoes
1 Tablespoonful of Chopped Green Pepper
1/2 Teaspoonful of Salt
A few Gratings of Nutmeg
Cayenne
Put the bacon into a saucepan; add the onion, and brown slightly. Add the flour, then the tomato which has been heated and strained, and stir until thick and smooth. Add the seasoning and the peppers. Pour over the omelet before folding.
Feather Coconut Cake
7/8 cupful sugar
1 1/2 cupfuls Flour
2 Teaspoonfuls of Royal Baking Powder
1/2 cupful Milk
2 Tablespoonfuls of Shortening
1 Egg
1 Teaspoonful of Lemon Flavoring
1/2 cup grated coconut
Sift the dry ingredients. Add melted shortening and beaten egg to the milk, and add to the dry ingredients. Mix well; add flavoring and grated coconut. Bake in a greased loaf pan in a moderate oven 35-45 minutes. This is nicest baked in a round loaf pan. Before serving, sprinkle with a little powdered sugar, or ice with a white icing sprinkled with grated coconut.
Graham Muffins
1 Cupful of Graham Flour
1 Cupful of Wheat Flour
2 Tablespoonfuls of Sugar
1 Teaspoonful of Salt
4 Teaspoonfuls of Royal Baking Powder
1 Egg
1 Cupful Milk
3 Tablespoonfuls of Melted Shortening
Sift the wheat flour, salt, sugar and baking powder together. Mix well with the Graham Flour; add the well beaten egg, milk and melted shortening. Bake in greased muffin tins in a hot oven from 20-25 minutes.