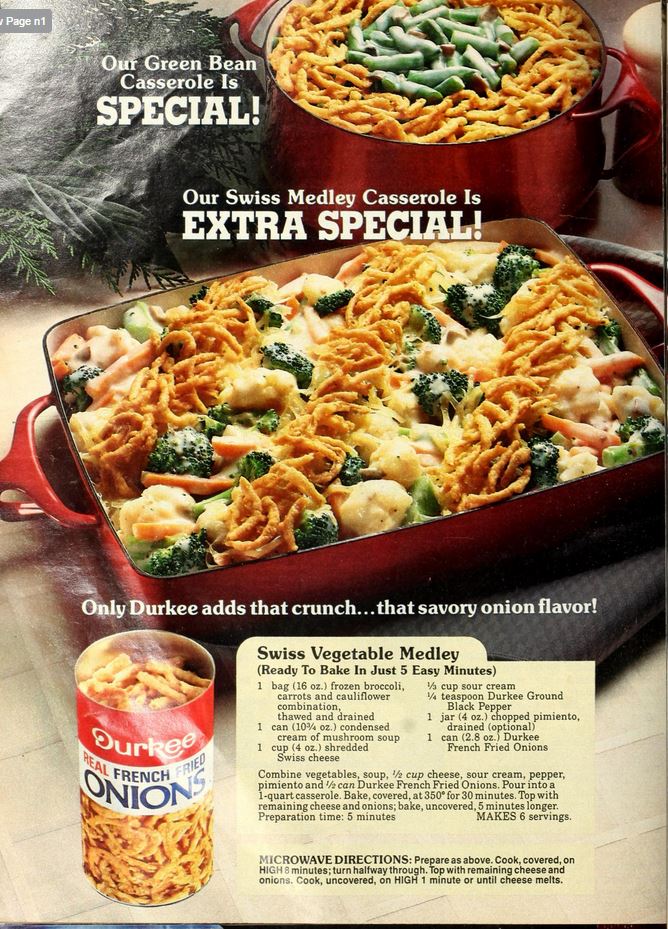 Swiss Vegetable Medley
Ready to Bake In Just 5 Easy Minutes
1 bag (16 oz.) frozen broccoli, carrots, and cauliflower combination, thawed and drained
1 can (10 3/4 oz.) condensed cream of mushroom soup
1 cup (4 oz.) shredded Swiss Cheese
1/3 cup sour cream
1/4 teaspoon Durkee Ground Black Pepper
1 jar (4 oz.) chopped pimiento, drained (optional)
1 can (2.8 oz.) Durkee French Fried Onions
Combine vegetables, soup, 1/2 cup cheese, sour cream, pepper, pimiento and 1/2 can Durkee French Fried Onions. Pour into a 1-quart casserole. Bake, covered at 350 degrees F. for 30 minutes. Top with remaining cheese and onions; bake, uncovered, 5 minutes longer.
Preparation time: 5 minutes. Makes 6 servings.
Microwave directions for perfection: Prepare swiss vegetable medley as above. Cook covered, on high 8 minutes; turn halfway through. Top with remaining cheese and onions. Cook uncovered on high one minute or until cheese melts.
French fried onions give it that crunch! Do you remember eating swiss vegetable medley in the 80s? Did you or your family make it the same way? This is the original magazine recipe from 1988.