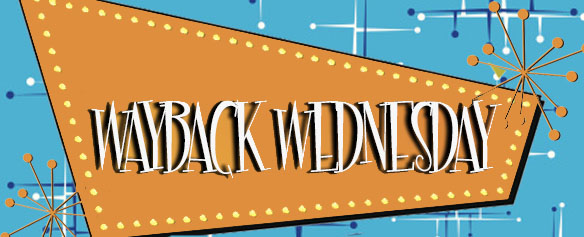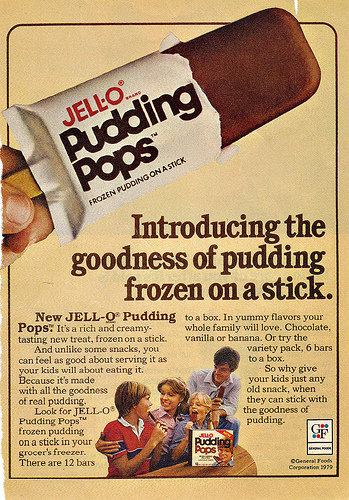 Jello-O Pudding pops were delicious. They were frosty, smooth yet firm and had the perfect texture. I remember when my grandmother started to buy them instead of the typical Fudgsicle (which were also delicious in their own right). Pudding pops were smaller, but in later years, offered a swirled chocolate/vanilla flavor and additional flavors such as banana and caramel swirl.
Jell-O Pudding Pops were huge in the 1980s, but disappeared in the 1990s. The Popsicle brand brought them back through a licensing partnership with Kraft in 2004, but they were not the same shape or texture. Still tasty, though. But remember with the original Jell-O pudding pops, you wanted to lick the stick until every bit of chocolate goodness was gone? There was none of that with the comeback pops. There also wasn't any of the icy exterior that the original had.
Maybe they're gone because demand dropped because of some of the ingredients (corn syrup, hydrogenated coconut and palm oils and high-fructose corn syrup). Or maybe, just maybe it was the shape that made you feel almost dirty eating them. haha. Sorry, but you can admit the newer versions were a bit phallic.
Jello Puddings Pops Commercials
There are tons of recipes to make homemade pudding pops that you can mold into your shape of choice. Kraft has a pudding pop recipe.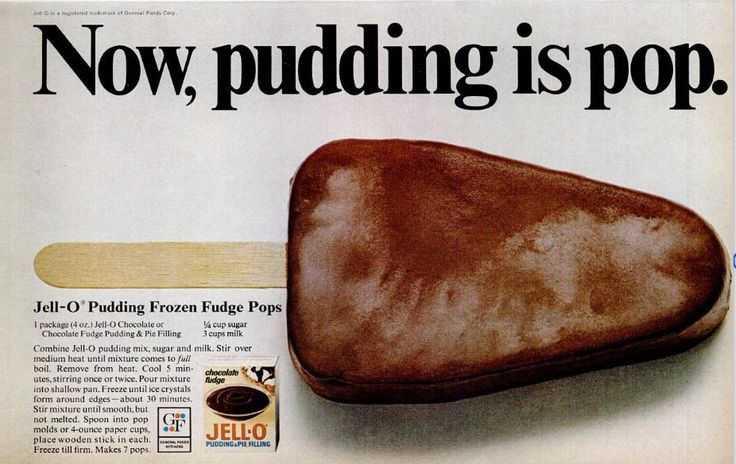 Jell-O Pudding Frozen Fudge Pops
1 Package (4 oz) Jell-O Chocolate or Chocolate Fudge and Pie Filling
1/4 cup sugar
3 cups milk
Combine Jell-O pudding mix, sugar and milk. Stir over medium heat until mixture comes to a full boil. Remove from heat. Cool five minutes, stirring once or twice. Pour mixture into shallow pan. Free until ice crystals form around edges-about 30 minutes. Stir mixture until smooth, but not melted. Spoon into pop molds or 4-ounce paper cups, place wooden stick in each. Freeze till firm. Makes 7 pops.
You can easily take packaged pudding, cut a slit on the top and add a popsicle stick or baby spoon and freeze it, too.
Here are a few more pudding pop recipes:
JELL-O PUDDING POPS
Box of instant chocolate Jell-O Pudding
Box of instant vanilla Jello-O Pudding
4 cups cold low-fat milk, divided
2 cups Cool Whip, divided (if you don't want to use Cool Whip, you can make your own whipped cream)
In a medium bowl, mix together the chocolate pudding mix and 2 cups of milk (I used an electric mixer but it's not necessary)
Add in 1 cup of Cool Whip and whisk until well combined. In a separate bowl, mix together the vanilla pudding mix and remaining 2 cups of milk.
Add the remaining cup of Cool Whip to the vanilla pudding and whisk until well combined. Alternate layers of chocolate and vanilla in your popsicle molds and then freeze for at least 4 hours or until they're solid.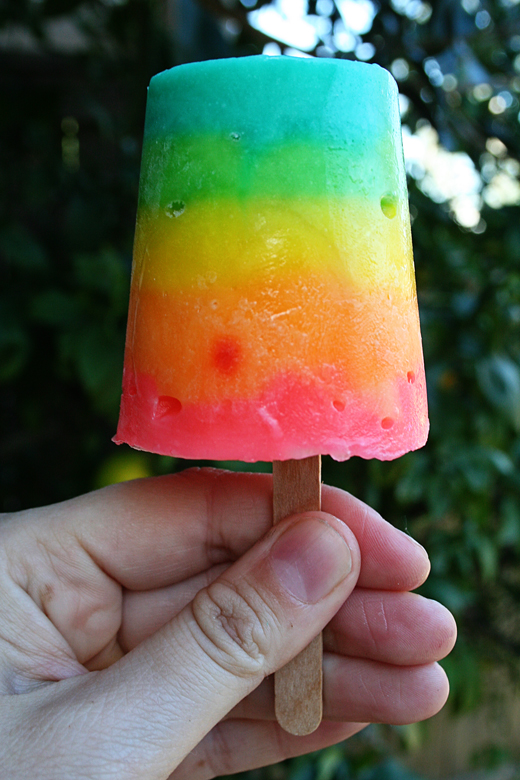 Rainbow Pudding Pops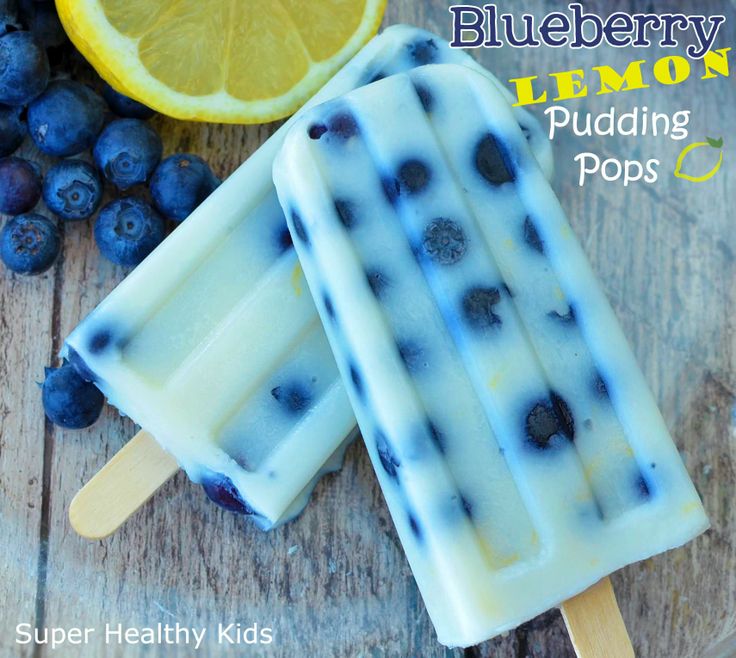 Blueberry Lemon Pudding Pops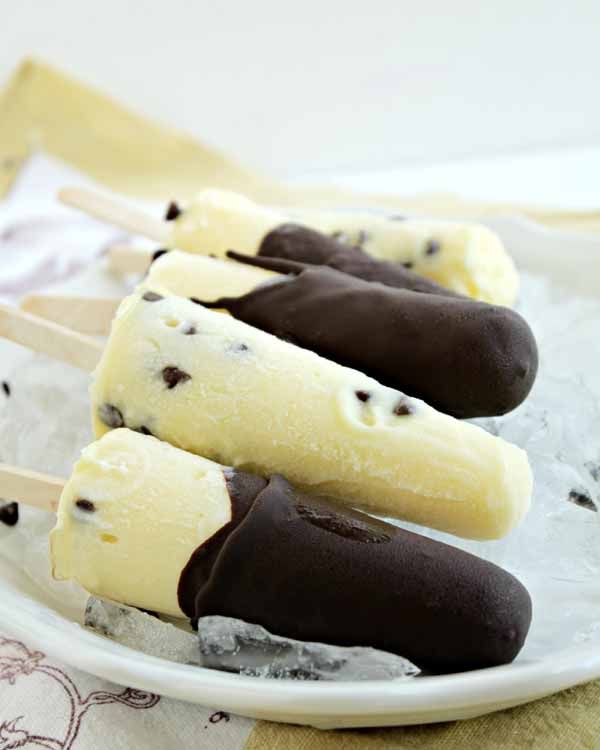 Chocolate Covered Banana Pudding Pops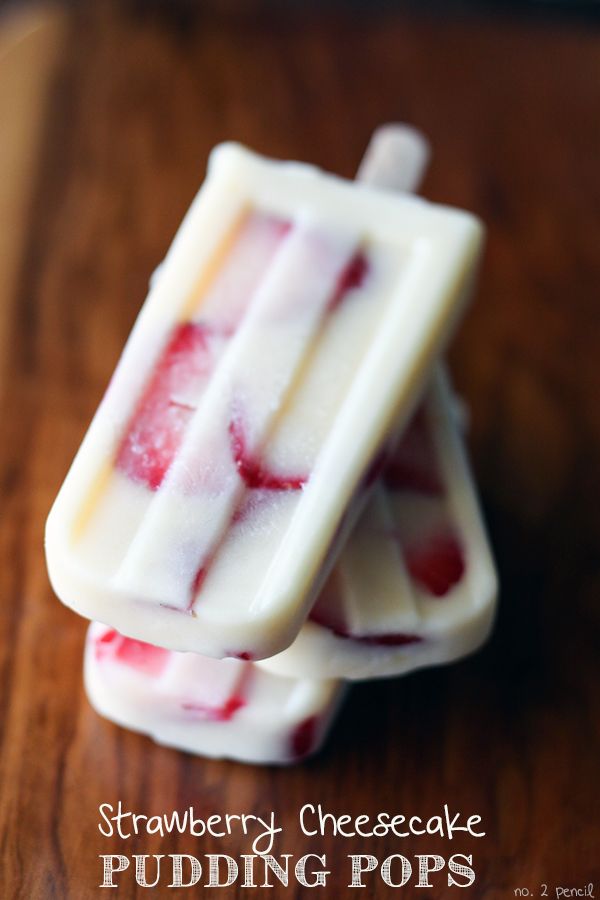 Strawberry Cheesecake Pudding Pops