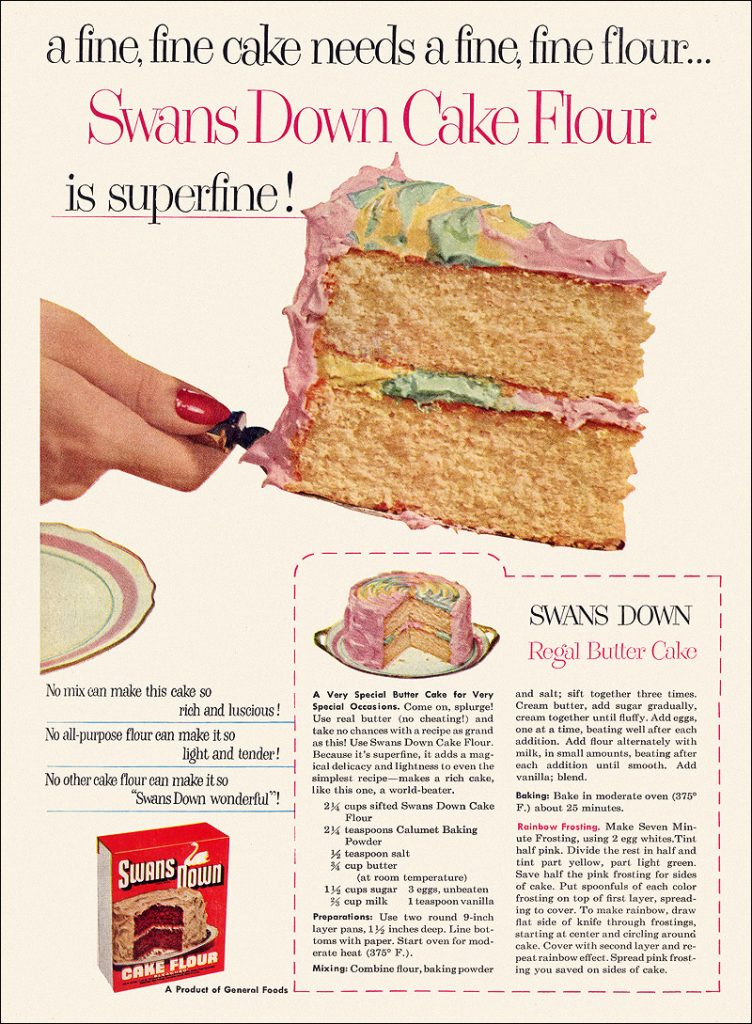 No mix can make this cake so rich and luscious.
No all-purpose flour can make it so light and tender.
No other cake flour can make it so Swan's Down wonderful!
Regal Butter Cake Recipe
A very special regal butter cake for very special occasions.
Come on, splurge! Use real butter (no cheating!) and take no chances with a recipe as grand as this! Us Swans Down Cake Flour. Because it's superfine, it adds a magical delicacy and lightness to even the simplest recipe-makes a rich cake, like this one, a world-beater.
2 1/4 cups Swans Down Cake Flour
2 1/4 teaspoons Calumet Baking Powder
1/2 teaspoon salt
3/4 cup butter (at room temperature)
1 1/2 cups sugar
2/3 cup milk
3 eggs, beaten
1 teaspoon vanilla
Preparation:
Use two round 9-inch layer pans, 1 1/2 inches deep. Line bottoms with paper. Start oven for moderate heat. (375 degrees F.)
Mixing:
Combine flour, baking powder and salt; sift together three times. Cream butter, add sugar gradually, cream together until fluffy. Add eggs, one at a time, beating well after each addition. Add flour alternately with milk in small amounts , beating after each addition until smooth. Add vanilla; blend.
Baking:
Bake in moderate oven (375 degrees F.) about 25 minutes.
Rainbow Frosting:
Make Seven minute frosting, using 2 egg whites, Tiny half pink. Divide the rest in half and tint part yellow, part light green. Save half the pink frosting for sides of cake. Put spoonfuls of each color frosting on top of first layer, spreading to cover. To make rainbow, draw flat side of knife through frostings, starting at center and circling around cake. Cover with second layer and repeat rainbow effect. Spread pink frosting you saved on sides of cake.