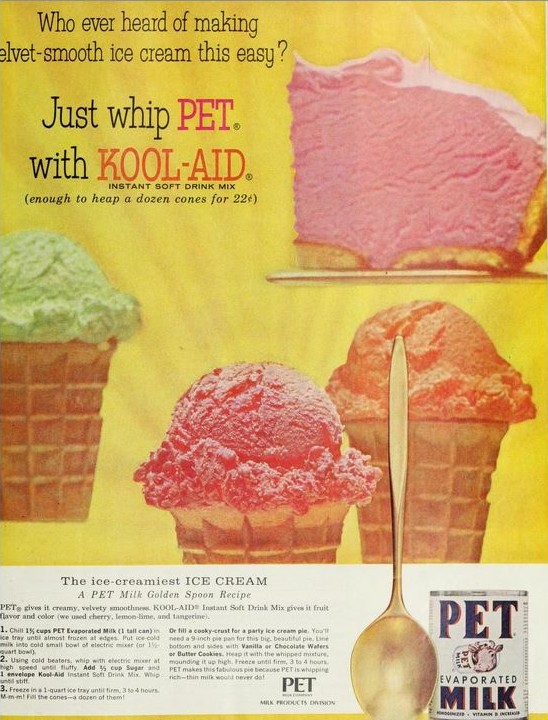 Kool-Aid Ice Cream and Kool-Aid Ice Cream Pie
Who ever heard of making velvet-smooth ice cream this easy?
Just whip Pet with Kool-Aid
The ice-creamiest ice cream
A Pet Milk Golden Spoon Recipe
Pet gives it creamy, velvety, smoothness. Kool-Aid instant soft drink mix gives it fruit flavor and color (we used cherry, lemon lime and tangerine)
Kool-Aid Ice cream
1. Chill 1 2/3 cups Pet Evaporated Milk (1 tall can) in ice tray until almost frozen at edges. Put ice cold milk into cold small bowl of electric mixer (or 1 1/2 quart bowl)
2. Using cold beaters, whip with electric mixer at high speed until fluffy. Add 2/3 cup sugar and 1 envelope Kool-Aid. Mix. Whip until stiff.
3. Freeze in 1 quart ice tray until firm, 3-4 hours.
mmm Fill the cones-a dozen of them.
Kool-Aid Ice Cream Pie
Or fill a cookie crust for a party ice cream pie. You'll need a 9-inch pie pan for this big beautiful pie. Line bottom and sides with Vanilla or Chocolate Wafers or Butter Cookies. Heap it with the whipped mixture, mounding it up high. Freeze until firm 3-4 hours. Pet makes this fabulous pie because Pet is whipping rich-thin milk would never do!
See jell-o pudding ice cream, too.
If you end up with extra cans of evaporated milk, know that it lasts about a year unopened in the pantry and once opened and refrigerated, you have about a week to use it. Use some in mashed or scalloped potatoes, coffee or tea, fudge, scrambled eggs, pies or French toast, to a name few.
Here are a few tasty recipes to keep handy.
Hot-Fudge Sauce
3/4 cup semisweet chocolate chips
1/4 cup butter
2/3 cup sugar
5 ounces (2/3 cup) evaporated milk
In a saucepan, melt together the chocolate and butter over low heat. Add the sugar. Gradually stir in the evaporated milk. Bring to boil over medium heat. Reduce heat, and boil gently for eight minutes. You can use this warm on ice cream or as a chocolate fondue. Refrigerate leftovers.
Crockpot Macaroni and Cheese
8 ounces dry elbow macaroni, cooked
4 cups shredded cheddar cheese, divided
1 (13-ounce) can evaporated milk
1-1/2 cups milk
2 eggs
1 teaspoon salt
1/4 teaspoon black pepper
1/4 finely chopped onion
Combine all the ingredients, except one cup of cheese, in a greased slow cooker. Sprinkle reserved cup of cheese over the top. Cover. Cook on low for three to four hours. Don't remove the lid and stir until the mixture has finished cooking.
Caramel Rice Pudding
3 cups cooked white rice
1/2 cup dried cranberries or cherries
1 teaspoon pure vanilla
1 (14-ounce) can sweetened condensed milk
1 (12-ounce) can evaporated milk
1 tablespoon brown sugar
1 teaspoon cinnamon
Spray inside of a slow cooker with cooking spray. Mix all the ingredients, except sugar and cinnamon, in slow cooker. Cover and cook on low for three to four hours or until liquid is absorbed. Stir the pudding. Sprinkle the pudding with sugar and cinnamon. Serve warm. Makes eight servings.