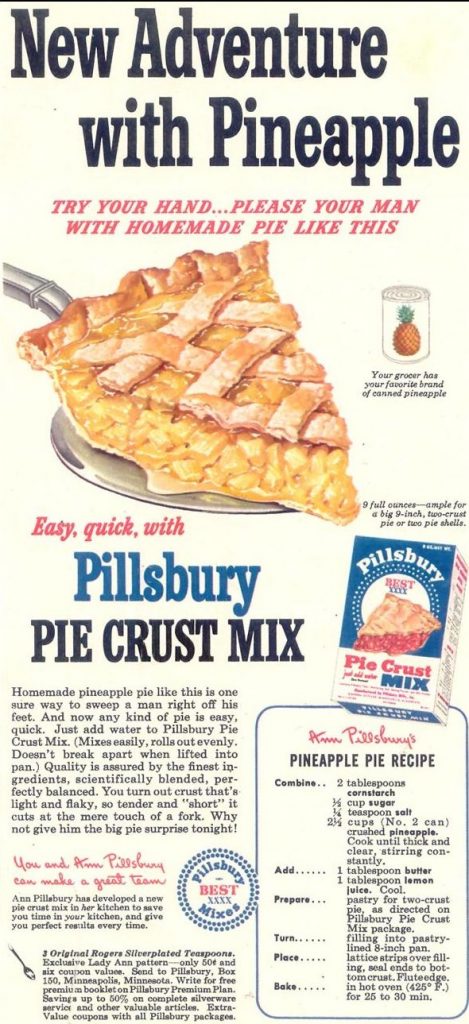 Homemade pineapple pie like this is one sure way to sweep a man right off his feet. And now any kind of pie is easy, quick. Just add water to Pillsbury Pie Crust Mix. (Mises easily, rolls out evenly. Doesn't break apart when lifted into pan.) Quality is assured by the finest ingredients, scientifically blended, perfectly balanced. You turn out crust that's light and flaky, so tender and "short" it cuts at the mere touch of a fork. Why not give him the big pie surprise tonight!
Pineapple Pie Recipe
Combine:
2 tablespoons cornstarch
1/2 cup sugar
1/4 teaspoon salt
2 1/2 cups (No.2 can) crushed pineapple.
Cook until thick and clear, stirring constantly.
Add:
1 tablespoon butter
1 tablespoon lemon juice. Cool.
Prepare:
Pastry for two-crust pie, as directed on Pillsbury Pie Crust Mix package.
Turn:
Filling into pastry-lined 8-inch pan.
Place:
Lattice strips over filling, seal ends to bottom crust. Flute edge.
Bake:
In hot oven (425 degrees F.) for 25-30 minutes.
(More Pineapple Recipes Below)
---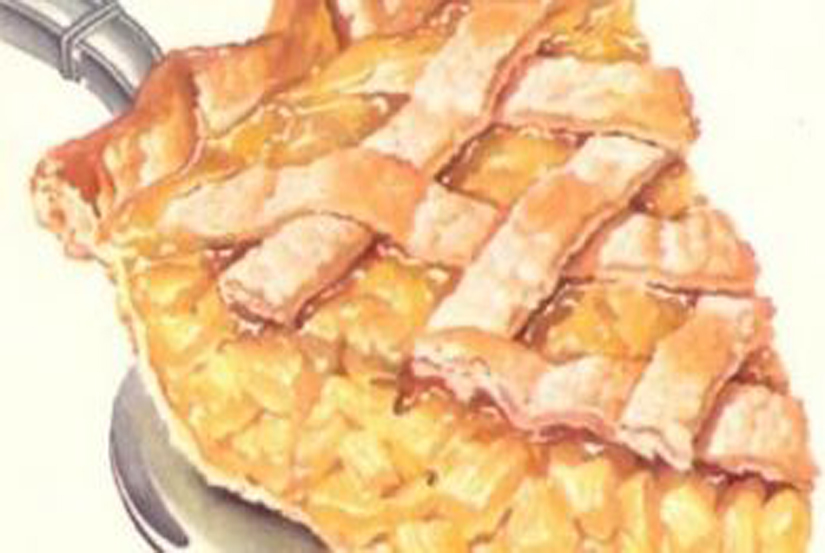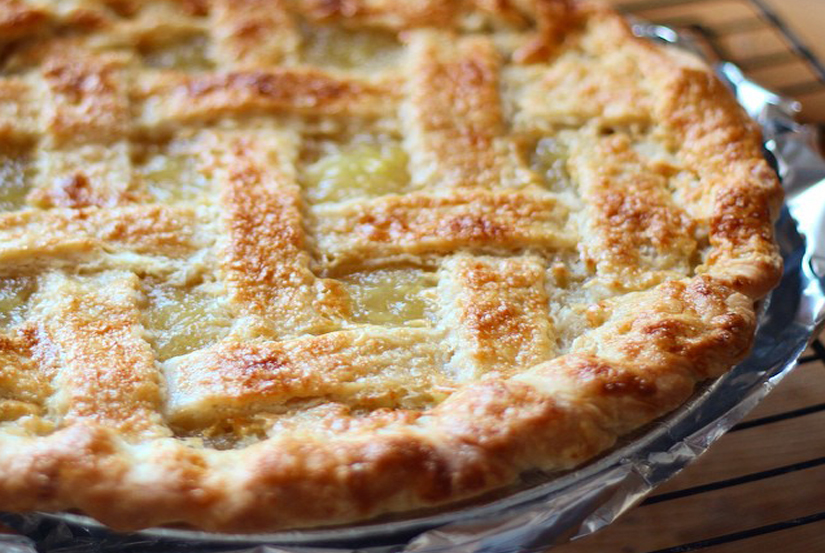 ---
Pineapple offers a sweet, tropical flair for summer dishes. It's a good source of vitamin C, and when using canned pineapple, the juice can be reserved for drinking, cooking or baking. To cut fresh pineapple, place the fruit on its side. Use an electric knife, and cut a 1/2 inch to 1 inch off the top and bottom, then stand it up and slice downward to remove the outer skin in strips. Place it on its side again, and slice medallions; then with a paring knife, remove the center core from each slice. Cut into chunks if desired. Or use a pineapple cutter to hollow it out so you can use the shell for drinks or fruit salads, too. Keep the crown, root it, and grow your own pineapple plant. For tips on growing a pineapple top indoors, visit www.rickswoodshopcreations.com/Pineapple/pineapple.htm.
Here are a few more delicious pineapple recipes.
Easy Chicken Marinade
1 pound chicken
1 (20-ounce) can pineapple
1/2 cup Italian dressing
1/2 cup brown sugar
3 tablespoons soy sauce
Place all ingredients into a freezer bag. Put in freezer. Thaw in refrigerator the morning you're ready to prepare. Once thawed, bake in 350 F oven for 30 minutes. Serve over rice. Optional: Combine marinade, place in large plastic storage bag, add chicken, and let marinate in refrigerator for at least an hour. It's delicious with pork chops, too.
Pineapple Pork Chops
1 tablespoon olive oil
1 medium onion, chopped
2 garlic cloves
4 boneless pork chops
1 (14-1/2 ounce) can chicken broth
1 to 2 tablespoons soy sauce
1 tablespoon vinegar
2 tablespoons brown sugar
2 tablespoons cornstarch
1 can pineapple, crushed or chunks, do not drain
Heat the olive oil in a skillet over medium heat, and add onion, garlic and pork chops. Cook until pork chops are browned. Add chicken broth, soy sauce and vinegar to the skillet, and bring to a boil. Put a lid on the skillet, and simmer 20 to 25 minutes. Remove chops from the skillet. Reserve broth in skillet. Add the brown sugar, cornstarch and pineapple to skillet with the broth mixture. Bring to a boil. Serve over cooked pork chops and with white rice.
Pineapple-Cream Pie
1 (20-ounce) can crushed pineapple with juice
1 (3-1/2-ounce) package instant-vanilla pudding (dry)
1 cup sour cream
1 graham-cracker crust
1 can cherry-pie filling
whipped topping
Using a wooden spoon, combine the first two ingredients. Gently fold in sour cream, and pour into pie shell. Add layer of cherry-pie filling. Refrigerate. Top with whipped topping to serve.
Pineapple Upside-Down Cake
Base:
3/4 stick of butter
3/4 cup brown sugar
1 (20 ounce) can crushed pineapple, drained
Batter:
1-1/2 cups sugar
2 teaspoons baking powder
1 stick butter (softened)
pinch of salt
3 eggs
3/4 cup milk
2 cups flour
In big cast-iron skillet, melt butter and brown sugar. Drain can of crushed pineapple, and pour onto butter-and-brown-sugar mixture. Top with batter. Bake in skillet at 350 F for 40 minutes. Let cool 15 minutes, and flip onto cake plate. Optional: You can use pineapple rings and place a maraschino cherry in each ring, too.
Pineapple-Orange Smoothie
12 ounces orange juice
1 small can crushed pineapple
1 to 2 cups vanilla yogurt
1 cup ice cubes
Combine all ingredients in a blender. Blend on high speed. Optional: Add a banana and more orange juice until desired consistency is reached.