Old Fashioned Brownies Recipe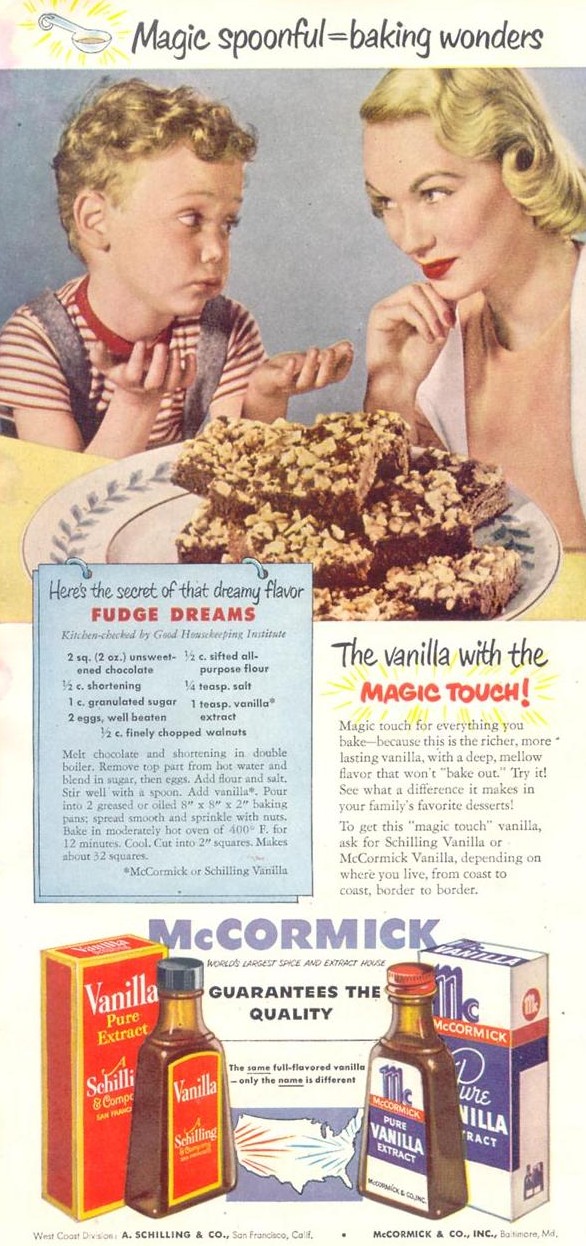 Magic Spoonful=baking wonders
Here's the secret of that dreamy flavor
Fudge Dreams
Old Fashioned Brownies Recipe
2 squares unsweetened chocolate (2 oz)
1/2 cup shortening
1 cup granulated sugar
2 eggs well beaten
1/2 cup sifted all-purpose flour
1/4 teaspoon salt
1 teaspoon vanilla extract*
1/2 cups walnuts
Melt chocolate and shortening in double boiler. Remove top part from hot water and blend in sugar, then eggs. Add flour and salt; Stir well with a spoon. Add vanilla*. Pour into 2 greased or oiled 8x8x2-inch baking pans;spread smooth and sprinkle with nuts. Bake in moderately hot oven of 400 degrees F. for 12 minutes. Cool. Cut into 2-inch squares. Makes about 52 squares.
*McCormick or Schilling Vanilla.
The vanilla with the magic touch!
Magic touch vanilla for everything you bake-because this is the richest, more lasting vanilla, with a deep, mellow flavor that won't "bake out." Try it! See what a difference it makes in your family's favorite desserts! To get this "magic touch" vanilla, ask for Schilling Vanilla or McCormick Vanilla, depending on where you live, from coast to coast, border to border.
Here are more McCormick Recipes
Or make your own homemade vanilla.
Homemade vanilla:
You'll need: 2 cups vodka (you can use rum, too), six vanilla beans cut into 1-inch pieces and a jar with a tight lid. Combine vodka and vanilla beans in jar. Cover the jar, and let stand for at least six weeks in a cool dark place. Shake mixture several times a week. After half the vanilla extract is used, add more vodka to cover the beans. The flavor in the beans is gone when the vodka no longer turns a dark amber color. You can find vanilla beans cheap on eBay.