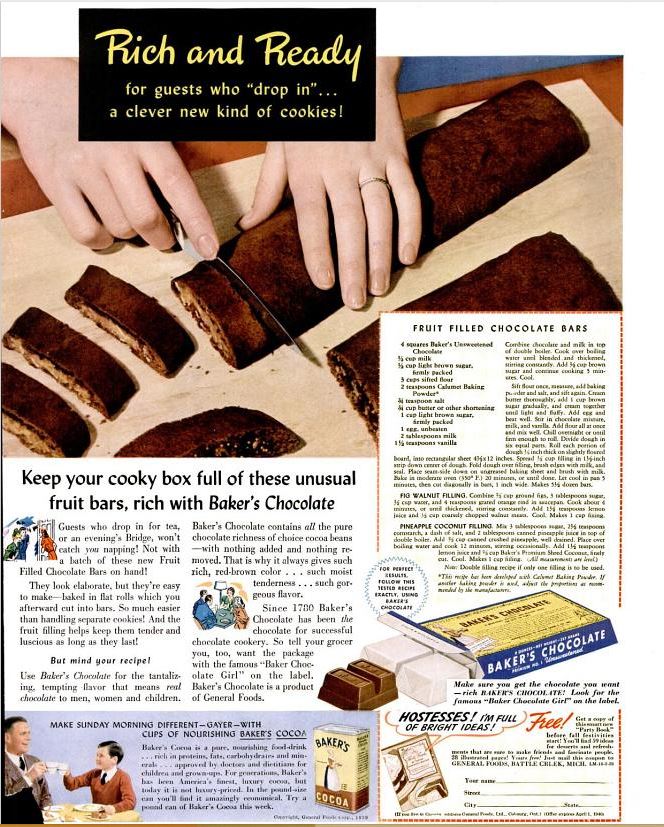 Fruit Filled Chocolate Bars
4 squares Baker's Unsweetened Chocolate
1/2 cup milk
1/2 cup light brown sugar, firmly packed
3 cups sifted flour
2 teaspoons Calumet Baking Powder*
3/4 teaspoon salt
3/4 cup butter or other shortening
1 cup light brown sugar, firmly packed
1 egg, unbeaten
2 tablespoons milk
1 1/2 teaspoons vanilla
Combine chocolate and milk in top of double boiler. Cook over boiling water until blended and thickened, stirring constantly. Add 1/2 cup brown sugar and continue cooking 5 minutes. Cool.
Sift flour once, measure, add baking powder and salt and sift again. Cream butter thoroughly, add 1 cup brown sugar gradually and cream together until light and fluffy. Add egg and beat well. Stir in chocolate mixture, milk and vanilla. Add flour all at once and mix well. Chill overnight or until firm enough to roll. Divide dough in six equal parts. Roll each portion of dough 1/8 inch thick on slightly floured board, into rectangle sheet 4 1/2×12 inches. Spread 1/3 cup filling in 1 1/2-inch strip down center of dough. Fold dough over filling, brush edges with milk, and seal. Place seam-side down on ungreased baking sheet and brush with milk. Bake in moderate ocen (350 degrees F.) 20 minutes, or until done. Let cool in pan 5 minutes, then cut diagonally in bars 1 inch wide. Makes 5 1/2 dozen bars.
Fig Walnut Filling:
Combine 2/3 cup ground figs, 3 tablespoons sugar, 1/3 cup water and 4 teaspoons grated orange rind in saucepan. Cook about 4 minutes or until thickened, stirring constantly. Add 1 1/2 teaspoons lemon juice and 1/3 cup coarsely chopped walnut meats. Cool. Makes 1 cup filling.
Pineapple Coconut Filling:
Mix 3 tablespoons sugar, 2 1/2 teaspoons cornstarch, a dash of salt and 2 tablespoons canned pineapple juice in top of double boiler. Add 2/3 cup canned crushed pineapple, well drained. Place over boiling water and cook 12 minutes, stirring occasionally. Add 1 1/2 teaspoons lemon juice and 2/3 cup Baker's Premium Shred Coconut, finely cut. Cool. Makes 1 cup filling.
All measurements level.
Note: Double filling recipe if only one filling is to be used.
*This recipe has been developed with Calumet Baking Podwer. If another baking powder is used, adjust the proportions as recommended by the manufacturer.