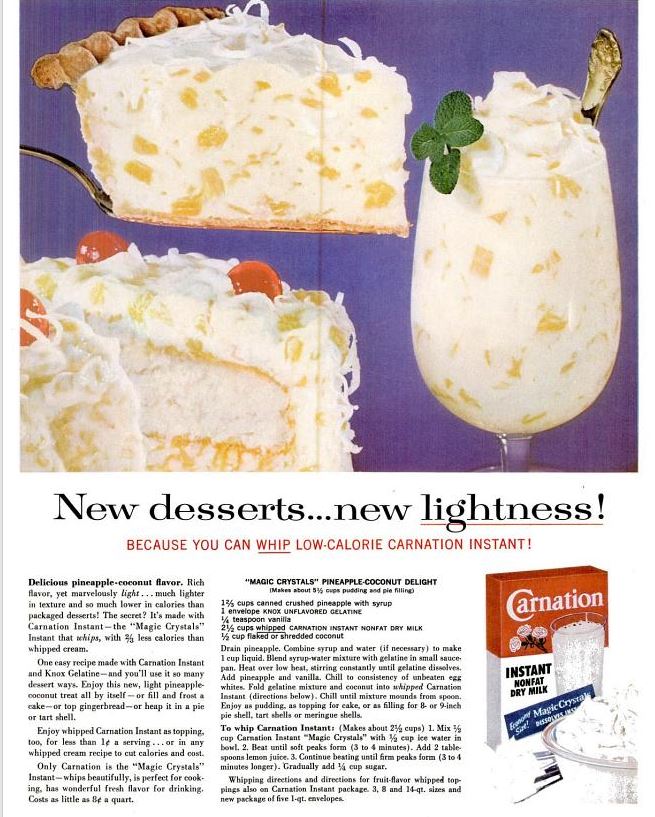 Magic Crystals Pineapple Coconut Delight
(Makes about 5 1/2 cups pudding and pie filling)
1 2/3 cups canned crushed pineapple with syrup
1 envelope Knox Unflavored Gelatin
1/4 teaspoon vanilla
2 1/2 cups whipped Carnation Instant Nonfat Dry Milk
1/2 cup flaked or shredded coconut
Drain pineapple. Combine syrup and water (if necessary) to make 1 cup liquid. Blend syrup-water with gelatin in small saucepan. Heat over low heat, stirring constantly until gelatin dissolves.
Add pineapple and vanilla. Chill to consistency of unbeaten egg whites. Fold gelatin mixture and coconut into whipped Carnation Instant (directions below). Chill until mixture mounds from spoon. Enjoy as pudding, as topping for cake, or as filling for 8 or 9 inch pie shell, tart shells or meringue shells.
To whip Carnation Instant: (Makes about 2 1/2 cups)
1. Mix 1/2 cup Carnation Instant Magic Crystals with 1/2 cup ice water in bowl.
2. Beat until soft peaks form (3-4 minutes). Add 2 tablespoons lemon juice.
3. Continue beating until firm peaks form (3-4 minutes longer). Gradually add 1/4 cup sugar.